South Korean woman used her smartphone to take photos of her wallet and each of the twenty ฿1,000 banknotes before she placed them inside her luggage for her trip from Incheon to Bangkok's Suvarnabhumi Airport on Friday. A prompt and robust investigation by tourist police and airport authorities helped nab the Thai man responsible for the theft of the woman's money.
A South Korean woman's smart thinking in photographing her pocket money for Thailand on her smartphone led to the arrest at Suvarnabhumi Airport on Friday of a baggage handler who had opened her bag and pocketed the cash.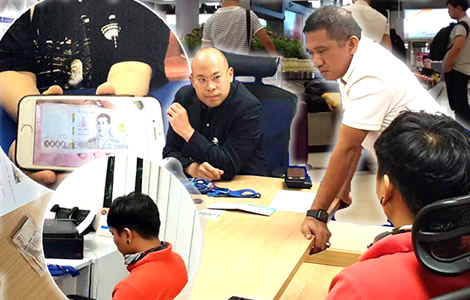 A baggage handler in Suvarnabhumi Airport was arrested and placed in custody on Friday after he was found with Thai banknotes stolen from the luggage of a South Korean passenger who had flown into Thailand at just after 10 a.m. on the same day.
South Korean woman's canny and smart act
The South Korean woman has been named as Lee Soyeong and in a canny and smart act, she had taken the precaution of photographing her Thai baht currency in a wallet which she had placed in her baggage which was lodged on the flight from Incheon in South Korea to Bangkok's main international airport. The woman had flown on Jeju Airways on her trip to Thailand.
Ms Lee used her smartphone to take photos of the ฿20,000 in ฿1,000 denominations.
On retrieving her baggage at Suvarnabhumi, she found that the money had disappeared
When the visitor arrived at Suvarnabhumi and retrieved her package one of her first acts was to check her wallet and cash. The money had disappeared. She immediately went to the relevant desk to file a complaint.
Extensive investigation by airport authorities
Tourist police at the airport took her complaint to Police Colonel Sitthipong Panthaisong who is the deputy chief of investigation at Suvarnabhumi. There followed an extensive investigation into the unloading of the South Korean woman's flight with the cooperation of Mr Kittiphong Kittikachorn who is a deputy director at the airport. The investigations also included retrieval and examination of CCTV footage showing operations to unload the flight.
CCTV threw suspicion on a 30-year-old man
The CCTV footage led to the arrest of a 30-year old baggage handler named by police as Phairin Pholkhan. After searching the man's locker police retrieved four ฿1,000 notes. All of the banknotes matched the serial numbers from the photographs contained on the South Korean woman's smartphone. The Thai man was caught red-handed.
30-year-old Thai man confessed to the crime
The man later confessed that he had taken the money from the woman's baggage. There has however been no report or indication as to what happened to the other ฿16,000 in the woman's wallet apart from the ฿4,000 found in the possession of the man who told police that he had hidden the money in his locker.