29-year-old man ordered goods from international shopping websites giving the credit card holder's name and a fake address. When the goods were sent back to the depot, Mr Satit sent a courier with forged power of attorney documents and later sold the expensive products through an online network.
A 29-year-old Thai man earned ฿10 million over the last 3 years running a fraud racket using customer credit card details from his place of work. He used the money to buy a house and three cars including a mini cooper. Amazingly, the racket was only detected and brought to light when one customer finally insisted on answers.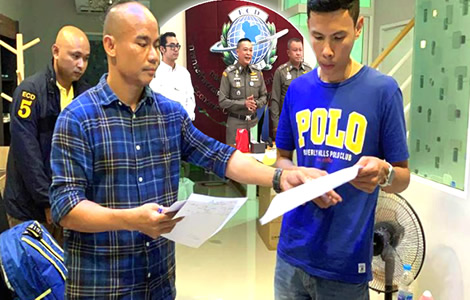 A Thai man running a credit card fraud operation on an industrial scale was arrested on Monday after police accosted him at the Central Rama 2 Mall in the Bang Khun Thian District of Bangkok.
Credit card fraud running for three years
29-year-old Satit Janpho from the Phichai District of Uttaradit province in northern Thailand began his credit card thieving 3 years ago as he worked at the front desk of an outlet for one Thailand's leading mobile phone companies.
Well educated  man with a degree in computer science from a prestigious Bangkok university
The young man who has a bachelor's degree in computer studies from a prestigious Bangkok private university discovered he had a capacity for memorising credit card numbers as customers came to his desk to pay phone bills. It was not long before he had the ways and means to gain the three-digit verification numbers and national ID details to begin a crime blitz that lasted three years.
Accumulated assets of ฿10 million from his criminal activity including house and mini cooper car
Thai police including the commanding officer for the Crime Suppression Police on Economic Crime Police Major General Maitri Chimchid revealed this week that the young crime wizard had managed to fraudulently accumulate a fortune for ฿10 million. He had used the money to purchase a home for ฿2 million, a mini cooper car for ฿2.5 million and two other vehicles valued at a further ฿2.5 million.
Crime method made it difficult to track him
Mr Satit had developed a modus operandi that deliberately made it difficult for police to track him. He would order goods from international consumer products websites such as Amazon and eBay. He would give a fake address for the goods so that when they arrived in Thailand, they would be sent back to the distributor in the kingdom.
The young man would then send a motorbike driver or courier with power of attorney documents to claim the expensive products and bring them to him. He would later sell the goods online through Facebook or other social networks realising cash.
Brought down after one customer demanded answers
This week, it was revealed that his downfall occurred when one irate customer took it upon themselves to complain and insisted on an investigation. It beggars belief that so many credit cardholders in three years failed to question the charges and get to the bottom of the fraud.
Reports this week indicated that it was only when police investigated the report that led to the arrest of the culprit that they discovered the extent of his criminal enterprise and brought it to a halt
Krungsri fraud specialist gives advice to credit card users on how not to become a crime victim
Announcing the arrest and details of the fraud scheme, Thai police along with Mr Phanom Sakkra Intra who is a fraud prevention specialist at Krungsri Bank gave some tips to credit cardholders on how to avoid such situations
The key advice is never to reveal your credit card details under any circumstances at a public desk or to retail assistant. Mr Phanom Sakkra also recommended using a sticker to cover the three-digit security code on the back of the credit card which most users can recall anyhow. It is also highly recommended that credit card users sign up to receive alerts to notify them when their credit card is used online.
Job at a national mobile phone network proved the initial key to the man's scheme
The arrested man told police that he had lost his job at the mobile phone company in the last four months but had taken up another job with a service company which again gave him all the access and credit card information he required to carry on his lucrative but highly dishonest and criminal sideline.
Serious charges of theft, fraud and forgery together with the scale of the crime could see the young man facing serious legal consequences
The young man has been arrested and will face serious fraud, theft and forgery charges. The Thai courts and criminal justice system take an exceptionally jaundiced view of fraud and with any luck, credit card users will have little to fear from this villain for quite a long time to come.
All the young man's illegally acquired assets have been frozen by authorities as legal proceedings are being processed against him.
The potential number of victims in the last three years, as well as the financial damage caused, could have far-reaching consequences for 29-year-old Mr Satit when a court finally pronounces judgment and swipes him though for a long period of time in a Thai prison.