Doctors have told police that 25-year-old Thitima Noraphanpiphat died for a sudden and acute heart attack. She was seen to be getting on very well at a party in Nonthaburi with male model Rachadech Wongtabutr. She was a paid hostess hired to serve drinks for guests.
A 24-year-old male model is pleading his innocence after police found a dead 25-year-old woman in the lobby of his Thonburi apartment building on Tuesday morning and were subsequently forced to knock down his door when he refused them entry. The case is a perplexing one with reports that the woman was abducted and may have been raped although this has yet to be confirmed by forensics.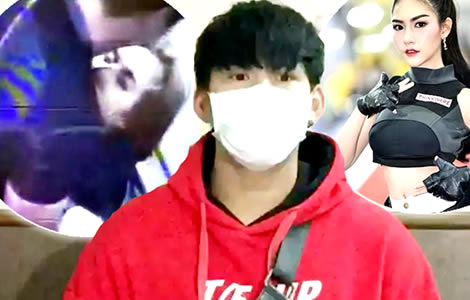 A 24-year-old male model whose door police broke down on Tuesday morning following the discovery of a dead 25-year-old model in the lobby of his Thonburi condominium building has strenuously denied any guilt in the matter and has claimed that the forensics examination currently being carried out including an autopsy, will clear him. The body of the dead woman was taken to Siriraj hospital for the procedure.
Suspect in the case asked to give a DNA sample
Rachadech Wongtabutr has been asked by police to give a DNA sample while sources reveal that fluids were found in the dead woman's vagina and that there was some evidence to suggest that she may have been raped.
It has been revealed that the 24-year-old man initially carried the woman back to his condominium where he admits to changing her clothes because he claimed she had wet her herself. Significantly, he claims that the woman was alive and breathing at this time.
He then carried the woman downstairs again and left her in the lobby of his building after being told that the woman's family and boyfriend were coming to look for her.
Young 25-year-old Thitma worked as a commercial presenter or 'pretty' and was hired for a party
The 25-year-old woman has been named by Thai police as Thitima Noraphanpiphat who worked as a commercial presenter or 'pretty' and was hired by a private individual for a party at his home on Monday night in Nong Bua Thong, Nonthaburi. Chaiyaphon Panna has told investigating Thai police that he paid Thitma or 'Bell' which was her nickname, ฿3,000 to act as a hostess at his party and serve drinks. He did notice that at the party, the young woman showed an interest in Mr Rachadech who is a freelance male model.
Doctors say she died of an acute heart attack
Doctors report that Ms Thitma died from a sudden and acute heart attack. They also did not find any drugs in her system. There are reports that the young woman may have at some point, been abducted by a group of people and Thai police have confirmed that they have already questioned 10 witnesses.
Police question the young man's bizarre behaviour
Major General Samrit Tongtao is the chief of Metropolitan Division 8 which is handling the investigation. 'But why did he not help her?' he asked today.
This and the young man's rather bizarre behaviour has aroused suspicion. The young man brought the young woman's body back down to the lobby of his condo building after he had changed her clothes. He then posed for social media photographs while stroking her hair. His bizarre Facebook post read: 'I didn't ply her with booze, she was naughty on her own.' He also posted on the popular social networking site: 'I don't know whether my 100th wife can make it. She's wearing my clothes, which I put on her.'
Disturbing online posts on removed due to public outrage at the contents before the woman was found
Following online outrage directed at him, he promptly deleted these posts. Then when police arrived at the condominium building, he refused to let them have access forcing them to break down his door. Police sources have confirmed that nothing out of order was found in his room based on the young man's story.
His story is this. He said that he had met Thitima at the party and she quickly became inebriated. At which point, he brought her back to his Thonburi apartment carrying her in his arms.
Woman's family urging police to get to the bottom of her death and believe there was foul play
The family of the young woman are devastated but are determined that police should get to the bottom of what happened to the vivacious young woman who had 62,000 Facebook followers and whose sudden death is still a mystery.
They have held off on any planned funeral rites until the police autopsy is carried out and any further investigations that may be required.