In August, senior police officers from Provincial Police Region 4 offered a reward to their counterparts in Laos to apprehend the two fugitives who escaped into the neighbouring country hours after an audacious and well-planned robbery by two ex-convicts recently released from prison, on July 26th last
Thai police in Khon Kaen appeared confident on Tuesday of bringing the final gold shop robbery suspect to justice after they paraded the other principal responsible for the July 26th crime before the media in a crime reenactment of the robbery.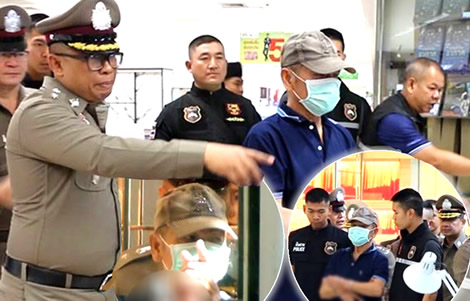 It follows the arrest on Sunday of Sergeant Ruangsak Phanthong from Udon Thani province by police in Laos and his extradition back to Thailand.
Thai police in Khon Kaen on Tuesday released photos and details of reenactment of a crime that shocked the public in Thailand at the end of July when two Thai men including a veteran former  army paratrooper and trainer held up a large gold shop at the Big Centre shopping centre of Khon Kaen and got away with up to ฿9 million in gold.
Reward offered for the arrest of the men in August to police counterparts in Laos 
Both principal suspects in the case later fled to Laos where Thai police followed in pursuit providing assistance to Laotian police in hunting down the men. In August, senior Thai police officers revealed that a reward had been offered to police in Thailand's neighbouring country to apprehend the men.
Man paraded today is a 60-year-old former army paratrooper and trainer from Udon Thani
On Sunday, one of the men, reported to be Ruangsak Phanthong, was reported to have been arrested in Laos and was being handed over to the police at the border. 
The 60-year-old former paratrooper from Udon Thani province was today shown by police in pictures as he carried out a crime reenactment and reportedly confessed to what police readily accept was a well planned and executed robbery.
37-year-old principal suspect still at large
Three other people reported as accomplices were arrested days after the robbery after the two principals including 37-year-old Chaimongkol Jaiboon-upatham, who remains at large, were assisted to cross the border into Laos.  
The crime reenactment took place on the 2nd floor of the Big C department store in Khon Kaen at the Mae Thong Pool Gold Store.
Senior officers attended today's crime reenactment
Senior officers present included Police Lieutenant General Charoenwit Sriwanit, the Commander and chief of Provincial Police Division 4 and his deputy, Police Major General Yanyong Wetchosoth as well as Major General Putthiphong Musikul, of Khon Kaen police.
5 people associated or wanted in connection with the crime, 4 are now in custody
Police reported that 5 people in all were implicated in the crime that took place, 4 of whom have been arrested and are already in police custody. The three earlier suspects arrested were named by police today as 52-year-old Praiwan Yabundit and 54-year-old Suphot Phetchrangsi and a woman named as Mrs Chantarachon Pola Saen.
Ex-army man arrested in Laos with gold bars in his possession on Sunday last and extradited
60-year-old Sergeant Reungsak Panthong was today presented by police following his arrest on Sunday in Laos. It is understood that when arrested, he was found to be in possession of a significant cache of gold bars.
Police also revealed today that they have recovered ฿380,000 in cash following the ongoing investigation and that the total value of the property recovered now stands at over ฿6 million.
Army man held the gun during the raid
Police revealed that Sergeant Reungsak held the gun during the audacious raid when he partnered with the 37-year-old Mr Chaimongkol. 
They revealed that both primary instigators of the crime had met while they were in prison together serving sentences for other criminal activity and had been released just two months before the July 26th hold up.
Recap of the robbery's stages and clinical execution by police as they go through crime reenactment
Police today recapped on the stages of the robbery which saw the suspects flee through an entrance to the shopping centre and later switch vehicles before burying and making available some of the spoils with friends of Sergeant Reungsak in the Ban Thaen District of Chaiyaphum province before being guided across the border into Laos in the hours just after the robbery at the end of July.
Police confident of arresting Mr Chaimongkol who they believe is back in Thailand following intense police pressure in Laos
Police today also revealed that they are satisfied that they will apprehend the 37-year old other principal to the crime very shortly. It is believed that Mr Chaimongkol has already reentered Thailand to avoid police pressure in Laos.
They are also more confident after a full admission of guilt and the gathering of valuable intelligence from his partner in crime, Sergeant Reungsak.
Further reading:
Thai police offer reward to fellow officers in Laos for the arrest of two gold shop armed robbers