On Saturday afternoon last, police brought the man back to an overgrown area near a fish pond in a nearby village where he had discarded a bag containing the knife used to kill the woman, bloodied clothes and empty boxes which previously contained the gold he had stolen from the condominium unit in a building where he used to work. When opened, police sources say the bag reeked of blood telling its own tale of a horrific crime.
Police in Samut Prakan arrest a man who brutally murdered a young woman in a planned robbery that went wrong last Thursday morning. The case, which was solved within 48 hours, was one driven by greed and a lust for gold which the young woman was known to keep at her condominium in the Phra Pradaeng area of the province near Bangkok.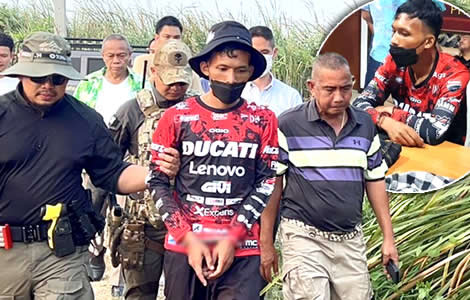 Thai police in Samut Prakan on Saturday brought a 27-year-old man to a local village pond area where he had deposited a shameful bag containing old clothes, a 10-inch knife and other items following a break-in at a condominium in the Phra Pradaeng area of Samut Prakan Province on Thursday in which he brutally murdered a young woman.
Earlier, on Saturday, police led by Police Colonel Chotiwat Luangwilai, the deputy police chief of Samut Prakan, had detained 27-year-old Niran Thammathawee at another condominium he had rented, that morning, at the Bang Sao Thong area of the province.
Police commander in Samut Prakan established two teams of crack detectives on Thursday morning who quickly solved the disturbing case within 48 hours
Police Colonel Chotiwat said after police were called to the murder scene on Thursday, he had assigned two teams to work on it including experienced detectives.
He explained that the murder followed what police believe to have been a planned robbery of the condominium by the accused who was aware that the young woman named Ms Warin Suemak, kept wealth there because of her penchant for expensive gold jewellery.
Detectives established the killer had also been known to the deceased woman, having been her neighbour in the condominium next to her which was now abandoned and also having worked at the same factory where the deceased was known to have an intimate relationship with the owner.
Callous killer knew the layout of the building where the deceased lived as an employee but was also a former neighbour and co-worker of hers in the past
Police have made it known that the suspect had also worked as a maintenance man in the same building where the deceased lived so he was quite familiar with the layout and nature of the building.
They believe that he had planned the robbery of the deceased meticulously but things went wrong when, for some reason or omission, he found the victim was still in her room when he entered it, in the early hours of Thursday 13th April last.
After his arrest by police, the detained man frankly admitted to committing the murder and told investigators that he had broken into Ms Warin's apartment that morning believing confidently that she was not at home.
He said he entered through a back window and was busy going through her belongings and searching for valuables when he heard the victim awaken in a startled manner.
Ms Warin walked up to him, staring at him in the face in what he interpreted as an act of confrontation.
He then told the officers he drew the knife he was carrying but Ms Warin reacted by shouting and attempting to grab the knife from him and was injured in the process.
Used a 10-inch folding knife to cut her throat in order to silence the woman when a struggle between them began when she confronted him in her apartment
In an ensuing struggle, he told police he had stabbed the young woman several times before finally slitting her throat in an attempt to silence her.
He said he then continued his search in which he found several gold items including one gold wristband which he was able to sell for ฿60,000 of which he had already spent ฿20,000 when he returned and took refuge on Saturday morning at the Bang Sao Thong apartment where officers turned up to arrest him.
He explained to the police that he had a chronic methamphetamine addiction problem.
Police, however, are convinced that this was a carefully planned crime in which the perpetrator had mercilessly murdered his victim when she surprised him with her presence in her own home.
Bag found near a fish pond told its own murderous tale and contained all the evidence the police need to build a legal case against the woman's killer
On Saturday afternoon, officers brought the suspect who is facing charges including one of premeditated murder, back to a grassy area surrounding a fish pond in Village 5 of the Bang Bo District and successfully recovered the bag that the culprit had deposited there after his callous actions on Thursday.
When opened, the bag contained the soiled and bloody clothes of the killer which he was wearing on Thursday morning last, the 10-inch folding knife used to take Ms Warin's life, still covered in her blood, and boxes that used to contain the victim's prized gold possessions.
Officers described a stench of blood when they opened the bag which was handed over to police forensic teams for detailed tests as investigators build a clear legal case against the killer.
That afternoon at Mr Niran's condominium where he was arrested on Saturday, officers found more gold jewellery which had not yet been sold and nearly ฿40,000 in cash, the price of the young woman's life in the mind of a killer.
Further reading:
Crazed man sets wife ablaze in front of onlookers and knifed her to death afterwards in a Samut Prakan ravine
35-year-old man murdered and dismembered his lover after she wanted out of their secret liaison
Mother of murdered woman at the hands of a suspected serial killer calls for the death penalty to be meted out
Crazed married man who murdered 23-year-old woman on Christmas Day was high on illicit drugs
Murder and rape suspected in Rayong after body of a 19-year-old woman was found in a local pond
Sexual jealousy and love rivalry behind horrific murder-suicide act of senior Bangkok policeman
Corrupt policeman refused arrest insisting that he was innocent of abduction and extortion claims
Police chief to expedite the removal of 'Ferrari Joe' as capital murder charges are due to be filed in court
Assistant Attorney General in Red Bull case named as a senior prosecutor to central Bangkok district
US businessman in Bangkok kidnap plot seeks justice as police link him to damaging American TV report
'Ferrari Joe' bipolar mental condition treated with scepticism by the senior policeman in charge of the case
Fears grow that Ferrari Jo will evade justice as local monk offers him support as a 'peacekeeper'
Senior police officer arrested and charged linked with the illegal abduction of a Taiwanese man
Criminal probe launched in Bangkok after six drug users were found dead after suffering acute cardiac issues
Explosive report on the Red Bull scandal exposing 'corruption' due at the Prime Minister's office
Police witness in Red Bull case had talks about witness protection with department at the Ministry of Justice
Prosecutor appears before House committee as Chairman worries for safety of expert witness in the case