Over the last few months, the business sector in Thailand has become openly critical of the government's handling of the country's electricity supply policy and rising power tariffs which they warn are negatively impacting the country's ability to attract inward investment with a tariff of ฿5.33 per unit for industry compared ฿2.80 in Vietnam leaving Thailand unable to compete, especially against a country with a younger population and more access to world trade networks.
The government, this week, pushed through an ฿11 billion package to help the less well-off following sky-high electricity bills which have left many households and businesses in the kingdoms teetering on the edge after amounts charged nearly doubled for those receiving their monthly bills in the last few weeks. The tone of business leaders has also become more trenchant with calls on the government to involve the sector in energy policy as the country's electricity generating scheme comes under scrutiny.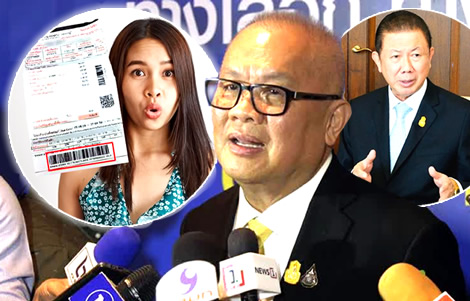 The government, in its caretaker capacity, has rushed through an ฿11.1 billion measure to lower electricity bills for small households for the next four months until mid-August which will see a ฿150 per bill reduction for consumers who use less than 500 units per month.
The adjustment is being made possible by a lowering of charges paid for fuel in the makeup of electricity bills through the country's energy generating scheme which has come under scrutiny in the last few weeks with skyrocketing bills of up to double the rate seen in the period previously.
Plan approved by the caretaker government must be first of all presented to the Election Commission for go-ahead under the country's electoral laws 
The plan was approved by the caretaker cabinet this week but must, first of all, be sanctioned by the Election Commission before it can be implemented with government aides arguing that the move is necessary to alleviate hardship while not denying that the whole question of electricity bills has already become a key factor in the May 14th General Election.
Energy policy overall has become a hot topic in Thailand with the country's business and industry leadership making ominous noises this week about Thailand losing investment projects and the danger of higher inflation and lower growth because the surge in electricity bills, which began in March sending shockwaves through the economy as well as within households across the country, will have knock-on effects.
The Vice Chairman of the Federation of Thai Industries (FTI) Mr Wiwat Hemmondharop, on Tuesday, called on the government to urgently cap the tariff rate at ฿4.4o per unit compared to the rate being charged of ฿5.33 to businesses in Thailand as he revealed that the kingdom is losing business and trade to its arch competitor Vietnam which has an effective rate of ฿2.80 per unit.
'Our electricity bills are much more expensive compared with Vietnam's. This problem affects both business and household sectors,' Mr Wiwat disclosed on Tuesday, saying that urgent action on electricity charges was essential for attracting industrial and development projects to the kingdom.
Critics also point out that Vietnam offers a country with a younger demographic and more trade access to world markets with key agreements in place with the European Union and the United Kingdom. 
Business warns government that Thailand is losing out as Vietnam offers an electricity tariff rate of just ฿2.80 per unit versus ฿5.33 in Thailand 
The Chairman of the body, Kriengkrai Thiennukul even claimed that he is aware of investors who have signalled plans to invest in Thailand but have pulled out because of ongoing difficulties and unpredictability regarding electricity charges.
An added call for a reduction in the tariff charged came from the Joint Standing Committee on Commerce, Industry and Banking (JSCCIB).
At the same time, officials both on and off the record, within the government are hitting back at the criticism of energy policy this week from both industry leaders and opposition politicians who may have landed the government a killer blow on the issue.
They point to the unsustainability of lower electricity charges after the country's main producer, the Electricity Generating Authority of Thailand (EGAT) effectively subsidised cheap electricity in Thailand from the opening days of the pandemic emergency and onwards from last year's crisis because of the Russian Ukraine war at a cost of up to ฿150 billion.
Officials hit back and point to the subsidies provided by electricity generator EGAT to the country since the 2020 emergency that must now be paid back
The bill for this, following a recent government payment, currently stands at ฿138 billion.
There has also been clarification regarding the need by Thailand to maintain an on-demand reserve of electricity generation power at all times, which requires approximately 50% more generation than the country's peak requirement because of spikes in demand which might otherwise lead to electricity blackouts.
Wattanapong Kurovat, the Director-general of the Energy Policy and Planning Office explained this as he revealed that Thailand produces 53.425 megawatts of electricity. 
30% of this comes from power generated directly by state agency-operated plants while 10% is imported from Laos.
The balance is produced by a range of private electricity generating firms who are paid what is known as an availability payment (AP) which is guaranteed based on a 25-year contract while money for electricity bills received by the network is divided into a charge for the provision of electricity generating plants and a separate part of the bill which is termed the Ft or the money required to pay for power generation costs which is fuel related.
Country needs to have at least a 50% reserve to meet peak demand as full plant capacity cannot always be online, particularly alternative power sources
The energy official revealed that only 70% of the country's energy generation capacity can be made available at any one time to meet demand, which includes a peak requirement in Thailand's summer period in March and April, coming to an annual peak requirement of 33.177 megawatts.
An added complication to the equation is also the use of solar and alternative power sources to address climate change which means that solar power generation capacity is unavailable at some times such as at night or in certain seasons for other sources.
Deputy Prime Minister and Minister of Energy, in March, accepted electricity rates were too high but pointed to possible tariff reductions from May 2023
In March, the Deputy Prime Minister and Minister of Energy, Supattanapong Punmeechaow who is responsible for the current situation and is also the government's chief economic policy coordinator, told a seminar in Bangkok on Thailand's future that the government was aware that electricity tariffs in the country were too high.
He was responding to criticism from the Federation of Thai Industries (FTI) which heard Chairman Mr Kriengkrai Thiennukul say he hoped the next government would do a better job at managing electricity costs than this administration as Thailand was losing competitiveness in the region because of it.
At the event, Mr Supattanapong said that the fuel component or fuel tariff in electricity bills would come down in the months from May this year but there was always the risk of energy costs fluctuating in what is currently a very volatile world market.
Thai Chamber of Commerce Chairman Sanan Angubolkul calls for a standing committee on energy policy between the government and business
Mr Sanan Angubolkul, the Chairman of the Thai Chamber of Commerce, has expressed deep concern about the sudden surge in electricity bills.
The Chamber is calling for industry leaders to be allowed to take part in energy policy-making decisions with the government through a standing committee.
He called for the government in the short term to take advantage of lower prices for liquefied gas, which still fuels 70% of the country's output, to do this.
'The Chamber of Commerce recommends the government closely monitor the production costs of businesses, particularly energy prices, to ensure they remain at a reasonable level and do not increase the financial burden on operators,' Mr Sanan declared. 'As part of this proposal, the private sector has urged the National Energy Policy Council to review power tariff rates to alleviate the financial strain on both households and businesses.'
Industry is also calling for increased grant support and flexibility to allow businesses to develop their own power generation capacity through solar panels but here too, there are further complications and snags.
Calls to iron out bottlenecks with onsite power facilities and solar panel electricity generation to allow surplus electricity to be sold back by users
Yoswaris Dulpinitpattan is the Managing Director of Sena Solar Energy which is a subsidiary of Sena Development Plc.
He is calling for more onsite solar power generation and for the ability of users to practically trade in electricity and for this concept to be taken more seriously.
'Allowing individuals to freely sell electricity to one another can have multiple benefits, including lower electricity bills and higher use of clean energy,' he said. 'Such a rule could contribute to achieving the country's net-zero goal.'
Concerning this, a key requirement is a need for better battery storage technology and facilities to process daytime power generated from solar panels so that it can be used by installations at night time.
Another key limitation is to be found in the electricity network itself where local transformers limit the amount of electricity that can be sold back to the grid to 15% of the combined power supplied through that point.
The reason for this has been the need to maintain stability within the electrical network to meet potential load and surge requirements.
Mr Yoswaris said the technology now exists to get around this impediment by creating virtual power plants although this will require investment to implement and ultimately will lead to less income for the electricity network run by the Electricity Generating Authority of Thailand (EGAT).
Further reading:
Lights out for the PM's chances as people get shocked by sky-high electricity bills in the post
Pheu Thai to knock back skyrocketing electricity costs hitting business with a 21% rise in 2023 already confirmed
Covid 19 electricity price reductions overshadowed by reports of skyrocketing energy bills nationwide
Electricity price freeze requested by Deputy PM to help Thai households cope with the slower economy