There are eleven Thais among the Israeli and foreign captives now imprisoned in Gaza by the Hamas terrorist group, which rules the coastal enclave. Eighteen Thais have been killed in the brutal terror witnessed on Saturday morning when Israel was invaded from land, sea and air.
Thailand has been among the countries to suffer the most from the shocking attack on Israel on Saturday morning, with 18 of its nationals now reported dead. The Ministry of Foreign Affairs in Bangkok is coordinating a rescue mission to see the first Thais returning home on Thursday, including those injured in the attack, primarily located in Israel's South. On Tuesday, officials reported that to 1,437 of the thirty thousand Thais living in Israel have expressed a wish to return home at this time. Prime Minister Srettha Thavisin has pledged the government's full support for them and has ordered the Royal Thai Air Force to keep planes on standby.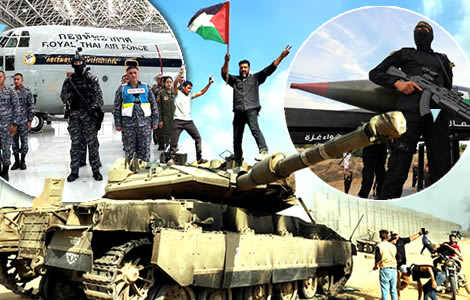 The Ministry of Foreign Affairs in Bangkok on Tuesday released the latest death toll for Thai workers living in the southern part of Israel.
This was hardest hit on Saturday when a militant terrorist group invaded south Israel from the Gaza Strip.
Over one thousand Hamas fighters arrived from the enclave by land, sea, and gliders.
The number of Thai dead is currently believed to be eighteen. 
Ministry of Foreign Affairs in Bangkok gathering data and tracking Thai nationals in Israel as the targeted southern part of the country is secured
This figure can still rise with intelligence still coming in.
Israeli authorities are just finalising the battle to bring its southern territory under its control. An operation is ongoing to root out all the invaders ahead of a major assault by its army on Gaza.
Other countries reporting deaths include the United Kingdom, United States and Nepal, with over a dozen fatalities each, while France has lost four nationals.
Authorities in Bangkok have so far confirmed that the Hamas forces took eleven Thai captives back to their coastal enclave.
The densely populated Gaza Strip is already under aerial bombardment by Israel's air force.
Air attacks have seen whole buildings demolished in massive explosions, with the leader of Hamas reported as being assassinated in the counter-assault.
Hamas has threatened to publicly execute hostages if the aerial pummelling of its territory continues.
30,000 Thai nationals in Israel last Saturday
In Bangkok, officials with the Ministry of Foreign Affairs are tracking the status of all Thai nationals in Israel, believed to be up to thirty thousand, but especially those living in the southern region near Gaza, with five thousand reported as living and working there.
So far, 1,437 Thai nationals are anxious to be repatriated to Thailand. Officials believe that this number could rise as high as 2,000. 
There is a danger of the conflict in Israel widening with incursions and military exchanges already between the country and Lebanon.
US intelligence sources are also liaising with Israel amid reports of a wider plot involving Iran, which is believed to be behind the massive attack on Saturday.
The Thai government has ordered several Royal Thai aircraft on standby to fly into Tel Aviv sometime in the next few days. 
Planning for early evacuations is already finalised, with the first to be extracted on Wednesday.
The war in Israel is a historical development and the most significant escalation of violence since the 1973 Arab-Israeli war.
Historic war which could lead to a broader conflagration as US intelligence revealed that Iran is behind the daring and deadly attack on Israel
Analysts fear that a wider conflict could break out either through Israel showing weakness or a mishap which inflames Arab opinion in the countries bordering the Jewish state.
The Hamas leadership has called for just such an escalation. 
It dubbed the invasion 'Operation Al-Aqsa Flood' playing on Muslim sympathies by referencing the historic mosque in Jerusalem, which this year shifted towards greater Israeli control under the right-wing government of Prime Minister Benjamin Netanyahu.
A spokeswoman for the Ministry of Foreign Affairs, Kanchana Patarachoke, gave some idea of the uncertainty and confusion that Thai officials in Bangkok are dealing with.
'It has been difficult to obtain an official confirmation, so the names are not being revealed yet,' she explained Monday afternoon.
Thais, among other nationalities, murdered
Ms Kanchana was referring to the identity of those confirmed as murdered by Hamas militants in their attack on Saturday.
The aggression and horrific violence left a further nine injured, and eleven are now confirmed as being held captive in Gaza.
Thais in Israel, many contract workers, were taken along with Israelis, French, German and other European Union nationals.
The raiders appeared to have had a mission to make such abductions, with those taken being bound with restraints. 
They were then quickly transported to the Gaza Strip, where their locations are unknown.
At this point, Thai officials confirm that 1,437 workers wish to be transported out of Israel in the rescue mission that is being planned.
Israeli Army and defence forces prepare to launch an attack, with the Israeli PM promising that Palestinians will take generations to recover from
By Monday morning, it was reported that 100,000 Israeli soldiers were massing on the border with advanced missile systems and other artillery devices to launch what is understood to be a major offensive to invade and occupy the Gaza Strip.
On Tuesday, a further 300,000 reservists were called up in Israel.
It is understood that Israel's Tel Aviv Airport is currently in operation with over half the regular flight connections cancelled because of what is now a war between Israel and the Gaza Strip, with the state of Israel officially making such a declaration in the last 24 hours. 
Also on Tuesday, Israeli Prime Minister Benjamin Netanyahu vowed terrible revenge. He told his nation that Palestinians would regret what happened on Saturday for generations.
Royal Thai Air Force is on standby
The Thai Air Force currently has an Airbus A340 passenger aircraft and 5 C-130 transport aircraft on standby.
These can take part in the rescue mission once or if it is authorised by the government while also using routine scheduled flights.
On Monday, while travelling in Asia and visiting Hong Kong, Prime Minister Srettha Thavisin reaffirmed his government's total commitment to conducting a rescue mission and ensuring the safety of all remaining Thai workers in Israel. 
'I would like to reiterate that the government attaches great importance to providing assistance and safety to our Thai brothers and sisters living in Israel. We are informed that over a thousand Thai workers in Israel have expressed their desire to return to Thailand. The Ministry of Foreign Affairs, the Air Force and related agencies have been ordered to do their utmost quickly,' he said.
Prime Minister Srettha Thavisin promises full support and no stone left unturned to rescue and return Thai nationals from Israel, which is now at war
The Prime Minister's office later indicated that the first Thais to be evacuated would be those who were injured. 
With this figure, there are now 15 Thai nationals who have been prioritised for removal from Israel, including those who are wounded.
An initial rescue of Thai workers is currently being planned through commercial airlines. 
Flights are scheduled to return to Thailand on Thursday, October 12th, with priority being given to those workers in the Gaza Strip who are in most danger.
The government is also prepared to send air force aircraft to Israel where appropriate and is coordinating with friendly European countries. The plan is to work with them to conduct the most effective rescue possible.
'In all this, the Thai authorities attach great importance to the safety of Thai people. Thailand is a friendly country and has good relations with all parties. We wish to see an end to the violence, and the situation return to normal quickly,' Prime Minister Srettha said from Hong Kong.
Further reading:
Rogue Israeli tourist is taken into custody by Immigration Bureau police prior to deportation
On the run Israeli tourist tracked down to Ko Samui, surrenders to authorities, taken to hospital
Thailand votes on the right side of history in UN deploring Russian military action in Ukraine