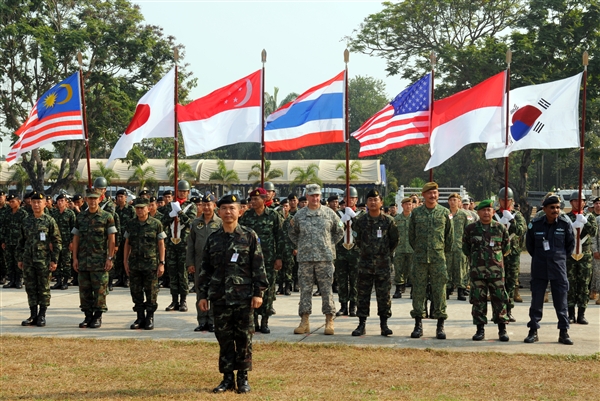 This week saw Thailand hosting the Cobra Gold military exercises in conjunction with the United States and with the participation of five other countries Singapore, Malaysia, Japan, Indonesia and Japan. The exercises which involve up to 35 countries including observer countries such as China and India are seen as an opportunity to gauge Thai US relations.
The 35th instance of the exercises was launched by US Ambassador Glyn Davies and Royal Thai Army Supreme Commander, General Sommai Kaotira in Chonburi on Tuesday. The participation of the US was scaled back in 2015 in protects at the 2014 coup and Ambassador Davies referred to 'challenges' when reiterating that the US Thai relationship was a strong one in his welcoming speech. 'As deep and broad as our partnership is today, it will grow stronger still when, as the prime minister has affirmed, Thailand returns to elected governance. With a strengthened, sustainable democratic system, Thailand's regional leadership role, and our alliance, can reach its full potential,' Davies said.  It is understood that up to 3,600 US troops participated in the exercises over 11 days.
US showing restraint in criticising Thai military junta
Most commentators note that the US has shown restraint in recent times of its criticism of Thailand and the military junta. This follows a particularly jarring moment in late November 2015 when the US ambassador was severely censured by the Thai authorities for comments on Thailand lese majeste laws.
Strained relationship over US ambassador's comments on lese majeste laws
As we head into 2016 the relationships between Thailand and the United States has become somewhat difficult. It is understood that the Royal Thai police began the process investigating complaints about the American ambassador to Thailand Glyn T Davies over alleged comments he made at a meeting of the Foreign Correspondents Club late in 2015 in which he questioned or appear to question Thailand's Lese Majeste laws. The US ambassador, of course, has diplomatic immunity.
Following the incident a week later, the US ambassador suggested that Thailand apply to become a member of the TPP or Trans-Pacific partnership. While Thailand's government under Prime Minister Prayuth Chan Ocha has indicated that Thailand will in due course become a member of the Trans-Pacific Partnership, it is clear to many commentators that the regulations and requirement required for membership would pose some difficulties for Thailand although the US ambassador seemed to go out of his way to point that Thailand's current predicament would not be an obstacle to beginning negotiations.
US Thai strategic review on all issues
Before Christmas in 2015 the Thai Ministry of Foreign Affair in conjunction with the US State Department also organised the 5th Thai US  strategic dialogue in which representatives of both countries took part in discussions across all areas involving relations between the two countries.
The conference was chaired by Mr Apichart Chinwanno who is the permanent secretary of Foreign Affairs in the Thai administration and co-chaired by a US Assistant Secretary of State's Daniel R. Russell. It is understood that the discussions involved areas such as defence, trade and investment as well as a range of issues including education, science and technology. The discussions also covered the particularly thorny issue between the two countries at the moment which involves human trafficking and irregular migration.
Thailand's programme to combat human trafficking
It should be noted that Thailand has ongoing programs designed to combat human trafficking and international criminal operations in conjunction with the US government and that there is considerable co-operation between the two countries in these areas. The developments come at a time when many analysts suggest that Thailand is moving closer to the People's Republic of China.
Over the last decade, China has become Thailand's largest trading partner in terms of exports and imports. Both the government of China and Thailand are contemplating a major project involving an ambitious rail network spanning Asia which involves the southern Chinese city of Kunming and Bangkok. Indeed some reports suggest that the Chinese Trans Asia Railway projects will feature Bangkok as a hub.
Thai government says Thai US relationship is strong but observers see a shift towards China
The Thai government of Prayuth Chan Ocha which came to power in a military coup in May 2014 has denied that there is a falling off of relations between Thailand and the United States. However, there does appear to be an increase in military and political cooperation between Thailand and China in the aftermath of the coup.
While Thailand is home to some strategically important American military bases and despite a downgrading of military co-operation from Washington, relationships between Thailand's security forces and those in the US continues to be a good one.
However, during 2015, there were military exercises with China including one at Thailand's Air Force in the North East of Bangkok where Thailand's air forces conducted military exercises with China's air force.
Many commentators have suggested that Thailand's post-coup leadership is attempted to create a more balanced relationship between Thailand and the United States by strengthening ties with China.
Sino Thai relationship – purchase of submarines
As well as the proposed railway project the Thai Navy has also been involved in a deal worth of $1billion to buy submarines from China. Prior to the new year, the American ambassador told reporters in the aftermath of the furore over his Lese Majeste comments that he was not concerned about the more friendly relations between Thailand and the People's Republic of China. 'I think it's a good thing for Thailand to have a relationship with China,' he told reporters. His excellency Glyn Davies. He also added that the United States was very interested also in maintaining a good relationship with China.
Thailand is a key partner for the US in Asia
The relationship between Thailand and the United States is a very strong one and it is very easy sometimes to underestimate the importance of Thailand to the United States in the South East Asia region. The US often refers to Thailand as a 'major non-NATO ally' in Asia. However, a number of actions by the United States government in the aftermath of the 2014 coup were less than friendly.
Washington, just after the coup, downgraded the annual military exercises involving American and Thai forces and pointedly suggested that the exercises would be restored once a General Election was held in Thailand.
Human trafficking status – Thailand downgraded
The downgrading of Thailand's status in relation to human trafficking has also deep implications for Thailand as it struggles to maintain its position as an investment hub in Southeast Asia at a time of economic headwinds. It has also touched a nerve with Thai authorities who feel they have been unfairly treated.
In 2014 the United States State Department downgraded Thailand's status to Tier 3 and this is seen as putting in jeopardy Thailand's efforts to attract investment and increase its exports to the United States and other countries worldwide.
The Thai government had invested efforts to combat human trafficking and in 2015 the whole question of human trafficking and irregular immigration blew up over the Rohingya crisis when some elements in Thailand were found to be complicit in human trafficking of Rohingya Muslims from western Myanmar.
The crisis was carried as a lead story on international news media and resulted in a Royal Thai police investigation which resulted in the arrest of Thai officials.
The Thai government has reiterated its ongoing campaign to root out human trafficking and consistently defended its determination to do so even where such activities draw negative media attention.
US ambassador emphasises the strong relationship
The strong relationship between Thailand the United States was confirmed by the US ambassador at a briefing for reporters in Bangkok. 'The relationship between the United States and Thailand is a very deep broad relationship… It's across the board, we work together in law enforcement security environment refugees trafficking, all of these things as we work with Thailand and for us, it's a very beneficial relationship.'
Tricky times in Asia economically and politically
The chilling of relations between Thailand and the United States comes at a tricky time for relationships across Asia as China and America appear to be at loggerheads over the sovereignty of islands in the South China Sea and China's ambitious efforts to build what appears to be naval facilities on elements of the Spratly Islands. There's also concern about negative progress or the falloff in China's economy which has become Thailand's strongest export market while being the country from Thailand imports the most.
Thai government performing a delicate balancing act to preserve stability in Thailand
'I think people must understand the balancing that the Thai government is trying to perform. Its main mission is to maintain stability in Thailand in the aftermath of the political turmoil caused by the protests in 2013 and 2014 and the tensions that arose within the s country. At the same time, there has now emerged economic headwinds caused by many factors a flight of capital from Asia and the weakening of the Chinese economy. Despite all of this, the Thai government has been making efforts to foster good relationships with all countries including the United States and I think the United States has to make allowances for Thailand in its current predicament,' says one media commentator in Bangkok.
Thailand and China engaging with each other
In 2015 the Thai Prime Minister visited Beijing while in 2014 the Chinese Premier Li Keqiang paid a visit to Thailand. The Thai government has been keen to emphasise its political roadmap to a more stable and democratic Thailand while also pointing out that this political challenge should not be an obstacle for increased co-operation and trade between Thailand and other countries. Despite this economic growth has been sluggish in 2015 and already commentators are beginning to downgrade expectations for 2016.
Sino Thai projects floated including the Trans Asia rail network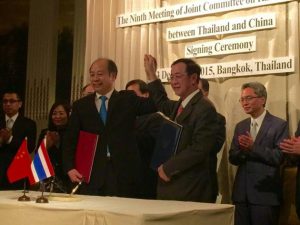 Thailand's exports have contracted for three years in a row with a 7% drop being announced in November 2015 on a year to year basis. A Trans Asia rail project has also been floated. The rail project estimated to be worth 12 billion would involve Thailand constricting a standard gauge railway with two lines to join up with the Chinese plan and linking the two railway systems in the Chinese southwestern city of Kunming. This project is seen as part of an ambitious scheme by the Thai junta to increase expenditure on capital projects. It should also be remembered that the Thai government has succeeded in stabilising the economy in Thailand which is still growing albeit modestly and the Thai government to date has an impressive of maintaining price stability with the country.
Trade pacts between Thailand and China questioned
The Thai government has also entered into strategic deals with Beijing to buy Thai rice and rubber from Thailand. The Thai government tried in 2015 introduced a scheme to allow increased production of rubber as the lower prices for commodities threatens to impact those working in the more rural parts of the country. However, lower commodity prices and market turmoil has caused some to question these moves.
Commentators have noted that such trade agreement often run into difficulties and many have questioned the benefit to Thailand of the proposed Sino Thai rail link.
Thailand also fostering stronger ties with Russia
Thailand has also been strengthening its ties with Russia with a visit in 2015 by Russian Prime Minister Dmitry Medvedev. Again the move towards strengthening Thai Russian ties as well as those with China is seen by commentators as an attempt to balance increasing demands from the US and Europe to meet new standards when it comes to human rights and human trafficking.
Russia is another trading partner with Thailand and it sells Thailand gas and crude oil but the visit the Russian Prime Minister in 2015 must be seen in the context of efforts by the Russian President to increase Russia's role around the world., The visit by the Russian President also coincide with the Russian Prime Minister visited Vietnam where Russia maintains and important naval base at Cam Ranh Bay.
Russia and Thailand aim to boost bilateral trade
Russia and Thailand have a set a goal of increasing their bilateral trade in 2016  to up 10 billion dollars by the figures for 2013  were 4.7 billion and the Russian economy in 2015 and 2016 has uncluttered very dramatic changes with depreciating rouble and a collapse in energy price including crude oil and gas.
Thailand has impacted Russian tourist numbers to Thailand although Thailand has had a very successful tourist season with an increase in visitors from China and western countries. This is a reversal of the position in the aftermath of the 2014 coup when the Thai government envisaged Russian tourists making up the difference as it was feared that western tourist numbers would decline. There is no doubt that Russia and Thailand have developed closer ties and this is natural as Thailand sees itself as somewhat isolated by the negative reaction to the 2014 coup.
Thailand has a different culture and history to the US and Europe
'It must be understood that Thailand has a different culture and society to western countries. Amid all the hubbub about human trafficking and the raids on Thailand's shrimp peeling factories before Christmas 2015, I recall one factory owner who complained to police that he could not understand what the problem was. He was offering employment and he was not a drug dealer. I think this illustrates that Thailand's economy and society has not developed to the same extent or perhaps in the same way as more advanced western societies with different cultures. I accept and understand that the Thai government is committed fully to implementing fully all the agreements and embracing all standards but I think the EU and the United States must think twice before they take steps that could have detrimental consequences for Thai people,' says Joseph Anthony, a commentator in Bangkok.
Washington should be concerned as Thai Chinese relationship grows
While Russian and Thailand are relatively minor trading partners with each other the relationship between Thailand and China has become strategically important and increased military ties between China and Thailand with the purchase of Chinese submarines and reports that China is seeking increased access to Thailand's important Sattahip naval base should be a cause of concern for Washington.