A senior official with the Thai Business Development Department has warned Thai citizens that they should not agree to become nominee shareholders for foreign business people. The warning comes as abuses by foreign owned business in Thailand come under increased scrutiny.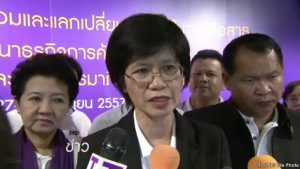 For years various Thai governments have debated the implementation of the foreign business ownership rule which prohibits foreigners from controlling Thai companies and prohibits foreigners being involved in specified trades and professions in Thailand. It is understood that, even before the military government came to power in 2014, the Business Department had launched a number of investigations focusing on key regions in Thailand and areas of business activity prohibited to foreigners. These investigations have recently focused on business enterprises related to tourism and real estate services.
Foreign Business Act controls foreign business in Thailand
Under Thai law, Thai companies engaged in most activities must be 51% owned by Thai shareholders under the Foreign Business Act which also lists prohibited activities for foreigners and foreign owned entities. Although the Act provides for licences for foreign owned companies in respect of prohibited activities, the process requires cabinet level approval in Thailand and is prohibitive for nearly all companies. It is understood that a practice has developed whereby schemes are setup involving Thai nationals who agree to nominally hold 51% of the shares in companies while the foreigners effectively control the Thai companies and act as directors.
Warning to Thai nationals not to act as nominee shareholders
At the end of February 2016, M/s Pongphan Chienviriyaphan, the Director General of the Business Development Department warned Thai nationals that providing such a service to foreigners that they could face up to three years in prison and a fine of between 100,000 and 1,000.000 baht. She revealed that officials from her department had investigated such companies in Phuket and Koh Samui in the course of 2015. The results of this investigation identified two cases involving a car rental company and a retail company and both these cases were subject to further investigation. M/s Pongphan Chienviriyaphan also revealed that her department was working with the Department of Special Investigations (DSI) and the Department of Tourism to further their enquiries. She also indicated that businesses being conducted illegally were under investigation in Chiang Rai and Chiang Mai. These areas have been identified  as two further priorities by her department.
The result of these investigations showed that out of 44 companies examined, that two were found to be breaking the foreign ownership regulations. One of these companies was involved in the tourism business while the other was involved in real estate.
Investors see mixed signals from Thai government
It is reported that foreign business interests and Chambers of Commerce are lobbying the Thai government to clarify its intentions on the foreign ownership laws. Many observers say that these provisions are vital to continued investment in Thailand, which in 2012, exceeded $10 billion. Thailand is the second largest economy in Southeast Asia but is facing stiff competition for investment funds from countries such as Vietnam and Cambodia as well as an emerging Myanmar which has now returned to civilian rule. Foreign business operators and investors are particularly concerned at previous proposals mooted by the Thai government to ensure that Thai joint venture companies, which have majority Thai ownership, should have control at board levels vested in Thai citizens. Such a proposal was floated by Thailand's Commerce ministry in the past. There had been continued speculation that such a move was being examined by Thailand's Commerce ministry. The proposal is similar to a proposal from Thailand's military leadership in the aftermath of the 2006 coup. The de facto foreign control of these joint venture companies has been accepted for many years.
The latest investigations by Thailand's Business Development Authority however is a separate issue and is focusing on the use of false nominee shareholders by some companies in order to comply with the provisions of the Foreign Business Act and therefore qualify as a joint venture company. It is believed that this practice has been widespread in Thailand
Opposition to changes in foreign business laws from investors
In late 2014, the Joint Foreign Chambers of Commerce were critical of the lack of clarity from the government on rumoured changes to the foreign ownership laws. One official at the Japanese embassy in Bangkok Mitsugu Saito told the Bangkok Post newspaper that changes to the law may mean the withdrawal of some Japanese business from Thailand saying that a move to impose control at board level would have a serious impact. He pointed that at least half the Japanese controlled companies would have to cede control of operations if the proposed changes went ahead. He added that while the immediate effect may not be sudden, it may jeopardise future investment. Mr Saito also pointed to competition from other countries and mention the Philippines, Indonesia, Vietnam and Myanmar
Prime Minister ruled out foreign ownership changes in 2014
At the same time, in 2014, the Prime Minister Prayuth told a luncheon of over 800 guests hosted by the Joint Chambers of Commerce of Thailand that the Thai government had no immediate plans to amend the foreign ownership laws. He said: 'I'm telling you that the government has no any amendment plan of this law, I'm seriously assuring you now.' He explained his comment by adding: 'Why will the law be amended if it will lead to more problems? Why will there be an amendment that will make you decide not to come and invest here?' The Prime Minister did suggest that some changes may be made to make the law work better.
Thai Ministry announces 'flexibility' in foreign business law
In November 2014, the Thai Commerce Ministry announced a review of the 1999 Foreign Business Act which it said was aimed at making it more flexible and to allow increased competition. Officials also stated that any changes would not have 'retroactive' impact. It emphasised that any amendments would represent a 'relaxation' of the law. The EU, which the second largest investor in Thailand, had warned that any changes which were more restrictive, would have 'detrimental' consequences. The Thai Commerce Minister Chatchai Sarikulya was had encouraging words for foreign investors: 'The government is aimed at amending the law to be more flexible and become international by helping reduce investment obstructions and not control any firms retroactively.' Pongphan Chienviriyaphan, the Director General to the Business Development Department said the goal of the review was to make the law more flexible and to help increase competition. Significantly, at that time, the President of the European Business Association, Uli Kaiser, was told that any changes would only impact future investment and not existing companies operating in Thailand. Mr. Uli also observed that Thai authorities had been 'lenient' in the past regarding foreign controlled companies in Thailand.
Thai government targeting abuse of nominee shareholders
The investigations by the Business Development Department into the abusive use of Thai nominee shareholders under the Foreign Business Act is ongoing and has so far been targeted at key areas of business activity in particular regions of Thailand in a methodical process. 'I think it is clear that the Thai government is sending out message that such abuse will no longer be tolerated, so while the law itself may not change or may even become more flexible, flagrant abuse is being tackled,' says James Morris, an internet commentator. 'I know there are many small foreign companies who may be worried by such moves but for now it appears that only companies using Thai nominee shareholders to breach the law are being targeted. However, in many instances, this is open to interpretation as the Foreign Business Act gives the Thai authorities remarkable flexibility to adjudicate what is within the law and what is not. In fairness, I think they have been lenient as the man said but I think the time has come for all foreign companies to make sure their house is in order.'