A former Thai Prime Minister, who heralded a new age of economic development and modernisation in Thailand in the aftermath of the 1991 coup, has laid out a vision for a new inclusive democracy in the country.
Anand Panyarachun made the remarkable keynote address to the Foreign Correspondents Club in March in which he outlined a positive vision for a new society in Thailand. After his speech, he was questioned by reporters on Thailand's history of coups and his role in the aftermath of the military seizure of power in 1991.
Anand Panyarachun is a two time Prime Minister of Thailand having taken the post twice following the 1991 coup led by army General Suchinda Kraprayoon. The Cambridge educated, elderly statesman was addressing the annual dinner of the Foreign Correspondents Club of Thailand. The event was held at the InterContinental Hotel in Bangkok. Mr Panyarachun told 200 guests, many of them international journalists, that the western media has often failed to understand the nature of coups in Thailand and defended his role in the government of the early 1990s. In his speech to the group, he laid out a remarkable new blueprint for Thai democracy and society.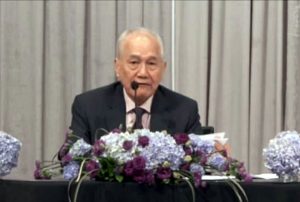 Keynote speech lays out principles for a new Thai democracy
Anand's keynote speech at the Foreign Correspondents Club event was based on a previous address to the Annual Seminar organised by the Bank of Thailand in September 2015. The address laid out a vision for Thailand's economic and political development in the future based on the concept of 'sufficiency.'  This, in turn, is based on the key principles of moderation, rationality and immunity. The former PM referred to the 'Sufficiency Economy thinking' put forward some time ago by Thailand's monarch. Anand divided his address into explaining four key elements with the aim of finding a 'new normal' for democratic government in Thailand. These were sustainable and widespread economic development, an open and inclusive society, respect for the rule of law and the recalibration of the relationship between the state and the Thai people
Former PM questioned about Thailand's history of coups
Thailand has had twelve successful coups in its 80 year modern history since its reformation as a constitutional monarchy in 1932. The former Prime Minister pointed out that these coups have not been 'brutal and bloody', in the the same way western audiences think of coups that had occurred in the past in Latin America and Africa.
In the question and answer session after the speech, Anand suggested that Thai coups are unique and idiosyncratic. The elder statesman, who is now 83 years of age, pointed out that the most recent coup in 2014, led by General Prayuth Chan Ocha had not damaged inward investment into Thailand.
Anand: 'We have to deal with the reality…
While the Thai coups were non violent, Mr Panyarachun said he was not proud of Thailand's association with coups. However he said the damage caused by them was 'relatively insignificant'. Asked by a journalist from Singapore if he thought the current military junta was capable of implementing reforms in Thailand, he said: 'Just because they are a military government does not mean that they are stupid or always stupid'.
Later, pressed by a reporter from the popular online publication, Khaosod English, on the suitability of capable and well educated people being drafted in by coup makers to replace the rule of law with military rule the former Prime Minister suggested that it was important that people not think in terms of black and white. 'We have to deal with the reality and idiosyncrasy of the situation, to be working with them, it has nothing to do with the rule of law. I didn't agree with the coup, I had nothing to do with it.'
Mr Panyarachun was referring to his role in the wake of the 1991 coup when he was asked by the coup leader to take up the premiership. He told the reporter that if he failed to take up the offer it would have been a disaster for Thailand. 'I worked with them, I was never under them,' he told the session.
Worked for the benefit of the Thai people
Former Prime Minister Panyarachun defended his record as Prime Minister after taking the post following the 1991 coup and said that he had worked for the benefit of the Thai people. He suggested that it would be wrong to hold him responsible for the coup suggesting that it was 'an act committed by third parties'. Significantly, he told a CNN reporter from Thailand that if asked to take the job again he would not necessarily refuse. 'Nobody so far has made me an offer that I cannot refuse,' he said.
Former PM has an impressive track record
Mr Panyarachun's government, which took office after the 1991 coup, was credited with beginning a process of economic and financial reforms which led Thailand into a dramatic period of growth. His period in office coincided with the granting of a telecoms licence to the telephone company True. As Prime Minister of Thailand he was involved in laying the foundations for the Asean Free Trade Area and a highly successful HIV/Aids programme which saved many lives.
Anand had previously spent twenty three years in Thailand's foreign service as ambassador to the United Nations, Canada, the United States and West Germany. Although a critic of former prime Minister Thaksin Shinawatra in the past, neither as he always been in agreement with Thailand's military even while acting as Prime Minister in the administrations that resulted from a military coup. His period in government was noteworthy for progressive and reforming policies.
Hoped 1997 constitution would limit 'money politics'
A keen supporter of human rights and social inclusion, the former PM was a key contributor to the formulation of Thailand's 1997 constitution. In his speech to the Foreign Correspondents Club, he said: 'I was involved in drafting Thailand's 1997 constitution, which for the first time involved broad based public participation. I had hoped it would make democracy more open, transparent and accountable, and that electoral reforms would limit money politics and corruption.'
In his speech he warned that constitutional reform is not the 'silver bullet for all the ails society'. The former PM is calling for changes within society in Thailand. 'People must want democracy for it to take hold. As Mahatma Gandhi once observed, 'The spirit of democracy cannot be imposed from without. It has to come from within.'
Six days after Anand's speech to the Foreign Correspondents Club saw the publication of Thailand's new charter or constitution on which the Thai public will vote on August 7th 2016. Some of its proponents have suggested that some modes of government may not be suitable for Thailand and western norms may not be best suited to the country.
Former PM calls for just and sustainable economic policies
The former PM warned of the dangers of 'unbridled economic growth' and called for a more sustainable approach which also brought about an 'equitable distribution of income and opportunities'  when it comes to Thailand's economic policies. He pointed to recent stimulus measures by Thai governments such as the rice-pledging scheme and measures to boost car ownership as examples of measures that are short sighted and fraught with possible negative consequences. He pointed to the 1997 financial crisis and the recent global financial crisis as an indication of what can go wrong with such policies.
Anand referenced the 1997 financial crisis a number of times in his address pointing out that it was an opportunity that Thailand had missed. 'I have always held the view that we did not make the most of the 1997 financial crisis,' he said.
He also warned that 'inequality and injustice' were not only forces that held back economic development but also had the potential to 'breed political upheaval'. He said that Thailand had already witnessed this to some extent.
Vision for an inclusive and liberal Thai society
Anand explained his vision for a more open and inclusive society in Thailand. He warned against 'majoritarian rule'. 'Liberty and equal rights are not simply about the right to vote,' he said.
He called for a democracy where all voices are heard. 'Democracy must be something more than two wolves and sheep voting on what to have for dinner,' he said. He called for a democratic society where every group, section of society or religion felt included. He also had words for those taking power after future elections: 'As Thailand approaches elections in the near future, it will be imperative for the winners to consider themselves representatives of the entire country, and not just of the people who voted them in.'
Rule of law: adherence to the spirit and moral principles
Anand pointed out that in a 2105 study, Thailand ranked 56th out of 102 countries in a worldwide survey on the rule of law. He observed that Thailand was placed behind such countries as the Philippines, Greece and Ghana. Thailand's score was 0.52 out of one with Nordic countries such as Denmark, Norway, Sweden and Finland topping the list.
The former PM called for more adherence to the spirit and moral principles of the law in Thailand. He said that order and stability cannot solely be imposed by law but must 'emerge naturally in accordance with the rules and norms of society'.
Relationship between state and people in Thailand
Mr Panyarachun called for more powers in Thailand to be devolved to local level. His vision, he stressed, was not simply the 'distribution of power to local government bodies that report to the central authority'. Anand's proposal is that local bodies would be controlled by the 'local populace' rather than central government.
He called for a radical reform of Thailand's  education system so that people are thought to think critically in a way that promotes real learning. 'In my view, the best way to do this is to shift the emphasis of education away from memorizing facts and rote learning to focus instead on nurturing creativity and adaptability. This all starts with getting teachers to teach less, encouraging students to read more diversely, and ensuring teachers engage in dialogues with students,' he said.
Former PM calls for Thais to risk making mistakes
He also called for Thais to become more creative and not to be afraid of being seen to be wrong or making mistakes. He described the courage to take risks and the 'relentless process of trial and error' as part of what it takes to change the culture in Thailand to one of innovation and advancement. He told the FCC audience: 'Let us not forget that the iPhone many of you carry around was regarded with some scepticism when it was first released in 2007. Its success is a testament to Steve Jobs' willingness to be wrong rather than his fear of not being right.'