Changes to deposit protection limits on bank accounts in Thailand may give a boost to property investments even as there are warnings of speculation at the high end of the market for condominiums.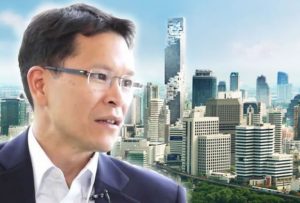 In early April the Governor of the Bank of Thailand issued a warning about the potential of bubbles developing in some parts of the Thai economy and referred to the property market. Some observers within the industry believe that worries over this are confined to the premium end of the property market particularly high end condominiums in Bangkok.
The comments come as it was revealed by the Bank of Thailand Governor Veerathai Santiprabhob that the bank is closely watching the flow of deposits from bank accounts to instruments offering a higher return or high risk funds. He said some of these funds were being invested in certain real estate sectors. The bank governor indicated that there was a concern that bubbles may form in some parts of the Thai economy.
Warning to property development sector in Thailand
In what was taken as a warning to the property development sector and the banking industry, the bank governor said it would take some time to see if such developments have the potential to create economic problems. 'They contain risks and could have a long term impact on the economy as whole,' the bank leader warned a forum attended by financial and business leaders entitled 'SET100 Join Together to Drive Pracha Rath' which was held at the Stock Exchange of Thailand.
The Bank of Thailand governor indicated that the bank was aware of speculation in the Thai property sector but stressed that Thailand's economy was in far better shape than it was prior to the 1997 crash. Today Thailand has a current account surplus of 35 billion US dollars accounting for 9% of Gross Domestic Product and has a public debt which is only 44% of GDP.
Thai property holding its own in a tale of two markets
Many had predicted that the 2014 coup would result in a loss of international confidence but this also has not happened. Some commentators have pointed out that what appears to have occured is a slow fall off in demand at the lower end of the Thai property market while interest in high end property in Bangkok continues to grow.
The fall of Thailand's property market, speculated on for the last few years, has not materialised. Despite a sluggish economy with reduced growth, there is continued interest in property in Thailand particularly in Bangkok from foreigners and in particular those in the Asian region. But it is focused exclusively at the high end of the market.
Influx of capital into high end market in Bangkok
One of the reasons for the influx of capital into high end property in Thailand's capital is the imposition of market cooling measures in other market such as mainland Hong Kong and Singapore. These include higher mortgage down payment requirements and a higher level of stamp duty. However there are other factors driving capital into high end Bangkok real estate. These include the prospect of an Asean open market and Thailand's reputation as a low cost destination. The fact that rental yields on property in bangkok at 5%, are strong, is also a major plus factor. The popularity of Thailand as a tourist destination with its remarkable sights and scenery and the proximity of beaches within an hour or two add to its appeal to wealthy investors. Many of those investing in Thailand and Bangkok from abroad are cash buyers. Experts note that, although China has imposed similar measures, many Chinese with cash to invest are opting for investments in western countries.
Thailand's tallest building in 2016 with $8.4 million apartments
James Pitchon is executive director of CBRE Thailand. He points out that high end properties are now selling in Bangkok at $8,421 per sq metre. A two bedroom off plan condo with a shared rooftop pool in the popular Sukhumvit area for foreigners is priced at $1million or 35 million baht. At the same time, a property being marketed a company called Landscope affiliated to Christie's International Real Estate has four bedroom, four bathroom penthouse apartment for $3.8 million or 133 million baht. One popular new development to be completed in late 2016 is the MahaNakhon Tower. It will be Thailand's tallest building at 1,030 feet and 77 floors. The development includes 200 Ritz Carlton residences and already 75% have been sold off plan. Apartments in the development range from $1.2 million to $8.4 million.
Sluggish property market at the low end with an over supply
It should be noted that this demand for high end properties compares sharply with a sluggish or drop off in demand at the lower end of the market. Overall, investors in the Thai property market and even in condominiums in Bangkok remain predominantly Thai. For those Thais with cash to invest there has been a marked new interest in condos as an investment and place to live. Traditionally Thais have preferred property at ground level but the increased security and lower maintenance costs of condominiums is causing attitudes to shift. However, even this shift attitude is not helping to move a glut of condominiums at the lower end of the market developed in anticipation of major mass transit routes throughout Bangkok and extended metropolitan area.
Thai bank account deposit protection changes in August
In August 2016 the maximum deposit protection on Thai bank accounts will be cut from 25 million baht to one million baht. It is expected that that this will prompt many Thai investors to look again at their financial strategies
Speaking earlier at the beginning of April at a forum attended by leading financial figures in Thailand, a senior executive Vice President of CIMB Thai Bank suggested that the move will encourage many depositors to move their money into more attractive investments such as real estate and higher yielding financial products.
Thai cement company raised B5 billion in one week
Mr Adisorn Sermchaiwong pointed out that a subscription offered by CIMB Thai Bank for debentures in the well known Thai company TPI Polene had raised up to 5 billion) baht in the course of the week. TPI Poly is one of Thailand's most well known companies and is the third largest cement manufacturer in the country. The company was formed in 1987 and is also involved the manufacture of petrochemicals.
Thai property boss: speculation at the high end of the market
Speaking to the media, the Chief Executive of the Property Perfect public company, which is a leading property development company in Thailand, Chainid Adhyanasakul, said that there was indeed some level of speculation in Thailand's growing condominium market. This activity involves buyers booking units and selling them on before they are ready to be transferred to their eventual owners. The property company chief executive said that he thought that this might represent 10% of sales in that market pointing out that this was well below the levels seen prior to the 1997 crash. He also pointed out that those involved in speculation activity tended to focus on condominiums priced 5 million baht or over. In the last three or four years, the development and sale of condominiums in key urban markets throughout Thailand has seen massive growth with a lot of interest from foreign purchasers although foreigners represent a very small segment in the market.
Oversupply of condos may exist or develop – bank boss
A executive Vice President with Bank of Ayudhya, Nathapol Luepromchai, said that it was clear that the Thai Central Bank was sending a warning to developers who have been in process of developing condominium complexes along the route of proposed mass transit systems being driven by Thai government and urban authorities. The executive Vice President went further and suggested that it was possible that an over supply of such condominium units may exist or develop in the future as some existing projects seem to be facing headwinds. He pointed out that potential purchasers of such properties may be rethinking their position as the sluggish economy is causing confidence levels to drop. This sentiment was supported by Chansak Fuangfu, a director and senior executive Vice President at Bangkok Bank who said he doubted whether a property bubble in the market would develop as there was currently less demand for property.