Beauty serum was a soybean byproduct that produced a rash as Thailand reels from ambitious scam involving nearly 60 TV, film and internet stars

The darker side of Thailand's fake product industry was exposed this week as police smashed an illegal cosmetics and health foods empire which had brazenly employed the services of some of Thailand' most famous TV, film and internet start to promote its products.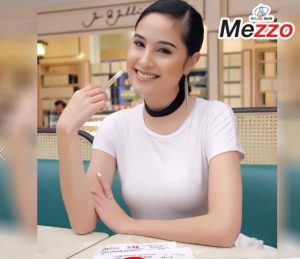 The scandal and legal nightmare has blown up for a number of famous actresses and TV stars in Thailand over their endorsement of a fake cosmetic and healthcare range of products. On Thursday last police invited nine more celebrities for questioning over a cosmetic range with over 250 brands that was found to be endorsed by 59 well known Thai celebrities. The people behind the 'Magic Skin' range of cosmetic and health products had paid over 100,000 baht each ($3,300) to the star to personally endorse the products to the Thai public.
Raids on licensed facilities and arrest already made
Police revealed that eight people had already been arrested in connection with the investigation which has seen raids on the warehouse and storage facilities associated with the products. Police revealed that the Magic Skin product range had used false FDA (Food and Drug Administration) certification numbers on the products. The FDA has confirmed that the products are illegal.
Marketing involved celebrity endorsements of fake products
In publicity and advertisement for the magic Skin range celebrities had extolled both the quality and the health benefits which were marketed at an attractive price. One advertisements for one product highlighted the retail sale price of 100 baht saying it was FDA approved and had been imported from Switzerland. Switzerland is a country which many Thais see as ideal, pristine and representing an aspirational standard of living. It is currently one of the most popular foreign travel destination for Thailand's growing middle class.
Film star promoted serum which was simply soybean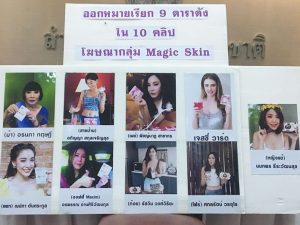 The  advertisement mentioned was for a face serum product called Mezzo which was promoted by Thai film star Pitchanart Sakhakon also known as 'May'. The advertisement took the form of a video that appeared on social media site Instagram. During a press conference with Thai police it was revealed that the serum was in fact a whole by product of soybean which would have cost 10 baht to produce. A spokesman for the Royal Thai Police Gen. Weerachai Songmetta told reporters that one member of the public developed a reaction after use the fake product called Mezzo: 'Someone used it and got pimples and rashes all over their face, so they went to the doctor,' he told reporters.
Slim milk was billed as weight loss inducing – it was simply milk powder
The police officer also highlighted another product called Slim milk which was promoted by Nontaporn 'Ying Yae' Teerawatanasuk, a highly popular internet celebrity blogger who is very popular for her posts on fashion and beauty on the social media site YouTube. In a review for Slim Milk Ms Teerawatanasuk told her audience that the product was not just milk but a revolutionary product which would help those who consumed it to lose weight. 'This isn't normal milk. Drink it and you'll be thin!' the actress said in the video promoting Slim Milk. At the press conference the police belated that the product was in fact simply powdered milk packaged by the suspect company.
Apologies from film star 'tricked' into Instagram advertisement
In the midst on the revelations on Thursday, Nonaporn issued a sincere statement apologising to her fans and the public for not authenticating the product (Slim Milk) that she had endorsed. She admitted that many people had bought the product following her endorsement. I will be more careful and selective about products in the future. Although the company also tricked me, I won't sue them because they will probably receive enough punishment,' she said.
Legal nightmare ahead for TV and celebrity stars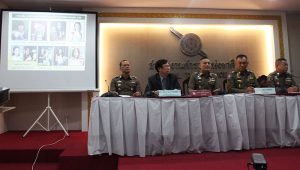 However the trouble for the celebrities and TV stars may only just be beginning as police revealed that they may face charges of false advertising regarding cosmetics which carries a penalty on conviction of a fine of 100,000 baht and up to 1 year in prison. A more serious charge applies to products which are defined as food which carried a potential three year sentence and a smaller fine of ฿30,000. Also those involved may be prosecuted under Thailand's computer crime act for uploading false information to a computer system. This can result in a 5 year prison term and ฿100,000 fine.
Weerachai said celebs faced charges of false advertising of cosmetics, which carries a maximum sentence of one year in prison and a fine of up to ฿100,000. False advertising of food is punishable by up to three years in prison and ฿30,000 and uploading false information into a computer system can lead to a five-year jail term and a ฿100,000 fine.
Thai police to question all star involved in the illegal fake products campaign
Police have revealed that the products, marketed under 250 different labels were found to be substandard and were manufactured in unlicenced facilities. The audacious marketing campaign involved nearly 60 Thai film, TV and internet stars. Police have indicated that all will be invited for questioning as the investigation proceeds. Significantly it was also revealed that over 50 members of the public in Thailand have come forward to make complaints after  using the Magic skin products and suffering ill effects.