Thailand may have found a new formula for harmony and love

The Thai Ministry of Defence has launched a new mascot to promote unity in Thailand. However a hit Thai TV show may hint at a better way forward for the country.
For many foreigners and expats living in Thailand the last four years have seen a period of stability and welcome relief from the escalating street protest and clashes that occured prior to the 2014 coup which seriously threatened the stability of the country. As politicians from rival political parties stir into action, looking forward to an election in 2019, there is a concern on behalf of the ruling National Council for Peace and Order to preserve the harmony and peace that now exists in Thailand and not to take it for granted.
Thai military spokesman says first phase in mission has been successful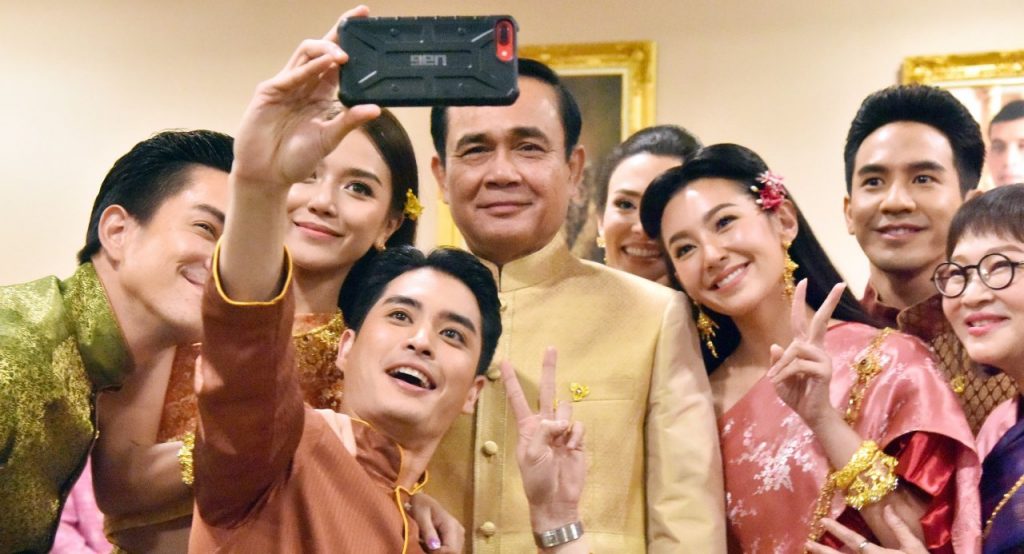 A Defense Ministry spokesman last month claimed that in Thailand there is now a new mood national reconciliation pervading the country with the street protests such as those organized by Redshirts or Yellow Shirts, terms for pro- and anti-government protesters, a forgotten bad memory. Col Wanchana Sawasdee, who is well known in Thailand for playing the lead role in Thailand's biggest and most successful movie King Naresuan, pointed out that the advent of the National Council for Peace and Order had put a stop to the disorder that had arisen. He described this as the first phase in the mission. 'So for the first phase of our mission I can answer you right away, it's been completed. You can see that all the protests are gone. The NCPO's coming to power has achieved unity,' he said.
'Pinky finger' mascot launched to promote unity and reconciliation in Thailand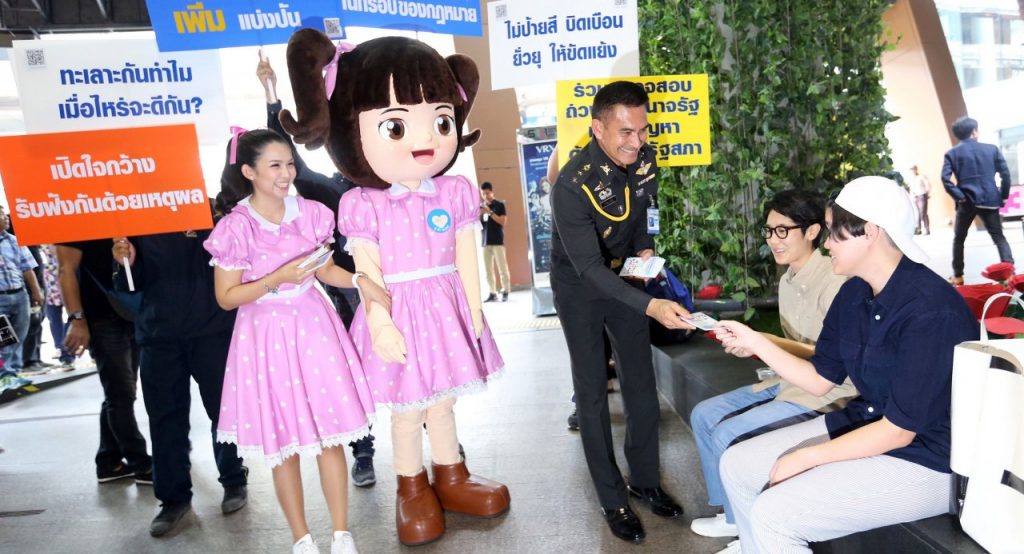 The claim was made as the army launched a revamped mascot to promote peace and unity in Thailand. The revamped mascot called Nong Kiew Koy which means 'pinky finger' in Thai language was deployed by the military to Siam Square in Bangkok to hand leaflets to shoppers encourage peace and reconciliation. Col Sawasdee remarks to the media were later criticised by a Redshirt leader. Weng Tojirakarn pointed out that opposing sides were not allowed to protest and questioned the army officer's definition of reconciliation. Politicians in Thailand are growing restless for elections which are scheduled for early 2019.
Army spokesman was the star of Thailand's most successful movie
Col. Wanchana Sawasdee admitted in an interview that some protest had taken place such as an anti-coal hunger strike but he insisted the reconciliation was still on track. 'Sometimes, protests can happen because reforms have not yet been reached on their grievances,' he said. Colonel Wanchana Sawasdee is famous also in Thailand for playing an ancient warrior king in the Thai biographical and historical drama film named King Naresuan. The film made into a franchise was released in Thailand in three parts between 2007 to 2011 and was Thailand's biggest budget movie to date with a budget of 700 million baht. It is also well known in the United States but the title Kingdom of War stateside would do little for the Thai government's mission today.
Love Destiny, a TV show featuring Thai history hits a sweet spot with Thai audiences
There have been calls  among some sections of Thai society for a greater emphasis to be put on films and programming depict Thailand's history and heritage in order to create a greater sense of national cohesion. Thai TV has recently picked up on the theme with the hugely successful TV show titled Love Destiny.
The success of Love Destiny which employers the culture of Thai society in the historical past is in its appeal to Thai women. It reenacts the strict protocols and tensions that existed in Thailand among the ancient nobility when it comes to personal behaviour and the gender differences between women and men. It is a show that Thai women in particular have become immensely proud of with women in Thailand now flocking to fashion shops seeking traditional Thai costume and apparel as opposed to western clothes.
Love Destiny appeals to TV audiences in Thailand and internationally
The success of the show has seen commentators on TV including news and sports presenters commenting on its characters. Love Destiny has even become popular with foreign audiences with the TV programme being watched in China with Chinese subtitles. Many observers see the show as a indication that The people are beginning to look to their own culture as a unifying force in the country.
Thailand facing an onslaught of unfair international media coverage
The TV show appeals to all classes in Thailand across all political divides. It has been particularly welcome at a time when Thailand is working had to improve its image internationally but is facing headwinds as exposes appear in international media sensationalising human rights gangs and sex exploitation. 'As western countries fight their own civil war between the politically correct globalist factions and people who support nationalism and Trump, it's unfortunate but Thailand becomes an easy target,' said a UK based news editor recently.
The National Council for Peace and Order is making progress on these fronts but is challenged to build on the peace and unity as new elections loom and political debate again opens up in Thailand. It is a good time for Thai people to focus on what the fact that there is a lot right about the country and there many foreigners who can attest that.