Summit between Trump and Kim was mooted for Bangkok
The meeting between Kim Jong Un and U.S. President Donald Trump takes place in Singapore on June 12th. But Thailand was among the countries that offered to host the event and made to some expert short lists.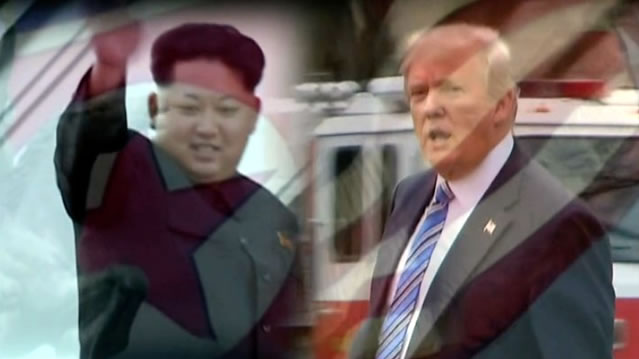 Thailand volunteered to host the summit between U.S. President Donald Trump and North Korean leader Kim Jong Un before the venue was announced as Singapore. Thailand's foreign minister confirmed the offer to the press in April.
Historic summit between Trump and Kim could have been in Bangkok
Foreign Minister Don Pramudwinai told reporters that Thailand was both willing and had the capacity to host the historic meeting between U.S. President Donald Trump and North Korean leader Kim Jong Un. The proposed historic meeting between the leaders of the United States and North Korea is the first time that the leaders of the two countries have ever met. The denuclearization of North Korea's is the key discussion point and the summit talks will be dominated by ways to find a way forward for North Korea towards that end. The objective of the United States will be to ensure that any agreement works and cannot be reneged on like agreements between the two countries in the past. 'It will be a difficult task but Trump means business and maybe the time has come for North Korea to really come in from the old,' says James Morris a news commentator in Bangkok.
Bloomberg had Bangkok on their list of possible venues
Earlier Bangkok was named by Bloomberg, the prestigious financial and economics news service, in a list of potential venues for the summit which has captured the imagination of the world. The list included eight other cities, three in Scandinavia and one in Southeast Asia. President Trump was reported to have drawn up a shortlist of  five locations but we don't know if Bangkok was one of them.
Thailand is a key American ally with the one of the largest US embassies in the region. It is also one of the few countries to host a North Korean embassy. The Thai government has always treated the North Korean state with respect. This is often a difficult balance as many North Korean dissidents escaping North Korea pass through Thailand from China on their way to safety in South Korea. Bangkok is home to both a substantial US embassy and a significant North Korean mission.
Thai Foreign Ministry confirmed the offer and ability to host the summit
The Thai Foreign Minister was asked if Thailand could act as a mediator between the two countries. Don Pramudwinai said that such a diplomatic effort was not required as the United States and North Korea were already in communication with each other at a high level. He expressed hope that everything would continue to improve.
A spokesman for the Foreign Ministry however insisted that Thailand was both experienced at and capable of hosting international summits. 'We have hosted ASEAN regional forums,' Busadee Santipitaks told the media. 'We were on the stage where U.S. and North Korean defense ministers met.' Indeed, Bangkok  was the venue for talks between the two countries that led to improved relations in 2000. It also has a history of brokering peace between many governments and rebels, such as the Sri Lankan government and the Tamil Tigers. The later fate of the Tamil Tigers at the hands of the Sri Lankan military may not have presented a very auspicious precedent for North Korean leader Kim Jong Un. It does highlight the critical nature of the talks and the choice is stark between peace or military confrontation.
Thai commentators poured cold water on the Bangkok summit offer
Bangkok's proximity to North Korea would have added weight to its attractiveness as Kim Jong Un's aging aircraft fleet is reported to be incapable of travelling long-range distances. Some experts were quick to cast doubt on the feasibility and even the motives of the proposal to hold the summit in Bangkok when it was first mooted. Supalak Ganjanakhundee, an expert in Southeast Asian politics, pointed out that Thailand had little experience hosting a meeting as important as that proposed between leaders of US and North Korea. 'We never had such an experience. We never did such a big thing,' said Supalak, 'Most meetings we hosted were between state and non-state actors.' His comments seemed to signify that Thailand is only familiar with hosting peace talks in a regional level. It was also confirmed before the venue was announced as Singapore that Thailand had not been approached about the possibility of holding the event in Bangkok
Thailand seen as a US ally and not neutral enough
Media enquiries at the US Embassy in Bangkok when the suggestion was first floated were met with a decline to comment.
Naruemon Thabchumpon, who is political scientist from Chulalongkorn University, felt that that Indonesia could be a more probable choice due to its history of impartiality and growing geopolitical importance. Naruemon however hadn't ruled the possiblity out. She indicated that the proposal had some merit saying that Thailand had developed a position as a relatively neutral actor.  'We probably made the offer because there's no country around here that can host it,' Naruemon said. The academic, correctly as it turned out, dismised the possiblity of the summit taking place in China, South Korea or Japan. 'And perhaps Thailand wants to take greater role in the region,' she surmised.
Supalak Ganjanakhundee took the opposite view on neutrality saying it was lacking and a significant factor in making any pssiblity of a summit in Bangkok unlikely. Thailand, he felt, is seen to be closer to the United States. 'Our neutrality isn't that pure. It's not 100 percent,' he said. He explained that Thailand was a stalwart ally of the United States, highlighted by the country's support for America in the Korean War.
Furthermore, he suggested that Thailand's foreign policies lacked a coherent outlook. He also alluded to domestic political instability. Thitinan Pongsudhirak, an international relations scholar, warned that Thailand would only receive some marginal benefit from such an event with some brief fanfare. He questioned the purpose of making the offer in the first place.
The Korean Peninsula is experiencing a thaw in relations between North and South Korea as well as between North Korea and US. Pyongyang has already announced a moratorium on nuclear tests and intercontinental ballistic missile launches in advance of the historic summit that took place between Kim Jong Un and South Korea's president Moon Jae.
World hopes outcome of Trump Kim summit in Singapore leads to peace
A successful outcome in Singapore may lead to increased confidence in the region and that can only be of benefit to Thailand. That Thailand was considered as a venue for the summit highlights the strategic importance of the country as the United States struggles to reaffirm its position in the Pacific and Asia. The Murray Head hit single from the 1980s, One Night in Bangkok, which was banned in Thailand comes to mind. The song highlighted Bangkok as a venue for international chess tournaments. The summit between Trump and Kim will also be very much a game of chess.