Thailand applauded in diplomatic circles for sending Cambodian refugee and opposition activist back to Denmark
The arrest and scurrying of activity by NGOs, the UN, security officials and diplomats following a visa overstay in Thailand last month highlighted the story of a Cambodian refugee living in Denmark whose right wing political group seeks nothing less than the overthrow of the long serving Hun Sen government in Cambodia.
Thailand was applauded by human rights groups,  the UN and diplomats in Bangkok for deporting the Cambodian opposition leader in April to Denmark. Mr. Serey is a refugee, having been granted asylum in Denmark in 2011. He lives in Hundested, Denmark with his wife and young daughter and is reported to be receiving a monthly allowance of $3,500 while seeking work. The activist has recently been awarded a masters degree by the University of Southern Denmark. He leads a group called the Khymer Liberation Front, which he founded in 2012, to oppose the ruling regime in Camdodia. The Cambodian claims that his opposition group is committed to soley using peaceful means to oppose Hun Sen and to bringing real democracy to his native country.
Fears raised of mistreatment and abuse in Cambodia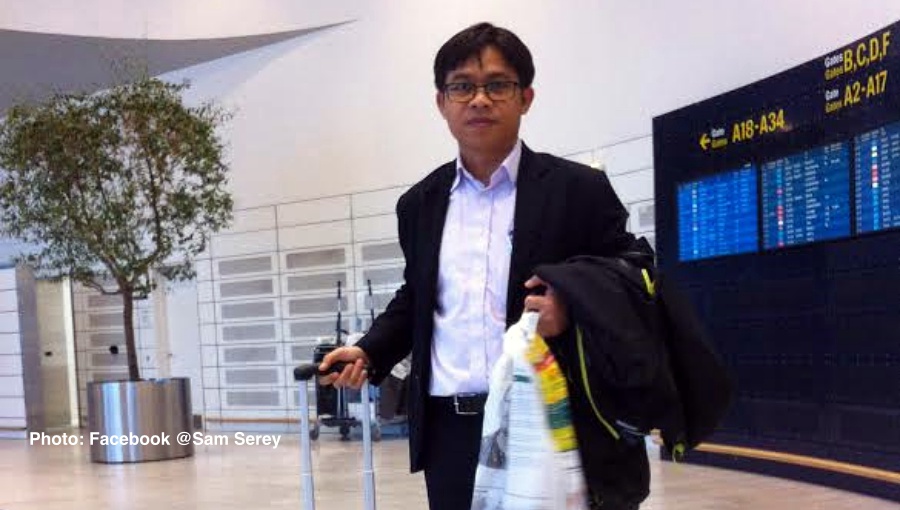 Fears that the Cambodian opposition leader may have been mistreated or could have had his human rights violated were highlighted by officials working with Human Rights Watch, Asia and other international agencies to the Thai government when Mr Serey suddenly found himself in detention after overstaying his visa. Cambodia had immediately launched an aggressive campaign to have him extradited. A senior Thai researcher at Human Rights Watch told the Bangkok Post, prior to the Thai government's decision, that they feared that Mr Serey would face persecution in Cambodia.
Cambodian opposition leader explained how he was arrested in Thailand
Mr Serey, in an interview with Cambodia's Khmer Times, explained how his arrest in Bangkok came about at the end of April. He had gone to the Thai Immigration Office in Chaeng Watthana Road, Bangkok on Wednesday 25th April 2018. It appears that Mr Serey was in Thailand since January 2018 and had overstayed his visa. There are even reports in the Cambodian press that Mr Serey slipped across the Thai Cambodia border in weeks prior to his detention by his own account. At the Immigration Office in Bangkok Mr Serey was informed that his name was on an immigration blacklist. Not only could the immigration officials not extend his visa, but they would have to detain him. He was subsequently sent to an immigration detention centre in Suan Plu, Bangkok.
Cambodia sought arrest of Mr. Serey following his detention by Thai Immigration
Cambodian authorities and officials were quick to demand the extradition of the activist on the grounds of an arrest warrant linked to a sentence handed down by a Cambodian court in 2016 sentencing Serey to nine years in prison on charges of treason. Mr Serey was also found guilty by a Cambodian court in 2014 of plotting to overthrow the Cambodian government.
Cambodia's suppression of Sam Serey's Khmer Liberation Front
Sam Serey was linked to a peaceful protest outside the Vietnamese embassy in Phnom Penh in 2016 carried out by members of the Khmer Liberation Front, the group he founded in 2012, where protestors handed out leaflets. Although the protest was peaceful, the Cambodian authorities view such actions as incitement and claimed the group's intentions were to overthrow the Cambodian regime. The regime, lead by Hun Sen and the Cambodian People's Party, is heavily criticised internationally and mired in controversy. However, it has brought relative stability to Cambodia for over thirty years. The regime has a particularly poor human rights record. Another ten members of Sam Serey's Khmer Liberation Front received sentences ranging from one to nine year sentences for involvement in the leaflet protest. The number of Khmer Liberation Front members languishing in Cambodian jails now includes sixteen activists, most of them serving stiff jail terms.
Serey's brother died in a Cambodian prison
The younger brother of Sam Serey died in a Cambodian prison in December 2016, the same month the sentences were handed down over the leaflet incident. 30 year old Yean Yoeurb was sentenced by a Cambodian court in 2014 for plotting to overthrow the Cambodian government. He was arrested along with 6 other Cambodians in Thailand in 2013. He died at Cambodia's infamous Prey Sar prison on December 14th 2016. Mr Serey has long accused the Cambodian authorities of being involved in his brother's demise although Cambodia's Interior Ministry claimed the cause of death was a heart attack. Speaking from Denmark in 2016, Serey told the Cambodia Daily newspaper: 'This is very sad for me. My younger brother died in prison last night. They accused him of treason, I love my younger brother and he was killed by the intention of Hun Sen's regime and their master.' Serey had months previously named his brother as Vice Minister of Economics and Finance in his government in exile.
Cambodian government promotes militaristic photo of Serey as evidence of terrorism
In 2014 Cambodian authorities released what appears to be a compromising photo of Sam Serey which the opposition activists has never fully explained. He appears with men in military fatigues in a photo said to have been taken in Thailand with an altered Cambodian flag in the background. Cambodian police and authorities say that this is evidence that Sam Serey is not the peaceful campaigner that he claims to be for western audiences.
Dossier circulated by Cambodia on Serey and the Khmer Liberation Front
To this end the Cambodian security services have been circulating a dossier on Sam Serey and the Khmer Liberation Front. Released by the Cambodian Interior Ministry, it alleges that he has been plotting violent acts in Cambodia including bombings. Bizarrely, it also suggests that the Danish resident was raising an army in Norway and had meetings with representatives of the American Central Intelligence Agency. After Serey's detention in Bangkok, a ministerial unit in Cambodia released a video which said that Sam Serey was working in collusion with a former senior opposition leader and rival to Hun Sen, Sam Rainsy, to topple the Cambodian regime. Hun Sen, the Cambodian premier, himself came out strongly in early April accusing the Sam Serey and the Khmer Liberation Front of being a terrorist organisation which had plotted to plant bombs in Cambodia prior to the Cambodian New Year.
Cambodian police chief formally requested extradition of Sam Serey from Thailand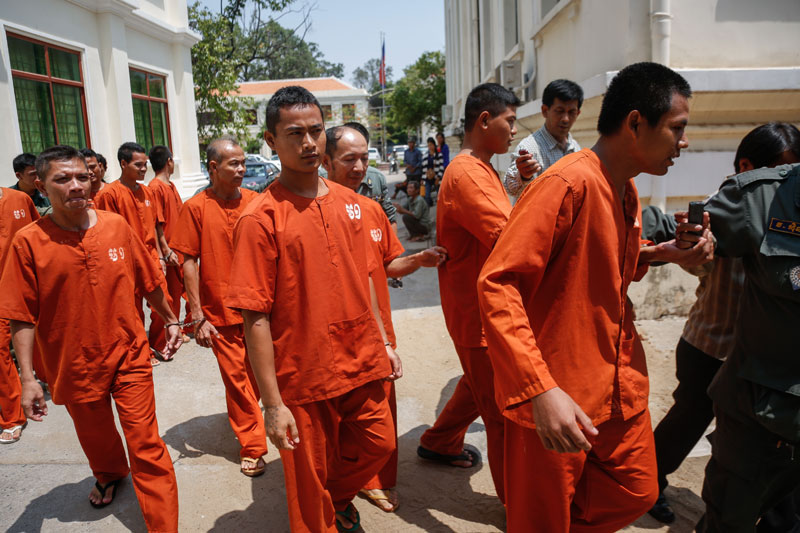 Cambodia's National Police Chief on Thursday the 26th April 2018, one day after the opposition activist was detained, sent a formal letter to Thai authorities requesting Serey's extradition. The Police Chief pointed out that the Cambodian police agencies had an arrest warrant from a Cambodian court on foot of a nine year sentence imposed on the opposition activist. They pleaded with Thai officials to send him back to serve his sentence.
Cambodia insists that Serey is linked to terrorism
Cambodia has been consistent in its allegations that Sam Serey is linked to terrorist activities as far back as 2007 even though Sam Serey points out that he did not officially set up the Khmer Liberation Front until he was settled in Denmark in 2012. 'It is terrorist group,' said a Cambodian government spokesman in June 2017 to Cambodian publication The Cambodia Daily. 'We are paying close attention to this group, we cannot let them have any network to hold activities in Cambodia.'
Cambodian links Serey to older dissident group Tiger Head
It has been reported by some sources that the Cambodian regime links the activities of the Khmer Liberation Front and Sam Serey to an earlier group active in Cambodia which was suppressed by security services. In 2006, the Tiger Head, a dissident group, was identified by Cambodian security officials as a threat after it began handing out leaflets critical of Cambodia's leader Hun Sen in Phnom Penh and Takeo province. The group was linked to plans to set off explosions near the Vietnamese Friendship Memorial in Phnom Penh in 2007 and the Defence Ministry in 2009. Four Cambodians were arrested in relation to the plot although they have long claimed to be innocent. The group were given jail terms of between twenty and twenty eight years.
Cambodian activist denies links to bomb plots
Recently in an interview with a Cambodian publication Sam Serey claimed that he had nothing to do with bomb plots. The Cambodian government claims that the Khmer Liberation Front and the Tiger Head movement are linked. This is cited as the reason why Sam Serey abruptly left Cambodia in 2010, first seeking refuge in Thailand and later in Denmark. It was another lucky escape for the activist who told The Cambodia Daily in 2017: ' Actually Hun Sen's authorities themselves put a bomb in order to arrest me and accuse me, luckily I could escape.' Serey claims that his exile allows him to freely protest against the regime of Hun Sen. He said that if he was caught, he would have been condemned on false charges like others in Cambodia.
Story of Cambodian activist is hard to fathom
The story of Sam Serey and the pursuit of him by the Cambodian authorities is hard to fathom as there appear to be inconsistencies on both sides. At one time, the Cambodian authorities portray him and his organization as Walter Mitty characters and at other times warn that they represent a dangerous security threat. Inconsistencies in press reports create even more confusion. Then there are contradictions in Serey's own accounts such as his explanation for the strange photo with the military group and his insistence that his group is fully committed to peaceful means in its stated quest to overthrown Hun Sen. Sam Serey and his organization specifically reject contesting elections in Cambodia as a means of leading the country to 'peace and democracy'.
Serey wants a UN force to be deployed to Cambodia
Sam Serey has instead called for a UN peacekeeping force to be deployed to Cambodia and the removal of the country's UN seat which he says would be supported by 37 other countries. He has described Cambodia as a colony of Vietnam and said that he wants all illegal Vietnamese people removed from the county. He is, more specifically, implacably opposed to communism including China and Vietnam. Serey affirms a belief in democracy and non violent methods describing his arms as a 'book and pen'.
YouTube Khmer Liberation Front video called for armed coup in Cambodia
An embarrassing or contradictory episode occured in July 2016 when Som Sovannara, a member of Sam Serey's Khmer Liberation Front, uploaded a dramatic video to YouTube. The video, with a military style backdrop, claimed that there was a Khmer Liberation Front unit in the South West of Cambodia that wanted to alert the rest of the country to prepare for a coup against the government of Hun Sen. Sam Serey accepts that Som Sovannara is a member of the Khmer Liberation Front but denies that this was an act of violence. He claimed that it was merely a tactic to generate interest and cause a reaction from the authorities in Phnom Penh.
Sam Serey seems to spend a lot of time in Thailand and Bangkok
Mr Serey, although he lives in Denmark, also seems to spend a lot of time in Thailand where he is reported to travel regularly. In 2014 he gave an interview to the Cambodian newspaper the Khmer Times via Skype from Bangkok. Prior to his detention by Thai authorities in April, some media sources in Cambodia were reporting Mr. Serey as saying that he had been across the border into Cambodia. The Prime Minister of Mr. Serey's Cambodian government in exile, which he announced in 2016, is Vorn Vuth. Mr. Vuth, a member of the Khmer Liberation Front, lives in Thailand. It is reported that his primary job is distributing Mr. Serey's book 'The Root of January 7' to Cambodians in Thailand and in Cambodia. Commenting on Hun Sen and his ruling Cambodian People's party, Mr. Voth said: 'The communist regime will not stand for long because most Cambodians have clearly understood about democracy.' Mr Voth went on to say that the Khmer Liberation Front had never been involved with armed forces or terrorism and denied the accusations leveled from Phnom Penh.
Background and life of Sam Serey, the Cambodian dissident leader
Sam Serey qualified initially as a teacher in Cambodia studying at the Royal University of Law and Economics. He was later a lecturer at a university which is now defunct, the Wan Lan University in Phnom Penh, in the early part of the century. In 1998, he was reportedly a member of  the Sam Rainsy party formerly opposed to Hun Sen. He later repudiated Sam Rainsy on the grounds that he did not offer enough opposition to communism and communist states. Opposition to communism seems to be central tenet of his Serey's views. The website of the Khmer Liberation Front states that Mr Serey has written three books on leadership in Cambodia which were published in Thailand but banned in Cambodia. By his own account again, he claims that his activities drew the attention of Cambodian leader Hun Sen in 2005. That scrutiny prompted him to move to Thailand for some time. Serey claims he was pursued by Cambodian agents into Thailand. He returned briefly to Cambodia before his final flight into exile from the country in 2010 and on to Denmark.
Doubts regarding Serey's claims of leadership in opposition to Hun Sen
There have been questions raised about the veracity of Mr. Serey's claims but it should be pointed out that he only has claimed a following of 6,000 people in Cambodia and throughout its growing international diaspora. Some detractors in the Cambodian media have made fun of the 270 Facebook likes on the official page for the Khmer Liberation Front and a mere 20 followers on Twitter. However Sam Serey's own Facebook page has over 3,000 likes.
There seems little doubt that Serey's group has not yet developed a large and vocal following in Cambodia where any protest is swiftly stifled. A well known Catholic priest in the country, Francois Ponchaud, who is a historian and has written many books on the history of Cambodia speculated that the group may be, in fact, fictional. In a Cambodian news report, a community activist resident in Cambodia claimed Serey's organisation was a destructive force and linked it with attempts to plant bombs Cambodia in 2009 although Mr Serey points out that his organization was not formed until 2012.
Serey linked his party to older party of a similar name formed in 1979
Sam Serey, through an interview that was published in Cambodia's Khmer Times, claimed that the National Liberation Front is linked to an the original disbanded party formed in 1979 which attracted popular support. That party, of a similar name, opposed Vietnamese involvement in the country but which was disbanded in 1993. He said that his father was a member of the original party. However press reports from Cambodia in 2017 suggest that Serey's father does not approve of his son's political activities. The elder Mr. Serey, who is 66 years of age, has already lost one son to the opposition movement in prison. He speaks to his son in Denmark regularly on the phone. He told reporters that he would have prefered for his son to become a doctor to help people. 'I don't want to have this kind of thing. I don't understand it,' he is quoted as saying.
Sam Serey's Cambodian government in exile
In October 2016, the Khmer Liberation Front, and its President Sam Serey, formed what they claimed to be a government in exile. Mr Serey is the President of the government while a Mr Vy, a Cambodian subsequently arrested for incitement in Phnom Penh in May 2017, was identified as the Agricultural Minister. While there is some doubt about the credibility of the opposition movement led by Mr. Serey in most circles, either in Asia or even internationally, there are currently 16 members of the National Khmer Liberation Front jailed in Cambodia while Cambodian authorities claim that the group is a terrorist organization with violent activists throughout the country.
Cooperation between Thailand and Cambodia
Up to now, Thailand has frequently agreed, sometimes reluctantly, to requests by Cambodian authorities to repatriate Cambodian citizens who have criminal convictions or may represent a national security threat. It has been reported that both governments are anxious to improve ties and cooperation. This was highlighted in February when a Cambodian woman, who threw her shoe at a hoarding of Cambodian Prime Minister Hun Sen, was extradited from Thailand to Cambodia to serve a prison sentence. Thailand is committed to improving its immigration enforcement in recent years as a key goal of the military installed government and cooperation on the Thai Cambodian border is important. The detention of Sam Serey in the first instance highlights the growing efficiency of Thailand's Immigration Department. However the deportation of Sam Serey was the correct course under international law as he was a political refugee.
Extradition attempt came as Cambodia cracked down on opposition
Serey's detention, the failed attempt to extradite him and his deportation to Denmark, come ahead of a July general election in Cambodia that Hun Sen is expected to win easily. Western governments and international agencies have repeatedly criticised Cambodia's human rights record and democratic process. Western governments were also highly critical of Cambodia after the main opposition Cambodia National Rescue Party (CNRP) was dissolved by the Supreme Court in 2017. They has been widespread criticism and even a threat not to recognize the result of the upcoming election.
The dissolved opposition party was found guilty by Cambodia's Constitutional Court of plotting to overthrow the government with the help of the United States. It's members were ejected from Cambodia's parliament. In the meantime, it is reported that the government has stepped up prosecutions of political opponents and ordered shutdowns of critical media outlets.
Human rights group active in securing deportation of political activist to Denmark
The intervention of Human Rights Watch Asia, an NGO, was critical in obtaining the release and deportation of Sam Serey. It is reported that efforts to have the young leader released also involved the United Nations and the Danish Embassy in Bangkok. While the Danes would only confirm to the media that a person with a Danish permanent residence had been detained, Human Rights Watch briefed the press on their fears for Sam Serey if he was deported. Meanwhile the Cambodian authorities reacted by drawing attention to a dossier and video linking him to opposition to the government and terrorism.
Human Rights Watch Director praised the Thai government for its action
In the aftermath of Serey's release, the Director of Human Rights Watch Asia, Phil Robertson, issued a statement to Thai media praising the Thai government for making the right decision and respecting Mr Serey's refugee status by sending him back to Denmark which he described as 'the nation that is providing him with refugee protection.' The statement also alluded to the efforts made on Mr. Serey's behalf while he was held in detention. 'Clearly, the Royal Danish Embassy, UN agencies and other like minded diplomats in Bangkok were very determined in persuading the Thai government to respect Sam Serey's refugee status and not send him back to Cambodia,' the statement read.
Mr Robertson has long been a defender of attacks on Mr Serey by Cambodian sources. In an extensive profile of Mr Serey in 2017 published by The Cambodia Daily, Mr Robertson rejected accusations by the Cambodian authorities concerning Mr. Serey: 'To date, the Cambodian government has hurled 'terrorist' accusations against the KNLF but singularly failed to provide any evidence to back up those claims,' he said. He went on to criticise the government of Hun Sen for forcing all NGOs in Cambodia to register with the government.
Divided opinions on Sam Serey and his Khmer Liberation Front
There are divided opinions on Sam Serey and the Khmer Liberation Front as well as Hun Sen and the Cambodian government's attempts to suppress the group. Cambodian political commentator Cham Bunthet has described the activities of Khmer Liberation Front as lacking foresight. He describes the group's actions as extreme and reckless. 'There are no clear goals, no clear policy or target for what you want,' he has been reported as saying. He points out that the group is 'irrational' and its statements do not support the long term interest of even those who support them.
In the U.S., a political analyst and associate professor of diplomacy and world affairs at Occidental College in Los Angeles, Sophan Ear, takes a similar view to the Catholic priest and historian Francois Ponchaud, saying that the group lacks support and influence in Cambodia. Significantly however, he warns that Cambodian authorities are themselves drawing attention to the Khymer Liberation Front. 'The more people are thrown in jail, the more of a sway it could eventually have.'