Thai sex tourism recently involved UK Foreign Secretary Boris Johnson in controversy when he acknowledged it was popular with UK men.
Probably one of the world's last bastions where western men can hide from#MeToo terrors and bask in the joy of sunshine and scantily-clad Thai women has been breached. The Thai tourism minister has declared change and over the last two years has shown that she means business.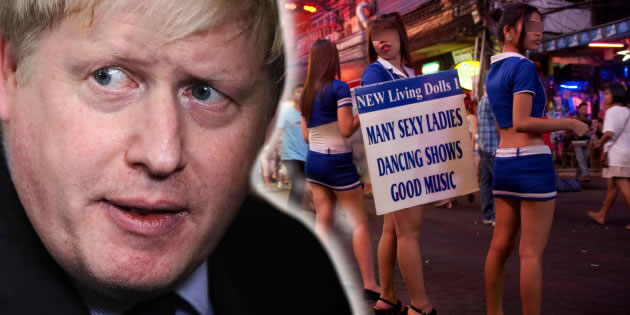 How can you categorize international travellers to Thailand? Gossip, trip advice and online travel forums suggest that they are mainly backpackers, English teachers and sex tourists. This is, of course, not entirely true as it fails to appreciate the sheer scale and variety of tourism in Thailand which is constantly growing.
But there is some truth in the perception. A recent UN agency report on Thailand identified 11.3 million of the country's 33 million annual visitors as potential sex tourists.
Perhaps this is an exaggeration as many now accept that the UN has become a vehicle for liberal causes and no longer accept its objectivity. Unfortunately for Thailand, one of the targets of these causes is Thailand's patriarchal society and the clearest representation of that, in the eyes of western activists, is the infamous Thai prostitution industry.
Since it came to power in 2014, the current Thai government has made it a top priority to tackle issues like sex tourism, human trafficking and prostitution that misrepresent and damage the reputation and image of Thailand abroad. The Thai Tourism Minister is leading the campaign and she has proved to be a fearless campaigner.
As well as broadening the base of tourism to Thailand, she has tackled the sex tourism slur head-on, warning that Thailand does not want to see visitors like this frequenting the country any longer. Her rhetoric has been supported by the government itself which has launched a rolling crackdown on sex dens and the excesses of the prostitution industry in Thailand. The Thai Prime Minister has himself gone on the record to specifically condemn the prostitution trade and making clear that his government does not support and will no longer tolerate it.
It's official: Sex tourism not wanted or welcome in Thailand
Taking office in 2014, Kobkarn Wattanavrangkul, the first-ever female minister of Thailand's Ministry of Tourism and Sports, vowed to put an end to the country's reputation as a sex tourism paradise.
After this, Thai authorities began police raids on the bars at the resort city of Pattaya, the top destination for western men who seek exotic sexual adventures. (Some time ago, a British man featured on media reports boasted that he had slept with 4,000 Thai women in Pattaya).  There are reported to more than 1,000 bars and massage parlours in the city, many of which were merely cover for brothels.
On the other hand, business and civic leaders in Pattaya have claimed that the coastal resort has changed dramatically with more family centred attractions and moves in recent years which has seen the beer bars and their activities curtailed. Pattaya was in 2015 voted among the Top 20 tourist destinations in Asia by Mastercard coming in at Number 8 while Bangkok was voted No. 1., Phuket came in at No. 5.
Prostitution is in decline in Thailand thanks to a better economy and the internet
Thailand's sex industry, an illegal trade, has made global headlines since the 1970s and employs more than 120,000 people. In fact, there have been some reports that cite this figure at 200,000, 400,000 and at the height of the prostitution boom including casual or private prostitution, a figure of 1 million was claimed.
The reduction in the figures being quoted is actually a sign that prostitution in Thailand is receding and this has been the case for the last decade or so. The reasons are clear; better economic opportunities, access to education and the internet.
Thai women were quick to grasp the power and potential of the new technology in such ways as online learning, trading and also online dating.
One of the strongest impacts of the internet is that has allowed many poorer Thai women to understand the world out there better and see a higher value in themselves,' says Carla Boonkong who works with Thai women in Thailand and foreign countries.
Today's sex industry in Thailand is still active
Although it is in decline, the Thai sex industry is still active and is deeply entrenched in Thai society. While sex tourism is still very much part of the picture, it must also be remembered that the Thai tourism industry primarily satisfies a domestic market in Thailand where attitudes, although changing, still accept prostitution as a fact of life.
Some of those working in the Thai sex industry are underage and come from poverty-stricken families, others are human trafficking victims and forced to be sex workers against their will. It is this group of victims that are now being given priority as Thai police and law enforcement agencies work with international NGOs to eliminate this aspect of the trade.
British Foreign secretary acknowledges UK sex tourists who flock to Thailand
In the meantime, sex tourism continues to be a magnet for foreign tourists to the country. Many of the one million Britons visiting Thailand every year go there for exotic sexual experiences.
This was alluded to by no less an authority than the British Foreign Secretary recently in an outburst that caused a media storm. Boris Johnson, a much loved and hated figures in UK politics and famous for his gaffes, was quoted in an important pro-Brexit speech as acknowledging what most international observers know to be a fact.
It isn't hard to come across online posts by western men who lovingly stereotype Thai women as adorable individuals who obey them at home and in bed and compare them favourably to fierce and independent Western women.
Expats living in Thailand also cite beautiful Thai girls among such characteristics as pleasant weather and a low cost of living as primary benefits of residing in the country. 'Not condoning sex tourism or the abuse of women or anything like that but it's an irrefutable fact that Thai women are for the most part all very beautiful and they smile a lot, and the weather in Thailand is what people dream about in the UK and Europe,' says James Morris, an international commentator working in Bangkok.
'Western men have it good in Thailand, why do you think so many of us are here? It's not all about sex, it's also a completely different culture.'
This time the sex crackdown in Thailand may be for real
The official change in attitude towards sex tourism is afoot and perhaps, as some frequent tourists to Thailand and the proportion of expats fear, it may even be irreversible. In recent months, the Thai police have intensified crackdowns on disguised brothels in Bangkok, Pattaya and other major cities in Thailand. The government has also imposed restrictions on bar opening and closing hours so that they must close early.
While there are complaints about the damage to Thai famous nightlife, the move makes it more difficult for prostitutes to work and foreign western libertines to revel in the nightlife and experience what has made Bangkok and other Thai nightlife centres a legend since the Vietnam war in the 1960s. 'I suppose all things must change but it has been a hell of a ride for many and maybe all the lights ain't out yet, it's been well over fifty years.
But what is changing is the international environment.
Personally, I don't like to see Thailand marching to the same drum as the US, the UK or other international countries but I'm not Thai. What makes Thailand so appealing to many out there is that it's so different and doesn't play by the same rules. Once the suns keeps out and the Thai girls keep smiling I'll be happy enough,' Morris adds.
Thailand goes a step further and sets out to woo western women
However, the reforms don't just stop there. Mrs Wattanavrangkul has also initiated a series of policies to woo more foreign female tourists as well as promotions.
'The month for women travellers' last year was an example. On the 2017 birthday of Thailand's Queen Sirikit, pink immigration lanes and parking zones, reserved for women only, were established in international airports in Thailand. More attention has been paid to female tourists in wedding and honeymoon tourism in tourist marketing initiatives.
The package of measures aimed at tackling the international perception of Thailand's standing as a men's paradise. Morris doesn't agree that western women are put off coming to Thailand by its controversial reputation. In fact, he thinks that the opposite is the case: 'I think many western women were motivated to and are still motivated to come to Thailand precisely because of this perception which is fairly accurate. I had a niece who came here recently with her friends. She's a young western woman, very outspoken in her feminist beliefs.'
She insisted on visiting the islands and going everywhere alone with her friend. When I met her in Bangkok I have to say she was visibly dismayed by the nightlife and not only that, the general atmosphere. Personally, I don't think you can change that and if it does change, then many western foreigners and expats will not come. It will only change when the culture changes and that can only happen over time and in a subtle way. In fact, it is already changing.'
Despite negative foreign media coverage – Thai tourism thrives
Western mass media may have portrayed Thailand negatively in the last few decades with the exception of the period during the Asian financial boom in the 1990s. Coverage ranges from sex dens to criminal scams and the coverage of the political unrest from 2012 to 2014. Yet tourism numbers continue to rise.
The reason is clear, it is word of mouth from one foreigner to another. Thailand is unlike any other country on earth. Even the dangers that exist in Thailand or the country's political instability, leading to military coups, do not put off visitors as would happen quickly with other countries around the world.
Many countries in Africa, with political instability, have seen tourism die out completely but not Thailand. Thailand is an enigma. While it has coups, it is also one of the oldest functioning states in the world with an advanced legal system and a population that follows the rule of law.
Modern western women fail to understand Thai traditional values
While Thailand poses dangers such as dangerous roads, snakes and mosquito bites, it is a safer country than most for foreign women who opt to travel alone. Western men have been warned not to wear sexually provocative clothing in Thailand.
Many western women find such instruction to be offensive and hypocritical given the reputation that the international media has generated, perhaps unfairly, centred on the country's sex industry. Many fail to understand the genuine and traditional thinking of most Thai women towards chaste and modest behaviour.
They fail to appreciate that some, less educated Thai men, may get the wrong message from sexually attractive female outfits and associate the female visitors with sexually promiscuous individuals.
Foreign women are not encouraged to mimic the dress code of Thai bar girls who often wear minimal clothes however much they may sympathise with their plight.
To most modern and feminist women in western countries, even this injunction is unacceptable and that illustrates a clash of cultures between Thailand and western feminist thinking.
Younger western women make a visit to Thailand a personal mission
Nevertheless, western women continue to be attracted to Thailand often visiting unaccompanied by male companions. This is despite the infamous Kao Tao murders where a young UK woman, Hannah Witheridge (23) and UK man David Miller (24) were murdered by two Burmese migrants who were later convicted and sentenced to death by a Thai court. The murders sparked great concern in western countries with parents of young western women, in particular, becoming concerned for the welfare of their children. Those fears have abated and young western women are today even more determined to visit the country. To many, it is an act of defiance and an expression of solidarity with Thai women working in the sex industry as well as an opportunity to see for themselves what western men have discovered in Thailand.
Western women urged to dress appropriately in Thailand
Since the majority of Thai people practise Buddhism, a religion that advocates peace and harmony, there is a sincere and warm welcome extended to all visitors to Thailand particularly women. Sexual assaults on female foreigners are very rare but they do happen.
Foreign women, visiting Thailand, have been asked to dress up appropriately, especially in sacred places like temples, and to be circumspect in their behaviour. Any infringements by foreign female tourists are by far the exception to the rule but when they do occur, they can often trigger an aggressive social media reaction from some Thai people expressing outrage.
Such outbursts, in themselves, have alerted many foreign women to this concern as many western women tend to research their trip to Thailand in advance. It is true to say that for many young western women, a holiday visit to Thailand is not only an exciting trip to a country and an amazingly different culture but also a political statement. Such is the mindset of today's western women.
Further reading:
DSI arrests: Women warned of sex trafficking snare – massage job offers abroad from prostitution 'brokers'
Thailand eyes up the sex trade with ongoing raids and a new drive against human trafficking