LGBT face discrimination and bias in Thailand but it has become Asia's most progressive countries for gay rights despite a contradictory culture
Thailand has long been associated with gay rights and a more enlightened attitude to LGBT people. In the past, Thailand has even been marketed as a 'pink' holiday destination with colourful shows and gay bars. Thailand is full of contradictions and irony in almost every aspect or issue. Homosexuality is no different. It is a land where LGBT people can both be treated with understanding while also facing prevalent and deep-seated prejudice. The current Thai government, like its predecessor, has prioritised dealing with LGBT rights introducing a strong anti-discrimination law in 2015 and is now ready to approve same-sex civil partnerships between 'life partners'.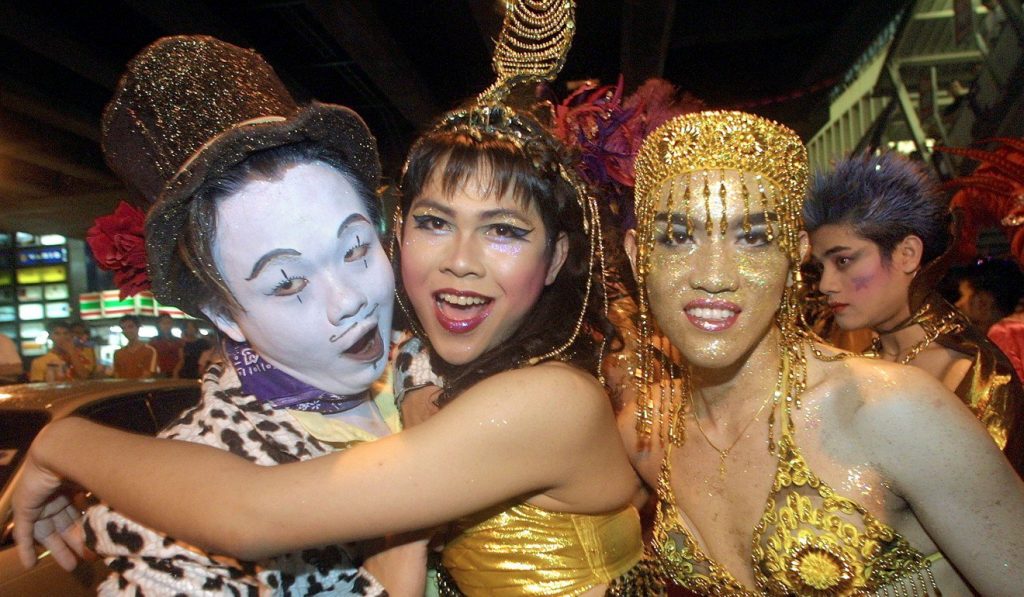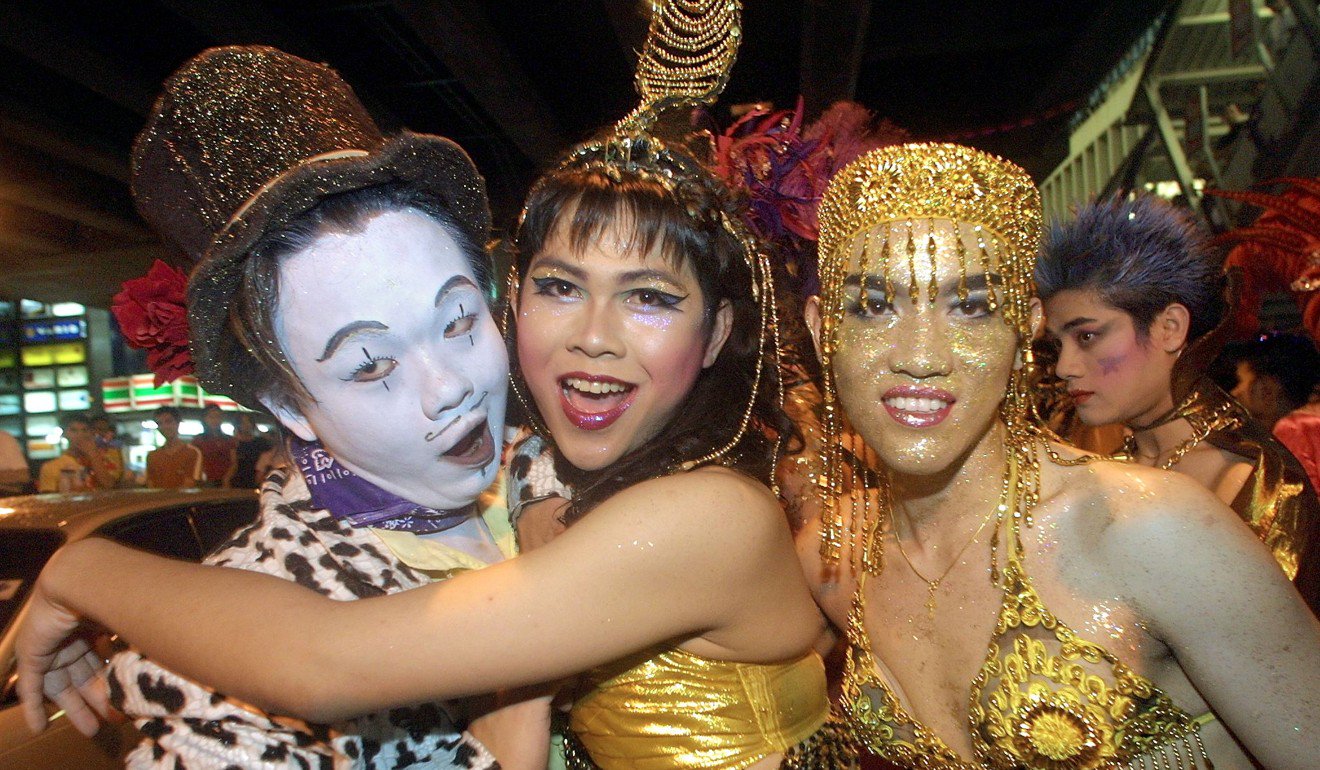 The contradictions are striking. Bangkok is the world's leading centre of sexual reassignment surgery with visitors from all over the world flocking to change sexual identities through gender reassignment surgery while Thailand's ladyboy culture fascinates and enthrals audiences all over the world, not least the lucrative pink tourist market among foreigners and westerners who come to Thailand to enjoy a unique cultural experience where being gay has been honed into what appears to be a soft and enthralling culture. But like many things about Thailand, this doesn't represent the true story. To say that the entertaining images beamed across the world of enthusiastic and extravagant Thai ladyboys is representative of Thailand's treatment and acceptance of the LGBT community is the same as suggesting that Thailand's sex workers represent the lot of many Thai women in Thailand.
Both of these statements are not true and represent a gross aberration. Both groups do exist as small subgroups within Thai society and both are disadvantaged. For all the colourful videos and photos of happy faces associated with LGBT people in Thailand, many face prejudice and opposition from ordinary Thai people if they dare promote their identity.
One group of people is not breaking any law in Thailand and simply demanding their human rights while the other is engaged in illegal activity representing an abuse of human rights. Unfortunately, there is a cross over between the two groups as it has emerged that some LGBT people, in particular, are preyed upon by human traffickers by ghastly and international criminal networks.
Gay Thai people thrive in Thailand's theming small business environment
As well as the pink economy and entertainment venues in Thailand there is also a strong LGBT business network. Many LGBT people have a flair for business and are active in Thailand's huge small business sector which has not yet been wiped out by the development of the economy into a high value, high labour cost environment which spells the death knell for many small business enterprises.
Homosexuality surprisingly is a taboo subject for most Thai people
The truth is that Thailand is a very conservative country where homosexuality is taboo while Thai women are among the most old fashioned in the world. To many progressive foreigners, Thailand's Buddhist culture is a beacon of a more 'enlightened' culture. It is an enlightened culture but it is also a culture that firmly rejects homosexuality. Thailand is a society that seeks to avoid confrontation wherever possible but to many LGBT activists, this civilised nature of Thai society makes it more difficult to confront the inherent discrimination that exists at all levels of Thai society and across all age groups. Thailand is a country that prides itself on freedom. 'Live and Let Live,' the western catchphrase from the 60s and 70s applies very much to Thailand today and the Thai LGBT community is colourful, quite visible and active in large urban centres such as Bangkok and other key population centres. Yet it exists in a society where many disapprove of the LGBT lifestyle and where most LGBT people feel insecure about their status.
Thai father raped a lesbian daughter to stop her same-sex lifestyle
Time magazine some time ago featured an expose on Thailand's antipathy towards homosexuality. One of the stories revealed was that of a lesbian Thai teenage girl who was repeatedly raped by her father to stop her hanging out with 'Toms', the colloquial Thai expression for lesbians.
The terms refer to 'Tom' and 'Dee' which are expressions that came into use in Thailand during the 1980s as increased urbanisation brought such couples to city streets.
It is now quite common in Thailand to see a Tom/Dee couple comprising of a 'Tom' being a mannish Thai woman with a 'Dee', the feminine part of the duo holding hand on the streets of shopping centres which have grown up all over the country.
Outrage over Thai soap featuring a male prostitute
The conservative nature of Thai society was highlighted in recent times when a Thai soap had to postpone the screening of a plot involving a male prostitute as the concept was so offensive to the TV audience in Thailand. There is a link between this conservative belief system and Thailand's deep attachment to traditional family values and a strong spiritual belief system. Efforts to reform the country's stance on homosexuality and LGBT rights have noticeably been led by NGOs in Thailand and significantly, the United Nations through UNESCO and in partnership with other bodies.
A tale of two versions of Thailand both gay and conservative
Having a different gender identity is never easy, and Thailand is no exception for all the stories about how gays, lesbians and LGBT people have a good time in Thailand. This is the tale of two Thailands. One is about 'Asia's Gay Capital' where cultural acceptance of divergent sexuality is relatively higher than other countries in the region, and pink tourism with services catering the LGBT travellers has long flourished, from gay bars to gender confirmation surgery. (Thai transgender beauties have long earned their share of global recognition). The other is about a culturally conservative country that views the LGBT community with prejudice and contempt, the name synonymous with shame and neglect of traditional duty.
LGBT people are discriminated against from an early age in Thailand –  UNESCO study shows
The seeds of discrimination against LGBT people are sown from an early age as research by Kangwan Fungkeaw, a communications and humanities lecturer from Burapha University, shows that school bullying targeting the group is pervasive. This is confirmed by a groundbreaking UNESCO study with the title 'From Insult to Inclusion' that evaluates the prevalence of this kind of bullying. It can range from verbal insults or physical assaults from peers or unfair treatment from the teachers. In addition, many high schools and universities avoid supporting gay rights or showing solidarity with LGBT students.
Half of LGBT young people in Thailand contemplated suicide
In a study conducted by Love Frankie, a research agency in collaboration with the UN Development Programme, Prawit Thainiyom, head of the agency, points out that almost half of the LGBT young people in Thailand have considered suicide at least once in their life. That can be down to the fact that roughly two-thirds of victims say they don't report instances of discrimination against them due to the lack of trust in the effectiveness of doing so. The study also found that some textbooks in circulation in Thai schools still refer to divergent sexual orientation as a mental illness. Education officials, however, have sought to play down the extent of the issue. They argue that the Basic Education Commission, a Thai government agency, has made a lot of progress in preventing bullying that is directed at LGBT students, which is supported by the fact that inflammatory textbook references regarding gender have been removed.
50% of young Thai people view homosexuality as wrong
Nevertheless, the challenges faced by gay adults in Thailand remain intense. Though they live openly as who they are and have their lifestyles accepted by most Thai people, it is not always likely that they will receive the same levels of respect and dignity as their heterosexual counterparts. More than 50 per cent of Thais between 15 and 24 believe that homosexuality is wrong, according to a study conducted by Khon Thai Foundation. In addition, some people still hold to the belief that homosexuality can be 'cured' by hormone therapy, psychological treatment and even spiritual training.
New legislation for same-sex partnership rights considered by the Thai cabinet
Thailand, however, may now be on the verge of introducing same-sex civil partnerships which would grant the same rights to same-sex couples as those in heterosexual relationships. It would be a major step forward for the LGBT community which has long campaigned for the move. Thailand introduced legislation in 2015 which prohibited discrimination against LGBT people having decriminalised homosexuality in 1956. In 2013, the then Thai government was about to introduce same-sex marriage in Thailand but the bill stalled in parliament and was, in fact, criticised by LGBT activists for failing to provide the same protections and rights as normal marriage in Thailand. The legislation ultimately became a victim of the political instability that erupted in Thailand at this time. It is reported that legislation has been drawn to implement the new measure by Thailand's Justice Ministry and sent to the Thai cabinet for approval.
New law would introduce 'life partner' status
The new legislation, if made law, would provide for civil partnerships and rights accorded to 'life partner'. However, there is concern among many in Thailand's increasingly influential LGBT community as to what rights will be accorded under the proposed legislation.
Many LGBT activists in Thailand, while welcoming the development, are looking forward to clarity. When the legislation in 2013 was introduced by the previous Thai government it came with quite a few restrictions and conditions which dismayed many in the Thai LGBT community.
Speaking to The Nation newspaper Naiyan Supapuen, an outspoken gender equality activist said that the proposed law at that time showed that the Thai 'State still had a homophobia mindset'. Over the last decade or more, the United Nations in Thailand through the United Nations Development Programme together with NGOs has been vocal in advocating for an improvement in rights for the LGBT community in the Kingdom.
Some Thai people can react negatively to the aggressive promotion of LGBT culture in the kingdom
Like LGBT couples throughout the world, many Thai LGBT couples suffer prejudice and discrimination. In Thailand, it is less likely to be overt but on the other hand, prejudice is deeply ingrained.
There is also evidence that Thai people, particularly those living in more rural locations, are prone to react negatively and sometimes violently to outward expressions of LGBT sexuality in mainstream society. Pranom Inthakhenee is the Marketing Manager of ThaiLoveLines, one of Thailand leading dating sites with over 400,000 users including many international members.
She speaks about a violent reaction from hundreds of Thai women on the site recently to a transvestite American living in Japan who posted a profile expressing his personality. 'We initially suspended the poor man's account. We were sure he must have been some sort of threat or scammer. It appears that the man was attacked by scores of Thai women, quite aggressively and unfortunately he retaliated.
Our site has an inclusive policy and we have always felt it reflects Thailand but the incident has opened our eyes to the need also in Thailand to be discreet and avoid being an unpleasant expression, this also something important in Thailand. Our site has user from all over Thailand.'
The violent reaction to the Gay Pride march in Chiang Mai some years ago shocked many people
Similarly in Chiang Mai in 2009, there was a violent reaction to a Gay Pride march which was attacked by an angry mob. Chiang Mai has a vibrant gay nightlife scene, culture and community and the organisers had requested and were granted police permission for the event. Unfortunately, when the parade was attacked, police felt unable to intervene. In recent years, a Thai TV soap portraying a male prostitute caused a severe public backlash. 'Thailand is a very much an old fashioned society centred around family.
Even though LGBT people are quite visible. Although they do stick together, there is a marked reluctance to accept open expression or promotion of the lifestyle,' says James Morris, a commentator in Bangkok. 'Of course, this is changing as Thailand absorbs the western culture and this is also something that has been part of Thai culture but it may take some time. But I do think it's getting better.'
History of LGBT relationships in Thailand
Curiously, Thai culture, up to the mid and late nineteenth century, was quite androgynous in terms of dress and deportment. Thailand's culture, it appears from scholarly research, has always recognised 'kathoeys' or people with LGBT identity.
There are verbal reports of homosexual behaviour among men and women at the ancient Thai court as well as wall murals. King Trailok, a Thai King in the Ayutthaya period (from AD 1351 to 1767) promulgated a law prohibiting same-sex activity or Len-Peuen among female residents of his court. The punishment was 50 lashes with a whip, a tattoo to be placed around the neck and the wrongdoer would be paraded around the palace walls.
The term for such activity among men was Len-Sawat.
In the 19th Century, Thailand adapted many Victorian values from the United Kingdom
Most significantly for LGBT people are the changes that occurred during the 19th century when Thai authorities attempted to modernise the country as a means of fending off colonial powers.
Thailand took on many of the attributes of Victorian society including sexual morality which merged with the precepts of good behaviour and duty set down by Theravada Buddhism. Indeed Thailand still lives under this influence even as the laws or civil code modernises through government reform. Thailand remains very much a patriarchal society centred on the concept of the traditional Thai family. Homosexuality and same-sex activity were then seen by most Thais as a negative and deviant disorder as it was seen in most western countries and criminalised at this time.
In 1932, Thailand became a Constitutional Monarchy and this change in society brought with the sensational news coverage of events with a more open press. A key story on a daily publication in June 1935 featured a news report on a gay brothel owned by a Thai man named Karun Phasuk who was known by the nickname 'Thua Dam' or 'Black Ben'. The term 'thua dam' today in Thailand is associated with sodomy and is a derogatory term. During the early 20th century, LGBT activities were very much associated with perversion as well as immoral and criminal behaviour. This legacy still exists today. It changed in the second half of the 20th century with the arrival in Thailand of more western foreigners in increasing numbers which lead to the emergence of a vibrant gay culture in the 1970s and 80s in a similar fashion to western countries.
Popular attitude among Thai people towards LGBT rights
Although in most urban centres in Thailand, Thai people are familiar with many LGBT people who can often be found operating as small business people and successful ones at that, there is a line between acceptance and openly supporting LGBT rights.
There is even more resistance to accepting or supporting an openly promoted LGBT lifestyle as equal to traditional values. For this reason, the profile of gay or LGBT people on the media is quite subdued even more so than in western countries where LGBT rights advocates are advocating change and have become very visible.
2012 survey – 60% of Thai people opposed same-sex marriage
In 2013, when same-sex marriage legislation was proposed in Thailand, it was revealed that a government-sponsored survey in 2012 showed 60% of Thai people were opposed to same-sex marriage.
They often say to get the measure of thinking in most societies, it is necessary to speak with a local taxi driver. And there is one anecdote which may reflect the situation.
An LGBT activist was speaking with a Bangkok taxi driver about an influential public figure in Thailand, a vocal LGBT media personality associated with the street protest movement, Thailand's People's Alliance for Democracy, whose activities was a factor in precipitating the 2014 coup. The taxi driver pronounced to the passenger who asked his opinion about the man, that 'if he doesn't know what sex he is, how could he possibly know his politics'.
My father can accept if I don't cause a problem for society…
A 2006 study by Sam Winter, featuring 198 transgender Thai women, revealed that very few Thai parents tend to reject their children if they are transgender. Thailand has a unique society which emphasises the duty of children to parents. This duty includes upholding the family's honour by right behaviour, financially supporting parents while also marrying and producing offspring to carry on the family name.
One participant in the study poignantly noted that: 'My father can accept me if I don't cause a problem for society or for the family'
Thai culture and religion – the impact of how Thai people think about LGBT people
The power and influence of religion and the culture it generates in Thailand cannot be underestimated. Thailand is among the most spiritual places in the world and the influence of Thai culture on society and the everyday life and thinking of Thai people is pervasive. This influence has produced the environment that has led to Thailand being seen as a country that is supportive of LGBT culture.
But this is misleading. While Thailand is a society that seeks understanding and non-confrontation, it is also one that, at a deep level, rejects homosexuality or at least claims to have it regarded as equal to heterosexuality.
Thai Buddhism teaching advocates the control of sexual desire
Buddhist teaching does not prohibit homosexuality but there is a prohibition on 'sexual misconduct'.
Most Thai people practice Theravada Buddhism which is quite patriarchal. Women are not allowed to be ordained as monks. Most Thai young men train, at some point, as monks and they are thought to be masculine and what is appropriate behaviour in sexual terms.
Thai monks are required to abstain from sex.
Sexual desire, in itself, is seen as sinful. The path to enlightenment is thought to be through overcoming sexuality itself. It is therefore easy to see how some aspects of western Victorian thinking and Thai Buddhism chime very well in society.
Two views of the same-sex or LGBT lifestyles among devout Thai Buddhists in Thailand
Experts have put forward two views among Thai Buddhism when it comes to same-sex relationships. One view is that those born with homosexual tendencies are born that way as a punishment for transgressions in a former life, particularly immoral acts or failure to be faithful to a marriage partner.
In this way, LGBT people have no control over their behaviours as it part of their karma or fate to be this way. Obviously, for sincere Thai Buddhists who are homosexual and subscribe to this belief, it is a form of self-oppression, in that they are being encouraged to accept their fate as a punishment.
To some, it is a negative but others try to find ways to lead a better life as a homosexual person. The Sam Winter survey in 2006, among a transgender panel, found that this was a prevalent attitude. The women, like many other Thai people, believe in doing good deeds or 'making merit' while accepting their krama and working to be a better and more virtuous person. Many feel that the hardships and obstacles they faced as a transgender person were the result of karma. Thai Buddhists believe that unhappiness in life comes from bad karma. This way of thinking also indirectly causes some Thai people, of a lower disposition and education, to regard homosexual people as less trustworthy. This contradicts the reality of the notable success of many LGBT people in business in Thailand which requires personal integrity as well as intelligence.
Homosexuality, they say, represents an inability to control sexual impulses
The second belief system among Thai Buddhists is more damaging to LGBT people and views them as unable to control their sexual impulses or desires. This narrow view assumes that any sexual activity not between a loving or married man and women is immoral and bad.
Many people are not tolerant of homosexuality in Thailand. To many, strong in their religious beliefs, there defined roles for men and women and each sex must aim to follow the right path. Women are not allowed to train as monks and this also applies to kathoeys.
To those who support this life view, LGBT people are sexual deviants, promiscuous and defective. This has led to many instances of Thai parents sending male children or young adults, with LGBT tendencies, to monasteries where they are taught to be masculine and to fulfil their role on the rightful, virtuous path.
All monks are thought to control their sexual impulses while striving for manhood and masculinity. A small majority (5%) of Thai people are Muslim and here religious intolerance is even more pronounced causing many LGBT Muslims either to repress their desires or move to larger urban, non-muslim areas.
Thailand's laws to outlaw discrimination against LGBT Thai people
In fact, about 2.5 per cent of Thai gay teens have entered the monkhood to shed feminine qualities and learn to be manly, according to the Foundation for Sexual Orientation and Gender Identity Rights and Justice. In legal terms, it wasn't until the historic 2015 Gender Equality Act in Thailand that laws and policies were introduced that prohibit discriminatory practices against the LGBT community. It is also worth noting that the kingdom even considered legalizing same-sex marriage in 2013.
However, it is wrong to portray this as less than progressive.
Thailand decriminalised homosexuality in the 1950s, well ahead of nearly all western countries, and this law is a practical first step to stop any discrimination based on sexual preference in Thailand. It allows for up to 6 months in prison and a 20,000 baht fine for those convicted of the offence. Some LGBT rights activists have called for laws to prohibit hate crimes and would like to see Thailand follow western legal moves to curb social and media harassment of LGBT people.
Despite that, weak enforcement of the laws and social ostracism mean that gay people still face considerable social obstacles when they try to obtain access to health care, affordable housing, education and job opportunities in Thailand.
Discrimination at work –  a key issue for LGBT people in Thailand
A recent news story in Thailand revealed the plight of a transgender woman who was invited to an interview at a prestigious Bangkok firm based on her impressive CV. When the interview commenced, the interviewer expressed surprise and immediately terminated the discussion.
She dismissed the application on the basis that she was not aware that she was to interview a transgender woman. The story is not unusual but under the 2015 law introduced by the current Thai government, it could constitute an offence if the interviewer and her company were brought to court for discrimination based on sexual orientation.
In Thailand, transgender women, born as men, are required by the Thai army to report for national service duty.
In the past, they were dismissed at interview and given a letter which stated that they suffered from a mental health disorder. This caused many transgender women to find it difficult to find employment. Following representations and legal action, the armed forces now issue a letter dismissing transgender women as suffering from a gender disorder.
Injustice rankles with many LGBT activists
In the past, many in the LGBT community suffered disproportionately during Thailand's AIDS crisis which the Thai government successfully brought under control. Today LGBT people are still more likely to suffer from HIV infection. Some rights activists have claimed that many LGBT people, at the limits of society, are being driven to irresponsible behaviour because of a perception by them, that they are discriminated against.
A recent human trafficking raid in Germany, which constituted Germany's biggest ever crime raid, resulted in the arrest of dozens of Thai transgender individuals who had been exploited and trafficked to Germany by a criminal gang led by a Thai woman to facilitate sex for sale services aimed at a lucrative niche market in the wealthy European country.
The transgender women were told before they arrived in Germany that they would receive no salary for providing sexual services at locations in nearly every German state.
Thai lecturer and LGBT activist disputes claim of no bullying in Thai schools
At a two day conference last month a Gay LGBT rights activist, lecturer and researcher insisted that children in Thai schools are being bullied because of their 'deviant' sexual orientation. At the conference, Kangwan Fungkeaw took issue with Thira Bhawangkanantha, a counselling development director with Thailand's Basic Education Commission, who said that there were no cases of bullying or violence in schools since that body too up the issue. 'The problem exists,' he said. 'It's a matter of recognising that.'
The conference was held at a Bangkok hotel over a two day period and was attended by NGOs, researchers and officials from the Thai government. Many attending the meeting felt that there is a need to educate Thai people further on LGBT issues and to work for what was termed a 'change of heart' in the way the community is regarded.
Some Thai education establishments deny they have LGBT students
Kangwan insisted that his research into schools and education facilities, including universities in Thailand, showed that LGBT students are victims of bullying.
He pointed out that many establishments deny that they have LGBT students and were afraid of antagonising parents who would object to the issue being raised in the school environment.
'I think of my childhood when I interview these students,' he said. Earlier, he recalled how he was forced to play football as a young boy at school by teachers and friends while at home he was encouraged to act more like a man.
LGBT couples in Thailand – stories of true love
Many LGBT people in Thailand are engaged in small business. This is often a way to avoid workplace harassment or prejudice. Kim is part of a lesbian couple.
She comes from a Thai Chinese family and Kim's sister helped her to purchase a traditional house shop building in Bangkok as the premises for a grocery business. Her sister was concerned that neighbours and family members were beginning to ask a question about Kim and her girlfriend Taen who had previously lived in a bungalow nearby.
She tells the interviewer that this was over 20 years ago and her sister still takes care of the account and payments of their enterprise. The couple is financially successful, have no debts and Kim's partner Taen takes care of many of the customer service functions.
The laughter that Kim expresses when describing's Taen's sometimes foul tongue is an indicator of the deep and genuine love that exists between the couple.
The duo has now lived together happily without government support for a lifetime.
They have made their own life without causing offence or disturbance to anyone but rather, all the while, providing a well supported and profitable service to their customers.
Thai lesbian partner had to transport lover's family to the hospital to instruct medical staff
Another, quite different story has emerged in many reports on the plight of the LGBT community in Thailand. A lesbian Thai civil servant saw her partner fall off a motorcycle on the road while travelling to work.
Her partner had severely injured herself and was covered in blood and still bleeding from the head.
She managed to get her to a hospital only to be told that she had no authority to instruct doctors on the treatment of her lover. She had to contact her partner's family quite a distance away and pay their travel expenses to come to the hospital so that her partner had the best chance for medical treatment and a positive outcome.
The next day she was told at her job that she was not eligible for any financial support or assistance as her relationship with her partner over 10 years was not recognised by Thai law. This is a situation that hopefully will change with the new law that has been presented to the Thai cabinet for approval.
A new dawn for LGBT people in Thailand on the horizon as this generation still suffers from social pressure
There is strong evidence that discrimination against the LGBT community causes substantial damage to Thai society as a whole. Across the country, painful family breakups caused by intolerance of gay offspring are not uncommon. A recent study by Plan International, UNESCO and Mahidol University showed, aside from suicidal thoughts, 23% of more than 2,000 gay subjects who faced abuse from their families and peers because of their sexuality were suffering from depression. It also pointed out that victims of bullying are also more likely to have taken part in unprotected sex, have multiple sex partners and used illegal drugs collectively. That can contribute to the rapid spread of HIV/AIDS within the LGBT community which suffered extensively in previous decades during the Aids emergency in Thailand. However, given the inexorable rise of pink tourism, the emergence of more socially progressive young Thai people and a new open policy of state recognition, a more relaxing atmosphere for the LGBT people in Thailand is perhaps on the horizon.
Further reading:
Police probing murder-suicide theory after the bodies of two lesbian lovers were found at Pattaya hotel resort