The heart breaking stories of some good people in Thailand who either through bad fortune or bad life choices end up living a very Thai nightmare
Personal debt is a particular problems in Thailand with household debt beginning to rise again in 2018 as a percentage of GDP. It is still at 68% of GDP stubbornly close to the 70% recorded in 2015. Behind this figure is a story of untold human misery which the Thai government is committed to tackling. It includes the threat from loan sharks who prey on virtually all kinds of people in Thailand, forcing the authorities to take harsh measures against the problem. It is also a story of middle class Thai people, particularly teachers, caught in debt trap brought on by personal and cultural factors.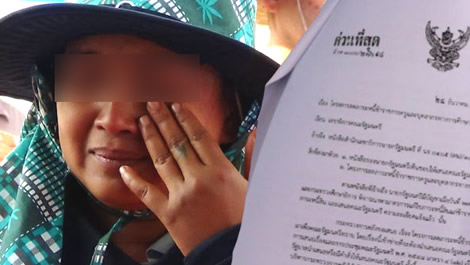 Through many Thai forums circulates a heartbreaking story of a couple whose happy life took a tragic U-turn due to illness and personal debt. They were both high-earning lawyers, and they were content with their affluence and security until they found out that both had cancer. The exorbitant cost of treatment coupled with the lack of free coverage for advanced health care quickly emptied their pocket and forced them to borrow millions of baht to continue the treatment. Then, the husband died, leaving the wife shouldering the high debt alone. Now she lives on charity of her friends and relatives as well as in the constant threat of bankruptcy since her monthly salary is barely enough to pay for the interest, let alone the loan. Sadly, her misery is shared by many Thai people.
Thai teacher has barely enough for food after meeting debt payments to feed himself

Thai teachers enjoy a high degree of social respect and a deep sense of importance due to the vital role they play on their society though their wage is not really high. Nevertheless, it usually guarantees that they can have a comfortable middle-class lifestyle. Therefore, when more than 100 teachers in the northeastern Maha Sarakham province were denied the opportunity to have a financially easy life as they were squeezed by payments towards teachers loan funds that they had borrowed from, they staged a protest during the summer threatening to refuse to pay their welfare fund debts. They also urged their colleagues nationwide to follow suit. Jinsan is one of them. 'When I pay my teacher or bank loans I have only 1,500 baht per month left to find food. It means that I must borrow from my son to survive,' she said. The representatives of the teachers called on a six-month moratorium on debt repayments and asked the government to drop the annual interest rate from 5 to 7 % down to 1 %, the same rate for government loans to farmers.
Under Thai law and regulation a bankrupt teacher becomes an unemployed one with no income
But the authorities did not, at the time, hint at any intention of bowing to thee demands of the teachers. Thawatchai Thaikhiew, the Deputy Secretary of Thailand's Justice Ministry, in fact, warned the teachers of grim consequences if they continued with any proposal resulting in loan repayments being irresponsibly witheld. If the teachers failed to pay their debts, one of the potential consequences they could face was the risk of being declared bankrupt, a status that would lead to their dismissal from the civil service and a range of other outcomes, such as restrictions on creating financial transactions and freedom to travel. Bankruptcy can last anywhere between five and ten years in Thailand and the threat of the measure puts tremendous pressure on government workers.
Mortgages in Thailand are more expensive
Teachers are not the only people who find themselves in debt in Thailand. A large number of Thai people now regularly contract large loans as the growing middle class in Thailand thrives. The downside is the extent of non performing loans within the financial system at all levels. It is seen as both a cultural problem and by many economics as one of the main impediments to stronger economic growth. Thailand has recorded impressive economic growth this year but economists believe that the country should be more buoyant and often point to the debt issue as a problem or 'headwind' to stronger economic performance.
Take housing for example. Some mortgages in Thailand have a yearly interest rate of 12% although these rates can be negotiated down depending on the borrower's financial and security status. Ironically in Thailand, the wealthier the borrower is the better the deal. The interests rates for property borrowing in Thailand are far higher in comparison with wealthy European countries. Figues 1 % in Germany, 1.75 % in Switzerland and 3 to 4 % in many other Asian countries. Thai people who pursue the dream of possessing their own home at high rate will often end up paying twice the cost of a property if they decided to take out a mortgage over a period of 30 years.
Consolation for Thai home owners is lower property costs in Thailand for Thai buyers

The chronic problem of debt in Thailand is an opportunity to look at other issues to do with the Thai economy. Thailand has one of the lowest unemployment rates in the world with an accumulation of wealth in the hands of some of the richest people in the world. However talk about inequality in Thailand should not get carried away as despite this, the country has a healthy and growing middle class. However, Thailand still has a closed property market and that is unlikely to change in the near term. It protects indigenous ownership of the land in Thailand and it can be argued, it is a buffer against the huge danger of property bubbles. However despite this, the price of property in urban areas has risen steadily in the last decade but it is nowhere near the price levels seen in western countries. The debt problem in Thailand is far more a product of personal discipline and lack of financial management ability by those who too easily take on financial debt to purchase items that give a status boost in the short term without thinking for the long term. However there are many cases of simple misfortune in a country which has laissez faire economic model and very few social supports as our initial story indicates.
Casual borrowing at hideously high interest rates a big issue in Thailand and hidden problem

Meanwhile, borrowing from established financial institutions is far safer than taking informal debts, something that a lot of Thai people learn the hard way. As a gesture to showing the government's resolution to stem the rise of illegal debts, Gen. Prawit Wongsuwan, Deputy Prime Minister and Minister of Defense, in the summer returned to 135 people land deeds which they had handed over to loan sharks as security. The total value of the land covered by the deeds was estimated to be 120 million baht.
Recenytly and at the time Prime Minister Prayut Chan-o-cha advised the public to use only reliable financial services and reaffirmed that the authorities would continue to suppress illegitimate and mercenary lenders who demanded unreasonably high interest rates. Mr. Prayut Chan-ocha's words were soon proved to be valid as police in Udon Thani, where many shark loans are based, began to launch a massive operation to inspect local informal loan venues after there had been many reports of illegal high interest rates. No wrongdoing has been discovered so far although the scale of the raids will be extended in the next phrases.
Teachers – a particular problem in Thailand concerning debt
Teachers are held in very high regard in Thailand. For most Thai teachers is an ironclad government job with pay grades linked to seniority. A teacher of long standing can earn in excess of 50,000 baht ($1,562) per month which is relatively good by Thai standards.
The problems for teachers is mostly a cultural one. Like many Thai people, they are part of a generation which is the first to reap the fruits of the country's economic progress and success. The security of the job has made teachers in Thailand good risks for financial and lending institutions. Indeed much of the debt problem associated with teachers is linked to government or oficial lending programmes.
A good man, respected teacher, reduced to penury through bad life choices and debt spiral

Many of these landing programmes have already been reorganised over the years to reflect lower interest rates available on the market and to cater for particularly chronic cases. Nevertheless, the position for thousands of Thai teachers is a critical one. Some of the stories are heartbreaking. For example one Thai teacher with two wives and an extended family has an income of 50,000 baht but each month is only left with 1,800 to feed himself and try to take care of two sons from his first family, one of whom is physically handicapped. The teacher has worked all his adult life and is facing retirement. He is enthusiastic about his job and highly respected, yet his personal life is a disaster, his second wife and family have already deserted him and his first  wife, divorced from him fifteen years ago, has married a foreigner. He is often tempted into borrowing from casual lenders to feed his sons and there have been instances where he has had to absent himself from his home for weeks before finding money from a friend and sometimes from his ex wife to pay off a lender. A good man, a respected teacher, has been reduced to penury through bad life decisions and the curse of debt.
Property documents used for debt security leads to property being signed away under duress

There are many others like the unfortunate teacher. It is not uncommon in Thailand for small debts of 1,000 to 2,000 baht to appreciate to such an extent with interest and penalties over a few years to become debts of 70,000 to 80,000 baht which are serious sums to lower paid Thai people or those with little or no income. A Thai man or a woman in such a situation, who comes into an inheritance of land or property can quite  easily lose it to casual lenders who will take the property documents as security initially bt at a later stage the property will be signed away.
Recent survey: 74% of Thai families had defaulted on a loan at some time now or in the past

The problem with debt in Thailand is caused, to some extent by the country's open economy with little government supports but on a wider scale it is also linked to the country's culture and social history. Many teachers have fallen into debt traps and it is easy to understand how it happens. Many are part of extended families which they are honour bound to support, if there are elders and often these families have members who have ancillary problems related to alcohol, drug abuse or other personal weaknesses. In addition to this, like many Thais, they are attracted to the modern lifestyle and are anxious to project a positive image. As a teacher, many are plied with attractive consumer credit offers on cars, household appliances and even  more disastrously sometimes, bank loans on property. It is now the fashion in Thailand for middle class Thai people or university graduates to be seen to travel abroad with regular flights to Europe, American or Japan. Consequently a recent survey in Thailand suggested that 74% of Thai families had defaulted on a loan.
A Thai teacher with a problems and tragic past
We have given her name as Orn but she is a real person. She is an example of a Thai teacher with a problem. She has a 5 year old Toyota Camry car which is her pride and joy. Her income is 80,000 baht ($2,500) per month from various sources including her well paid job but she is 3.5 million baht in debt. She lives in a rented apartment which is paid for by her American husband. Orn is a Thai wife married to a 'farang' or foreigner. She met Jim from Florida 7 years ago. Jim is a firefighter and quite well paid. He visits Thailand for nine weeks every year and Orn tries to visit him in Florida at least once a year. The couple plan to live together permanently once Jim retires in five years time. She is 52 and Jim is 57 years of age. He is what keeps her life  going.
Thai wife with foreigner husband threatened with bankruptcy as lenders want a way out

Now Orn is threatened with bankruptcy. She is already paying 65,000 baht per month of her salary towards her bank debts but they require 50,000 baht more per month and have suggested that she gets it by talking to her foreign husband.
Orn's first husband was also a teacher and a lot of the debt is due to loans she took out fifteen years ago when he was dying to pay for chemotherapy. She even told the couple's initially debt free family home and moved into rented accomodation to try to prolong her first husband's life also. He was teacher and although he was covered for health insurance, the extra funding was needed for more advanced treatment. It didn't work and he succumbed to his illness with his wife by his side 12 months later.
After husband's death, tragedy struck Orn again two years later when she was in a car crash

Two years after her husband died tragedy stuck the Bangkok based teacher again when she was involved in a very serious car accident which resulted in three fatalities. She was in a coma for 4 days and required major surgery to save her life. Her medical cover did not meet all the expenses and consequently, her debt increased. She is now negotiating with her banks and her US husband to try to put together an arrangement to settle her debts for once and for all so that she can look forward to retirement with her husband in the future. 'I am lucky that I have some way out,' she says. 'Nothing is agreed yet and it is all very stressful for me, it's not anybody's fault and I am optimistic,' she says
Thai bankruptcy law and the threat of jail
A 2012 study showed that every year in Thailand over 13,000 Thai people were declared bankrupt. Bankruptcy activity in Thailand accounted for 2% of GDP at that time. The problems for many Thai people, including less educated Thais in particular, is the fear associated with bankruptcy. In fact Thailand has quite a sophisticated bankruptcy  regime which was reformed after the 1997 financial crisis and Thai courts are often the right option for debtors under enormous financial pressure. The problem is, off course, government employees who face dismissal from their position if declared bankrupt. The other major danger is that Thai people, engaged with the bankruptcy procedure, must do so with full frankness and honesty. They must also follow the process with diligence. Failing to do so can result in the threat or prospect of jail. Many older Thai people are frightened of the police or the prospect of imprisonment which is still an option for debtors where it is felt the creditor is not acting honestly or engaging in fraudulent behaviour.