The killer was arrested yesterday in a forest area in Ranong. A video has emerged of the last moments of his Thai wife and her father. The crazed gunman chased down his father in law as he attempted to flee execution while the brave Thai woman ran to assist her father. The man, originally from Ranong province, is still on the run and being hunted by Thai police.
A 37-year-old Thai man let his rage, at the thought of his Thai wife returning to her former husband, turn to mass murder this Sunday in the northern Thai province of Uttaradit. He shot his wife, father-in-law, mother-in-law, two sisters of hers and wounded some other neighbours using a pistol before he fled the area in his Toyota Camry car. Meanwhile, Thai police after setting up a dragnet to capture the suspect, captured him in a forest in Ranong province on Tuesday, two days after the killings. The police initially tracked his steps by following his mobile signals until they disappeared once he shut down his mobile phone. They then circulated his profile nationwide. They rightly concluded that he was making for his home province of Ranong in the south of Thailand.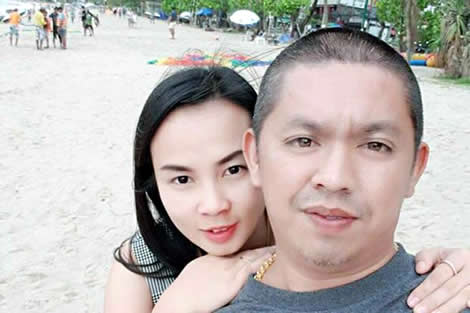 Teerapol Pinamorn, a 37-year-old Thai man, is suspected of killing his mother-in-law, Namphueng Kingkaew, and her two older sisters who were all at their house in Pichai district in Uttaradit province, in northern Thailand which borders Laos. The tragic and violent outburst by the deranged man occurred last Sunday. Thai police believed that he had switched vehicles while on the run through other Thai provinces.
Murder in Thailand as tense family quarrel outdoors while standing becomes a bloodbath
Before he killed these innocent victims of his Thai wife's family, he had first gone to another property, where he found his wife and father in law. He shot both of them with the pistol after a heated exchange with his estranged marriage partner. Police also report that two more neighbours were wounded when they rushed to the home trying to restrain the man, in his fury, from committing another heinous crime. They failed. This prompted the Thai man to extend his killing spree to include his wife's mother and sisters.
Video clip shows murder taking place
There is reported to be a video clip of Mr Teeraporn have heated words with his Thai wife. He then pulls out his gun and shockingly kills his father in law before taking aim at his wife and shooting her dead. The incident makes shocking viewing. The man is dressed casually. The scene is set outside in a car porch where a concerned dog wander overs to the killer amiably, as his wife stands at a distance but walking away at an angle. The woman is beautiful, dressed in a black two-piece with short pants. As the argument gets heated, she speaks and gestures violently. The father in law has a bucket as if to clean the pickup truck stationed in front of the trio but is listening attentively. As the man pulls his gun and turns towards him, the elderly man runs for his life but the killer chases after him and fires, killing the man.  The wife of the killer runs towards her husband and her father but she is also shot and killed. Thai police have named the man's Thai wife as Kanyarat Kingkaew while her father was Wirat Kingkaew.
Thai killer was a drug dealer who served time in prison but appears to have amassed wealth
After his murderous rampage was complete, the man fled the province and changed the Toyota car he was driving. Reports say that the man had access to more than one vehicle. Police sources suggested that he owned a fleet of cars. The Thai man had served time in prison for drug dealing. On his release, he had met his current wife and he explained his financial wealth by saying that he had been successful at buying and selling shares.
Police trace his steps using his own mobile signals
The police initially traced the fugitive by tracking his mobile signal until he, eventually, shut his mobile down. According to the deputy chief of the Muang police station in Phitsanulok province, Police Lieutenant Colonel Nonthaworn Seein, a man named as Teerapol is reported to have borrowed a motorcycle from a hotel maid who said that he had claimed that he wanted to go to the department store, but he had not returned. Police had tracked him to that province where they found his Toyota Camry car. 'The man might have resorted to using the motorcycle to flee from the area without being tracked by the policemen,' the police boss added.
Jealousy is the key motive that police now suspect is behind this outrageous crime
Police Colonel Thapset Khuenkaew is the chief investigator of Uttaradit province. He is reported as suggesting that jealousy might be a convincing motive for the killing spree carried out by Mr Pinamorn (Teerapol Pinamorn). In fact, it is the second family murder targeting a Thai wife's family in two weeks, both involving ex-convicts and prison inmates who have served time for drug dealing. Ten minutes into the new year, 41-year-old Sucheep Sornsung massacred his wife's family and two of his children after taking offence to the way he was greeted by his extended family at a party for New Years get together in the southern province.
'Mr. Teerapol might have suspected that his wife was planning to get back to her ex-husband,' he pointed out. According to Police Colonel Khuenkaew, the suspect was attempting to go back to his original province where he was born. The killer originates from Thailand's southern province of Ranong. Thai police supposed, correctly, that the man considered this as offering him a better chance of evading the huge dragnet that was set up for his capture. The Thai police have now confirmed that this dangerous man is in their custody
Thai court issues a warrant that would help get hold of the suspect as huge manhunt underway
Following the incident, the Uttaradit Provincial Court has issued an arrest warrant for the suspect. This meant that his picture and profile were communicated and by a huge network of Thai police stations and forces across the country. Particular focus was placed on Ranong province where he was eventually apprehended.
On further investigation, Thai police have discovered that the killer had at least five vehicles, including the Toyota car he used to escape the area of the scene. This includes the initial car, a Toyota Camry, in which he made his escape from both crime scenes.
The evil killer has a history of infractions
Police have revealed that according to their records, the suspect was fined 2000 baht in 2015 by the Transport Department for ordering passengers to leave a bus he was driving in Bangkok. Records also reveal that the former prison inmate had applied for a Thai national ID card on at least 10 different occasions in several provinces between 1979 and 2018.
Police Colonel Thapset Khuenkaew said that Teerapol was released from prison after he had served a multi-year prison sentence in relation to his activities drug dealing. However, after meeting his wife, he told her that he had made is financial fortune through legitimate investments.
Thai man massacred his Thai wife's family and his own children because he felt unwelcome at party
Thai man murders father in law and Thai wife

Shocking scene for Thailand's northern Uttaradit province where an enraged Thai man killed his Thai wife who wanted to return her former husband and three other members of her family. He is now the subject of a massive police manhunt.

Posted by ThaiExaminer.com on Wednesday, January 16, 2019