The bizarre and tragic massacre on what should have been a celebratory occasion shows an underlying problem in Thailand where men resort to lethal violence over what are often petty or irrational grievances, amplified by drink, drugs and the availability of firearms
Ten minutes in to the new year in Chumphon, a Thai man, consumed by rage and sense that he was disrespected, pulled out a 9mm pistol and massacred his own family and that of his Thai wife, including his young daughter and son, at a family get together in the Phato district of the province. The killing again raises questions about senseless and often irrational violence in Thailand over irrational slights or grievances.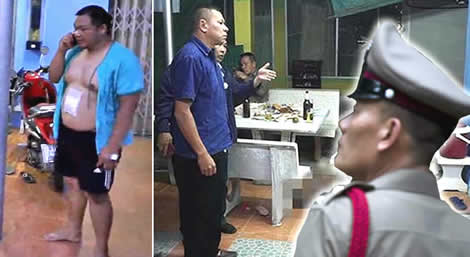 A tragedy occurred in the balmy Thai southern province of Chumphon, just 10 minutes in to the new year of 2019. A family had gathered at a business premises, in this case a beauty shop, to have a celebration and ring in the new year together. It is how most Thai people celebrate the occasion. It is often an opportunity to honour elders and extended family members according to very popular Thai traditions. However this year, for 41 year old Sucheep Sornsung, as the first ten minutes of 2019 ticked in, it was a breaking point as he felt he could no longer tolerate the perceived slight and lack of respect shown to him by his wife and her family. After an argument got heated, he pulled out a gun and shot six members of the extended family dead including two children, his nine year old son and six year old daughter.
Thai police officer explained the man killed his wife's family and his own because he was not made feel welcome at the New Year's celebration
He had earlier that day been out with friends at a party and had returned to be with his own family and his wife's to ring in the new year together. The man was described, subsequently, by Thai police as being quite drunk but they did not think this was what drove the man to commit the appalling crime. The 41 year old had expressed displeasure at the reception or welcome he had received when he arrived at his family's get together. Enraged, he pulled out his gun and began to fire as the family sat together enjoying the festive occasion of the new year. Thai Police Colonel, Larp Kampapan, explained: 'All of the victims were his family members including his nine-year-old son and six-year-old daughter.' He said that all the victims had either received wounds to the head or the torso. 'He was angry that as the son-in-law, he was not being made welcome by his wife's family,' the officer told the media.
Thai police discover appalling sight of fallen bodies in the debris of a New Year's party
Thai authorities have named the victims of the New Year's massacre. They were 50 year old Wichit Nakhlod, 50 year old Ratchaporn Onmuk, 71 year old Ngud Onmuk, as well as 47 year old Pakamard Onmuk and the killer's two young children, 6 year old Thai girl Chananthida Sornsang and his son, 9 year old Kasidit Sornsang.
It was a shocking sight that subsequently greeted survivors and the Thai police as they located fallen bodies among scattered and disrupted table, chairs and food for the celebration. They found one survivor from the shooting lying among the debris. It was 33 year old Thinnakorn Onmuk. He had suffered a serious gunshot wound to the stomach. He feigned his own death to make sure he was not shot again by the gunman. Sucheep Sornsung, headed for a bedroom after the outburst of violence where he shot himself in the head. He has used a 9mm handgun to carry out the massacre and his suicide at the end.
Attack provoked by long standing disputes and quarrels with Thai wife's family which boiled over
Thai Police major General Saharat Saksilapachai is the Chief of Police for Chumphon province. He told reporters that the main provocation for the attack came from long standing disputes and quarrels between Mr Sornsung and the family of his wife. A argument had begun to get heated before he drew the gun and began to fire in an uncontrollable rage. He had consumed a lot of alcohol on New Year's Eve including an earlier outing with friends.
Thai man had a drug related criminal record
Police also revealed that the man had an extensive criminal record, associated with drug crime. He had previously been sent to prison in Thailand but there had not been a pattern of physical abuse or violence against his family. The Deputy Governor of Chumphon revealed that he had served a three year prison sentence for attempted murder. Local reports also suggest that he was an unemployed individual, which is extremely rare in Thailand and quite attached to alcohol consumption, which is frowned upon in Thai society. These feelings would no doubt have been behind the lukewarm reception he had experienced at the get together. He had threatened before to kill his family. His Thai wife is reported to have survived the attack.
Massacre highlights the problem some Thai men have about 'face' and the easy availability of guns in Thailand
This heartbreaking tragedy and massacre raises two key issues. The propensity of some Thai people, primarily Thai men, but sometimes also Thai women, to use violence suddenly when their dignity or sense of 'face' or honour is openly compromised. There are regular reports of sudden, unexplained and futile killings on the basis of  irrational feelings quite often related to slights or loss of face in Thailand. These include love rivalries or rage. There are over 6 million legally held guns in Thailand but reports suggest that the number is far in excess of this number with an extensive black market and demand for arms among many Thai men. Prices for firearm weaponry in Thailand is also known to be remarkably low. Some have linked the issue to the existence of heavily armed groups on Thailand's borders associated with the drugs trade. A report from Washington University in 2016 shows Thailand tops the league tables in Asia when it comes to gun related death or murders.