The move against the high profile policeman, who is particularly well known to foreigners, raises questions as to the reason and background to the move. The rapid rise and successful career of Lieutenant Surachate Hapkarn put him at the centre of nearly all the big cases and controversies in the last year. His reputation as a fighter of corruption, openness and transparency means that this move comes as a huge shock. He also, in the past, has shown himself to have an uncanny sense of judgment in his decisive handling and disposal of a variety of matters. We are simply awaiting further developments now on what appears to be the suspension of a glittering career and character in the strange world of foreigners to Thailand where immigration policing and immigration administrative matters are important factors of life.
Saturday saw the dramatic announcement that Thailand's most high profile police officer, 'Big Joke' Surachate Hapkarn has been effectively removed from his post at Head of Thailand's Immigration Bureau. An order has been circulated and confirmed by the country's national police chief. This shows that Lieutenant General Surachate Hapkarn has been transferred to an inactive post at police headquarters in Bangkok. Social media accounts of the high profile policeman have also been switched off.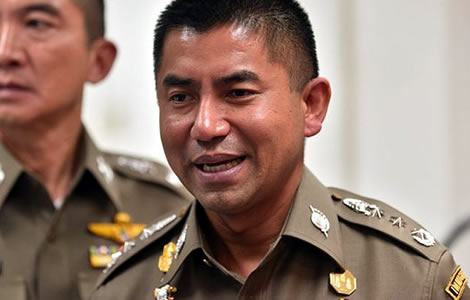 Thailand's best known and well-loved policeman Lieutenant General Surachate Hapkarn, also known affectionately in Thailand as 'Big Joke', has been suddenly and dramatically relieved of his duties and transferred to an inactive post.
Transfer of Thailand's most high profile policeman confirmed on Saturday by Thai police chief
It is reported that the surprise order was issued on Friday night by Police General Chakthip Chaijinda who is Thailand's Head of the National Police. At the same time, it has emerged that social media accounts of Lieutenant General Surachate Hapkarn including his Twitter handle, Facebook page and the Facebook page of Thailand's Immigration Bureau were taken offline this Saturday.
The dynamic policeman has put himself front and centre in the lives of many foreigners in Thailand carrying out his role as Immigration Chief where he had set his sights on a big vision to make Thailand more secure. He was also a high profile Deputy Chief of Thailand's Tourist Police which saw his involvement with many criminal episodes in which foreigners were embroiled.
Immigration chief viewed warmly by most 'good' foreigners after initial concern over the crackdown
Initially greeted with some trepidation because of his rigorous and comprehensive illegal foreigner sweeps and crackdowns, the police boss had come to be viewed warmly by most 'good' foreigners in Thailand. Many foreigners began to see that his work at rooting out bad guys, particularly recurrent abusers of the immigration system and those involved in criminal activity, made the position of 'good' foreigners in Thailand more tenable and secure. Even in recent months, the Immigration Chief had allowed some flexibility in the immigration procedures to allow 'good' foreigners to renew their long term visas after foreign embassies and diplomatic representatives in Thailand withdrew their confirmation of income letters to meet Thailand's immigration law.
Police chief was the key mover in a relentless pursuit of online romance scammers
The Police boss was a constant of front-page news, not least on the pages of the Thai Examiner, where he was often featured in two stories in one day where bad guys were apprehended together with a full, no holds barred brief for reporters. These ranged from fraudsters to online scammers.
A particular pursuit and target of the now-former Immigration Bureau police boss were online romance scammers.
He even ordered an investigation into all Nigerians in Thailand last year when the extent of the involvement of Nigerian nationals in the vile crime became apparent after a large proportion of the official population in Thailand were apprehended in a rolling series of raids.
This may be linked to Surachate Hapkarn's earlier police career where he worked as head of the 191 Police Task Force in Bangkok, an elite police unit that targets foreign criminals who are mostly African in origin. Big Joke, earlier in the year, travelled to Malaysia where he helped with simultaneous raids which were carried out by Malaysian police on locations in Kuala Lumpur and here in Thailand. It was an impressive example of bringing the fight to the criminals and their offshore lairs.
Big Joke was decisive and constantly involved in handling high profile cases
The police chief was also a high profile player in politically sensitive cases such as his personal guarantee to Rahaf al Qunun, the Saudi Arabian young woman who was given sanctuary and protection by his department earlier this year. She later was allowed to immigrate to Canada where she has begun a new life and become an icon for resistance against the oppression of women in Saudi Arabia.
He also played a role in the Hakeem al Arabi case involving a former Bahraini footballer now living in Australia who was arrested late last year because of a false Interpol arrest order generated in Australia. The case became controversial and eventually saw the Bahraini national released from prison in Thailand after the Bahraini government withdrew an extradition request.
Big Joke's decisive handling last year of another controversy centred on what transpired to be a false allegation of rape on Koh Tao island was also judged, by independent-minded observers, to be a success.
The policeman took his investigation to London to follow up on the complaint which was never filed officially with local Thai police in the vicinity of the alleged crime. An official complaint relating to theft however was made by friends of the young UK woman at the centre of the controversy. Big Joke at the time warned against the dangers and consequences of filing false criminal reports, making false accusations in public and premature media reporting.
Last year Big Joke opposed the prosecution of young people behind an anti junta rap song
Another key episode, this time concerned with Big Joke indirectly, emerged last year when some police officials were reported to be preparing to persecute those associated with an anti-junta rap song which became a viral hit online. It was reported that proceedings were being considered under Thailand's draconian computer crime legislation against the song's originators.
The rap song and associated video resurrected the spectre of a violent crackdown in 1976 on student unrest in Thailand. At the time, the high profile police boss indicated that such a move was unnecessary and that the young people concerned were simply expressing themselves.
He suggested that they were not a security risk to Thailand. Thai authorities and senior officials at the same time adopted a more understanding response to the controversy which then simply blew over.
Police boss associated with Thailand's Deputy Prime Minister Prawit Wongsuwan and promoted international police force cooperation
It has been reported that the high profile policeman is close to influential Thai Deputy Prime Minister, Prawit  Wongsuwan. Big Joke was seen as a man tipped for success and was noticeably popular with other police forces around the world.
This was one of his core philosophies which was to develop and encourage cooperation between Thailand's police services and international police agencies.
Last week, he praised the rapid arrest of a Nigerian murder suspect who had fled Thailand on Sunday 24th March after allegedly murdering a Thai woman in her hotel bedroom.
The man was apprehended just two days later in Vancouver Canada having fled Thailand via Hong Kong. At the time, Big Joke indicated that he was confident that the suspect would be extradited to Thailand by Canadian authorities. However, this may be open to question as the suspect faces a possible death penalty in Thailand if convicted. Canadian case law suggests that Canadian courts are set against deportation in such situations although they are open to assurances from the countries requesting extradition, that the death penalty will not be imposed.
How did the 49-year-old police boss get his legendary name 'Big Joke' anyhow?
Only 49 years of age, Lieutenant General Suarchate Hapkarn was born in Songkhla province. He earned his nickname at cadet college over his breakfast preferences. It's a bit difficult for foreigners to understand but it involves a Thai breakfast concoction of gruel made from rice. The Thai expression is 'Joke Waan Jiap' which translated means 'joke that is sweeter than sweet' and it stuck to the young policeman. It has since become a legend in Thailand.
There could be disappointment when the facts behind the 'transfer' of the popular Thai police chief emerge
As of yet, no one can explain what the reason for the transfer of 'Big Joke' to an inactive post can be. It is a euphemism, of course, for suspension and there must be some reason and further revelations to come.
It seems extraordinary because, in nearly every instance in cases and stories that are too numerous to mention, the character and judgment of the police boss has been shown to be flawless and accurate.
Whatever the reason behind the move, it is sure to be a disappointment to his fans among the Thai public who looked to him to take on the bad guys almost like a superhero. The media will lose a star performer of the front pages and foreigners, who had came to appreciate that the energetic police leader was building a more coherent and predictable immigration system, will also feel a sense of loss.
'Big Joke' had big plans for a seamless and predictable Thai immigration service
In recent weeks, the now-former Immigration Chief has talked about a seamless immigration system in Thailand. The plan involved biometric scanners and identity screening using iris identification technology to control foreigners coming in and going out of Thailand. The police chief had become determined to root out criminal operators entering Thailand as tourists in the kingdom's ongoing tourist boom and falling into illegal lifestyles. In his short tenure as immigration boss, there were noticeable improvements to the operations of the department including increased resources, more efficiency and faster turnaround times. Corruption was exposed publicly wherever it was found and this inspired confidence.
Aggressive confrontation of criminal scammers and fraudsters made him a legend
Big Joke's aggressive pursuit of African and in particular, Nigerian online scammers at one point led to him being warned by a government agency that his tactics may be construed as an infringement of rights.
This provoked a firm denial. 'Big joke' denied that he was engaged in 'racist' policing. His determined pursuit of those bad guys, in particular, won him many admirers.
He became famous for his press conferences where he would personally interrogate and confront the perpetrators of crime, particularly online scams and fraud. At a raid in Chiang Mai last year, he was pictured assiduously questioning a young Chinese man at a computer station who was involved in an illegal gambling operation being run from a house.
'Big Joke' inspired confidence, the demise of his career, if true, will spark surprise and uncertainty among Thais and foreigners alike
No details have been forthcoming yet as to the reason for the sudden transfer and removal from his post. We only know now that 'Big Joke' has been moved to the  Operations Centre at the headquarters of the Royal Thai Police. We await further details.
If it does mean the end of what has been a glittering police career it will be a sad and bitter disappointment.  'Big Joke,' despite his ironic name, appeared to be a figure who inspired confidence in the fight against bad guys everywhere and corruption.
Further reading:
Thailand leads the world in the crackdown on online romance crooks targeting Thai women online
Thailand's top immigration cop wants genuine foreigners to come forward – new visa regime is forever
Thailand seeks less rancour as it counts down to its first election under the new Constitution
Koh Tao claims by UK teenager questioned by Thai police – arrest warrants indicated for some media