Frank exchange from Immigration Bureau boss comes as Thailand is consolidating a new era with stringent enforcement of immigration laws. Many westerners including American, UK, Australian and European nationals have learned the hard way that being arrested in Thailand and facing the fallout from infringing Thai laws is a fate best avoided.
Thailand's Head of Immigration Police has announced that the country has removed nearly all illegal foreigners and has a message for 'good' foreigners who may be still be impacted negatively by the new strict immigration practices that have come into force in Thailand. The news is good and bad. The good news is that Thailand's immigration authorities are there to help genuine people with good intentions, the bad news is that if foreigners do not heed the law's requirements, they could and probably will find themselves in trouble. We look at the nightmare that can unfold for foreigners arrested in Thailand.
Thailand's top immigration cop, Surachate Hapkarn, Head of Thailand's Immigration police also known affectionately by the Thai public as 'Big Joke,' has reached out to 'good' foreigners to make contact with immigration authorities through social media facilities such as LINE if they are having problems regulating their immigration status.
He warned that the ongoing crackdown and new, tight immigration regime in the country would make life difficult for some people who are not a security threat and who otherwise could be helped within legal channels with the help of authorities.
Thailand now at Zero level for illegal foreigners after huge immigration cleanup since last year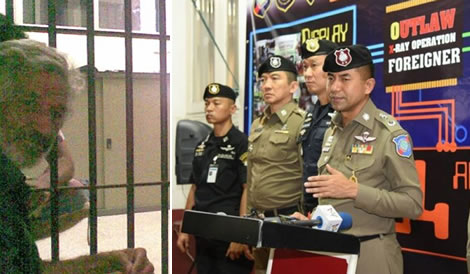 Big Joke warned these foreigners, however, not to resort to scam operators offering shortcuts or facilities to fool immigration officials. It comes as the immigration boss announced that the country had just reached level zero when it comes to foreigners living illegally in the country following a huge crackdown in October and follow-up operations.
Thai authorities are now reported to be turning their attention towards more advanced screening of foreigners entering the country and database tracking. The ongoing operation to detect illegal foreigners will be maintained on an ongoing basis to pick up any people who continue to get through the net.
Thai police smash a myriad of imaginative illegal immigration schemes since the crackdown began
In the last year, Thai police have unearthed audacious and ingenious schemes, designed by fraudsters, ranging from the use of fake stamps to short terms loans to foreigners to fulfil the financial requirements of foreigners extending their stay in Thailand.
Even if a foreigner in Thailand is legitimately married to a Thai wife, he must show a long-standing and genuine bank balance of ฿400,000 or if the foreigner is single, a balance of ฿800,000 is still required.
This comes weeks after Thai immigration police busted a fake marriage ring involving 60 people linked to Indian moneylenders. They had married Thai wives in an elaborate fraud where the Thai women were paid to enter into bogus marriage contracts.
Operation X-Ray Outlaw Foreigner will continue. It saw 40,000 people in Thailand arrested, in the month of October alone with ongoing raids
Thailand's Head of Immigration has announced that the country has now eliminated foreigners staying in the country illegally. The campaign known as Operation X-Ray Outlaw began last summer and was ramped up in a one-month intensive crackdown in October.
This saw as many as 40,000 people detained by Thai police and security forces in raids across the country. All have been detained or quickly deported from the country while being placed on a reentry blacklist for extended periods depending on the length of overstays and offences committed.
The campaign, lead by the immigration police has seen 39 different security sweeps across nearly 4,000 targeted areas the length and breadth of Thailand. Police initially began the operations targeting areas popular with foreigners such as Bangkok, Pattaya, Phuket and Chiang Mai but then, extended it to all areas in Thailand.
Major General Hapkarn explained to the press that one factor that has been of great assistance to the police is reports from owners of condominiums identifying groups of foreigners to authorities. This has enabled the police to investigate them quickly.
Section 38 of Thailand's Immigration Act is being rigorously enforced – all foreigners must notify addresses to authorities within 24 hours
Apartment owners have learned to contact the police when the number of foreign guests increases unusually. The police boss highlighted the immigration law which requires foreigners to notify their address to authorities within 24 hours.
Normally for tourists and visitors, this is handled by their hotels.
It is a vitally important law for Thai authorities. It was highlighted by the police investigation into the 2015 bomb at the Erawan shrine in August 2015.
Key suspects were found to be living in a suburb of Bangkok undocumented and unknown to authorities. Since then, the requirement has resulted in a curb on the short-term rental of apartments and condominiums in Thailand.
It has also adversely impacted the growth and business model of Airbnb in Thailand. Section 38 of Thailand's Immigration Act specifies this requirement and it imposes a strict duty on property owners and foreigners to comply.
Condo and apartment owners have been assisting Thai Immigration police detect 'bad' foreigners
Major General Hapkarn told the press that police are encouraged by the response from condominium owners. He revealed that raiding Thai police had discovered some buildings with 'every floor full of foreigners.'
Again, the immigration supremo stressed that even though many genuine people fail to observe the requirement, authorities must prosecute and ensure full enforcement of the law in order to preserve Thailand's security. He cited as an example a recent raid on a building site.
Police found that all the immigrant workers had the required papers and work permits. However, they did have the proper paperwork showing where they were residing. The Immigration authorities fined each worker ฿5,000 for non-compliance.
Campaigns targeting African criminals unrelenting
The police chief has drawn some muted criticism from some quarters for the intensity and scope of his campaign. His decision to target African immigrants drew a broadside some months ago when he announced an investigation into Nigerians in Thailand when it emerged that a large number of Nigerians had already been arrested over romance and online dating scams.
The police officer, known from youth and time as a cadet in the force, as 'Big Joke' has not been dissuaded.
He has pointed out that there is a lot of criminal activity associated with Africans from particular African countries in Thailand. This includes drugs, scamming and prostitution.
 It has also been generally associated with a casual and disrespectful attitude towards Thailand's immigration laws. There are regular reports of many of the scammer gangs crossing the borders between Thailand, Malaysia and Cambodia willy nilly and also overstaying visa periods.
More online dating and romance scammers nabbed by The police task force after huge losses
From December 7th to December to 17th December, in just 10 days, a special Action Task Force at the Thai Immigration Police arrested 58 online scammers. Thai police have revealed that the total losses for people, who have fallen victim to these gangs is ฿113 million.
This figure is compiled only from June this year. It is a growing and frightening crime racket. So far, Thai police have returned up to ฿2.7 million to victims of this dastardly crime, which destroys trust in people.
The latest victim was a man in Sakon Nakhon who had lost over ฿134,000. This crime is coordinated by crime gangs and mafia organisations originating from Africa, sometimes with the assistance of Thai women, who have also been arrested. Most of those arrested by police have been African nationals with a large proportion of them being Nigerian nationals.
Immigration boss keeping an eye of the refugee issue which in Thailand appears to be under control
The immigration chief was asked recently about Thailand's treatment of refugees. European countries are experiencing an ongoing crime epidemic since the arrival of millions of refugees since 2015. This includes violent crime in the UK (particularly London), Germany, France, Sweden and even reports of burglaries from Switzerland, where the asylum seekers are beginning to drift.
The immigration boss said that he would be keeping a close eye on the number of refugees in Thailand and the length of time they are allowed to stay in the Kingdom.
Thailand has recently approved the UN Migration Pact but it does not have the same problem as European countries. In Thailand, asylum seekers and refugees are detained at 9 camps throughout the country run by the  United Nations under the auspices of the Commissioner for Refugees.
In November this year, there were reported to be over 93,000 refugees in Thailand under this scheme. Most are genuine refugees in flight from danger. They are from Asian countries, with the majority from Myanmar. Many are, in fact, ethnic minorities from Myanmar who face the real prospect of persecution.
Plea for 'good' foreigners to work with Thai Immigration Police – days of irregular living gone
Major General Hapkarn, while he has advised 'good' foreigners to come forward to the authorities, has also warned that from now on there will be rigorous enforcement of immigration law in Thailand.
The days of living in the country irregularly are gone. If a foreigner ignores their legal obligations under Thailand's immigration laws, they can now expect to find themselves in serious hot water.
Get your suitcase, you're under arrest – UK man jailed after bust-up with Thai wife over expired visa
This is what happened to a 32-year-old UK man, Ezra Feehan in 2013.
He married a Thai woman in 2012 and they bought a bar together in Ko Samui. Quickly, his relationship with his Thai wife went south and a bitter dispute broke out about ownership of the bar.
At one stage, in the midst of this dispute, his wife took his documentation from him. This and the emotional turmoil caused him to neglect his immigration requirements.
After finally relenting and granting the bar to his wife, he took a job at another bar. Until the morning when two neatly dressed, English-speaking immigration police officers walked in.
A girlfriend had reported him for not having a visa, he was informed. And then it dawned on him. He was in big trouble. As it had gone beyond 40 days, the police officers told him to find his suitcase, he was being arrested and going to jail.
Nightmare for UK man in Thai jail
This was the beginning of what can only be described as a nightmare for the friendly UK man.
Initially, he was lodged in a cramped cell with other foreigners, mostly from Myanmar and Cambodia. After days, he began to panic but he was powerless.
A visit from a UK consular official raised his hopes but the official was there to see another British person. Could Ezra give him a telephone number in the UK to identify himself?
Dumbstruck, the UK man could not remember a valid UK phone number. He was transferred to Surat Thani by ferry to an even more cramped and sordid prison cell.
He shared this with 30 others, again from Myanmar and Cambodia. During his stay, he said that a woman would bring food to prisoners and make them sit on the floor while it was handed out. As a vegetarian, he could not eat properly. After 20 days, he was transferred to a prison near Bangkok in the caged compartment of a prison truck.
UK man's brother sends deportation fee and releases him from hellish Thai prison after 6 months
There, Ezra found himself fighting for survival in a prison cell and regime with 80 people to a cell in the most demanding of conditions, including the threat or fear of violence, scabies and malnutrition.
Ezra's comments on the prison and Thai authorities are harsh and display an obvious prejudice. They could well be designed to sensationalise the story for the public in the United Kingdom.
However, he also managed to take some photographs on a mobile phone before it was confiscated. He obviously got it back from Thai authorities when he was deported. It is clear that his Thai prison experience was tough and traumatic.
Finally, someone from the UK embassy made contact with a brother of Ezra's at home. He wired the money needed to pay for Ezra's deportation and after a gruelling flight home, where he was still constrained, he finally emerged at a UK airport, a free man.
Other UK man detained for 6 nights after damaging his passport in an airport washroom
Ezra's story is not uncommon.
Even minor legal infringements or mistakes can lead foreigners to end up on the wrong side of Thailand's laws, which can be unforgiving for those who break the rules.
In 2016, Gavin Topley was featured in the UK tabloid The Sun, which has a reputation for sensationalising such stories, it must be admitted. The Mansfield man had been entering Vietnam from Thailand when Vietnamese border authorities refused him admission. He had stained his passport with hand-cleaning gel at the airport by mistake.
On the Thai side of the order, he found himself detained for 6 nights in a cockroach-infested prison cell with other foreigners who had fallen foul of the immigration authorities or Thailand's laws. This was an airport holding facility which is infinitely more comfortable than a Thai prison.
UK man jailed in Thailand after picking up the wrong suitcase at the airport and panicking
In April that year, another UK man, Steve Moody from Skegness in Lincolnshire, was arrested after he picked up the wrong but distinctive yellow travel bag at Suvarnabhumi Airport.
He was in Thailand to meet his Thai wife. Only after he had arrived at his wife's house, three hours away, did he notice the problem? Too late.
He was subsequently arrested and taken to Samut Prakan prison. The owner of the other yellow bag said it contained $30,000 worth of diamonds. Stephen had a tumour removed in 2017 and was partially disabled. He was reported to have thrown away the suitcase when he discovered the error.
This, of course, was another mistake on his part and one must make some allowance for investigating Thai authorities when this unfortunate development came to light. He ended up at the prison in cramped conditions and sleeping on the floor. Friends in the UK reported that he was suicidal. The UK authorities provided him with consular assistance.
Further reading:
Visa amnesty finally ending but the new regime is pragmatic and may allow for further renewals
Visa amnesty to be retrospectively extended to October 31st says top Immigration Bureau officer
Time up for some long-stay business owners as immigration warns of arrests after Saturday's deadline
Visa amnesty to end with 30-day extensions on application as the focus moves to long-stay visa holders
American and Thai wife arrested for operating an illegal visa business in Bangkok using fake official stamps
Broken-hearted Swede fears history will repeat itself as shock parting left him stranded in Laos for 4 months
Two Immigration Bureau officers in Nonthaburi suspended after video appears to show bribe request
Stranded foreigners must get embassy letter, new visa or leave Thailand to avoid arrest by police
US Embassy in Bangkok – guidance on the visa amnesty expiry
UK Embassy in Bangkok – letters for visa extensions
PM signs order granting visa extensions to all valid visa holders until April 30th to cull queues
Officials find a visa solution for up to 500,000 foreigners riding out the coronavirus crisis here in Thailand
Smart cars highlighted by the Immigration Bureau as it seeks out foreigners hiding from the law
Immigration boss warns that a new crackdown on foreigners flouting Thai laws has begun
It's a hard station for Thai police and foreigners should understand better the job they do to keep order
Expats launch website to campaign for easier immigration reporting rules for visa holders
Elderly Hungarian arrested at Suvarnabhumi for a visa overstay offence found dead in a holding cell
Canadian arrested at the border but a lifeline for foreigners seeking marriage and retirement visas
Australian business woman deported to Sydney on charges of illegal overstay after being arrested
Thailand's top immigration cop wants genuine foreigners to come forward – new visa regime is forever