New lending restrictions imposed by the Bank of Thailand on April 1st are a key point of concern for the executives at many listed Thai property development companies. Property sales for the 2nd quarter will be a key indicator of where the industry is going in 2019 according to Dr Vichai Viratkapan of the Thai Real Estate Information Centre. However, one industry insider believes that the high luxury market, particularly in Bangkok, is partially resistant to economic conditions as it is driven by wealthy and foreign buyers seeking a limited supply of quality properties. He points to a 7% annual appreciation in the sector from 2012 to 2018.
With signs of tougher economic conditions, there are also signs that the property market in Thailand may be weakening. Although prices have not fallen, sentiment among the large developers is falling. There is particular concern over a tightening of lending rules which came into force on April 1st. For all that, some property insiders suggest that the higher, luxury end of the market, particularly in Bangkok, is strong. It comes as a range of economic indicators suggest that a slow down in the rate of economic growth is impacting the less well off as Thailand attempts to rein in growing household debt levels.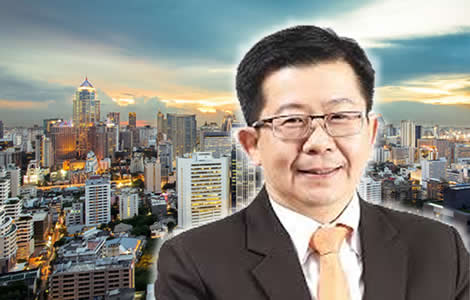 Efforts by the Bank of Thailand to rein in private sector debt in Thailand are beginning to have an impact on the property sector. Although Thailand's listed property developers have been very carefully managing their activities in recent years, there is now evidence that business sentiment among the bigger firms is starting to weaken.
Slow down in sales in Thai property market since 2018
Thailand's property market has been relatively healthy but in the last year there have been reports of slower sales rates. This includes lower end condominium development. While prices have not gone south, the number of unsold units in developments has reportedly gone up. Towards the end of last year, even as developers seemed satisfied with prospects for 2019, there was also evidence that listed companies were less profitable and more cautious about prospects for this year.
Property developers fret about impact of a tightening of lending rules by the Bank of Thailand
What is really believed to be occupying the minds of property development executives right now are tough new guidelines and restrictions for property loans introduced by Thailand's central bank at the beginning of this month. These came in to force on the 1st April. Dr Vichai Viratkapan is the acting Director General of Thailand Real Estate Information Centre or REIC. Speaking to the Bangkok Post newspaper in Bangkok, Mr Viratkapan was quite plain: 'Developers are worried that home buyers will be unable to get the level of credit they need for a mortgage.' He said the new limits were having a real effect on borrowers and co borrowers attempting to get on the property ladder.
Less well off being impacted by the slow down as the economy struggles to grow in 2019
It comes as a range of economic indicators suggest that the less well off in Thailand may be experiencing the hardest effects of a slow down in growth with a range of credit restrictions designed to address Thailand's high level of consumer debt. The Thai economy this year is still struggling to grow faced with an acute export slow down caused by a relatively high Thai baht and the continuing effects of the US China trade war. Projected growth for the year has already been slashed to 3.3%.
Fall off in sales after 1st April may worry developers further, data for the period is awaited
The director predicted that all eyes will be on the sales figures for the second quarter of this year. A fall off in sales may even spook developers further. The sentiment index among listed developers dropped for the first quarter of 2019 from 55.7 at the end of last year to 52.2  just prior to the loan curb moves becoming effective. This is significant. First of all, it chimes with a lot of other data relating to consumer spending habits which suggests a more bearish outlook for the Thai economy. Secondly, it is the lowest figure for sentiment among this influential group of people in the Thai property sector since the first quarter of 2014, five years ago.
Sentiment at the lowest level since 2014 but there is still a positive view of the market
It should be pointed out however that the figure is above 50 and still in positive territory. Also, there has been a rise in sentiment among non listed property firms which saw a rise to 47.7 from 42.3 albeit this figure still does not reflect a positive outlook but a less negative one. Similar conflicting economic indicators exist everywhere right now signifying a period of challenge and change for Thailand's economy and the property sector.
Business outlook less rosy since the start of the year
However, the REIC director was also clear that the business expectations of listed property developers in Thailand declined in the first quarter of 2019 from 65.4 to 59.9. This is still a relatively healthy figure it must be said. The decline in expectations is due to lower levels of sales and profit potential. The director was clear also that this has longer term implications. 'These concerns will have an impact on their (large property firms) investment decisions and employment,' he was quoted as saying. He predicts that it may involve them adapting a more cautious approach this year. 'Overall housing demand remains weak because of many factors. Developers should adjust their strategies by revising new launches and being more cautious about investment expansion,' he told the Bangkok Post.
Some industry experts remain very upbeat about the high end of the market particularly in sought after locations in Bangkok
In spite of all this, some Thai experts remain optimistic about prospects particularly in the higher end of the property market. Anukul Ratpitaksanti is the Managing Director of the property management division of Sansiri Plc Plus Property Co Ltd. He points to the impressive record of luxury condominiums in Bangkok in recent years and notes that the new Bank of Thailand regulations will not have such an impact on this sector, many of whom are people of wealth or even foreign buyers who pay cash.
New rules see minimum of 20% deposit required to secure financing to buy a property
The new Bank of Thailand regulations require a minimum deposit on any property of 20% with a maximum mortgage or loan financing requirement of 80%. The new requirements are, however, when compared to other Asian countries, not too strict and are similar to many western countries such as the United Kingdom. In some Asian countries, far more substantial down payments are required. In Singapore for instance, the deposit required is 70%. The figure in Malaysia and South Korea is 70% while the minimum deposit in Hong Kong is 65%.
Properties valued in excess of ฿10 million have appreciated by 7% per annum since 2012
Mr Ratpitaksanti quoted a survey which showed the market value for luxury type properties in Thailand, that is to say properties valued in excess of ฿10 million, has increased in value by a whopping 7% per annum for the years from 2012 to 2018. This is despite a grim period for Thailand in economic terms during 2013 and 2014 and modest gains thereafter. He also suggests that interest in luxury properties is particularly high from a robust market driven by wealthy Thai people and foreigners. He suggests that demand has, in fact, risen because of a more limited and restricted supply of such properties.
Luxury or high end property developments also are selling faster than lower priced ones
The property executive highlights data which shows that luxury property developments have a stronger record of sales rate than more modest developments over the last few years . Finally, they have a higher rate of return for owners particularly for properties in downtown Bangkok between Sukhumvit and Thong Lor. Some reports suggest a yield as high as 10% on high end properties is possible if they are well maintained and situated in good locations.
High end property in Thailand continues to attracts wealthy buyers including foreigners
Anukul Ratpitaksanti insists that this market is continuing to grow despite the head winds that are now apparent as we move further into 2019. He simply points out that there is a limited supply of the prime land in Bangkok and a wealthy, receptive market in Thailand and among foreign buyers for those quality and well developed, high end properties. He also points out that the new tightening of mortgage and finance rules by the Bank of Thailand will impact this sector the least.