The Chairman of the Human Resource Development Centre for the Thai government's flagship project has called for more Thai students to pursue vocational training as the country struggles to find skilled workers for advanced industries being developed in Chonburi, Rayong and Chachoengsao provinces. The personnel boss has also warned that Thailand is now an ageing society and this may require older people to be retrained.
The Chairman of the Thai state body tasked with finding the skilled personnel to drive the new technology-based industry being developed in eastern Thailand, Mr Apichart Thongyou, has expressed his concern about the shortage of new skilled labour in Thailand over the next five years. He revealed that current educational institutions in the three provinces covered can only manage to provide 30% of the skilled workers required in that period. He is calling for more innovation in education in Thailand and a more positive attitude towards skilled vocational training. He has also suggested that older Thai people may need to be deployed to meet the need for up to 500,000 skilled workers in the next five years alone.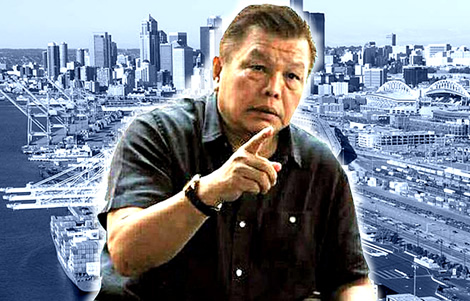 The alarm has gone up among government organisations charged with implementing the eastern economic corridor in eastern Thailand due to a shortage of skilled workers to drive the economic transformation envisaged. The shortages are particularly acute in the the three provinces at the centre of the government's flagship initiative Rayong, Chachoengsao and Chonburi.
Thailand may even need to retrain elderly workers to provide personnel to its advance industries in the Eastern Economic Corridor
This week, speaking to the Bangkok Post, Mr Apichart Thongyou who is the Chairman of the Human Resource Development Centre of the EEC (Eastern Economic Corridor) project has even suggested that Thailand may be required to retrain some older workers to upgrade them to the necessary skills required. Thailand's ageing population and an attitude of disdain towards vocational education and careers among many middle-class Thai people are exacerbating an already difficult labour situation.
Attitudes to vocational  education must change among Thai parents and students as technology is now king when it comes to employment prospects
Mr Thongyou explained how vocational education and work is perceived by the public, particularly among parents of young people entering the workforce or moving on the tertiary education. 'The most important of which is how to change the way parents see vocational education as a future option for their children,' the Chairman said. He described the current attitude among many more well off Thai parents to vocational education as '3D' standing for dirty, difficult and dangerous. Mr Thongyou insisted, however, that this attitude was beginning to change as, along with a trend worldwide, it is now becoming apparent that the most valuable and sought after skills in society are technical ones.
Thailand's demographic problem is a real challenge to the government's economic plans
Thailand's demographic problem is also a huge challenge to the EEC project and indeed to Thailand's economic future. The Chairman pointed out that Thailand was now 'an ageing society' where educational enrollments are predicted to decline and drop off a cliff face in 2040. He called for greater efforts to begin now to keep more children in education. A Thai task force, last year, reported to the government on efforts needed to raise the birth rate in the kingdom, an issue that is fast becoming a pressing one across Asia and in more developed countries. It was in this context that the Chairman of the Human Resource Development Centre for the Eastern Economic Corridor called for more efforts to retrain and redeploy older workers to modern workplaces particularly those who already have valuable skills.
Greater urgency and co-operation required between state, education and employers in Thailand
The Chairman revealed that current surveys show that local universities and vocational colleges are only capable of supplying up to 30% of the personnel needed by the advanced industries envisaged to be set up in the area targeted by the Thai government as part of the ambitious Thailand 4.0 plan. He called for greater urgency and co-operation between all the stakeholders including educational establishments, the country's state bodies and the employer's active in the area.
New learning programme adapted to provide a more work-oriented environment for students
Mr Thongyou highlighted a new learning model adapted from one of the educational establishments, Sattahip Vocational College in Chonburi, which has now being replicated in another 40 sites which brings together students, teachers and employers in real work type conditions as the way forward for education to supply workers to the new technology led industrial sector in the eastern economic corridor. He highlighted the fact that at least 50% of the time under the new education system, students are being thought in a workplace oriented situation.
Opportunity for good students from lower-income families to develop new technology careers
The Chairman highlighted this vocational training option as a route to success for the right sort of students from lower-income families with a GPA of 2.5 or higher for the future.
He said that producing even more highly skilled workers for advanced technology areas would require a more intensive and specialised approach to education. This would be a far more expensive route but was an opportunity for students from higher-income families to learn about state of the art technologies now being developed in Thailand in automation, artificial intelligence, medical research and digital media.
Nearly 500,000 skilled personnel required in the next five years in eastern Thailand
The human resource chief said his greatest priority now was producing the skilled and vocationally trained personnel alone are needed to drive Thailand's new industrial base as quickly as possible. He states that the projects will require 475,000 skilled workers of this type in the next 5 years alone. The Thai government has targeted 10 key industries in advanced industrial activities such as data mining, biotechnology, biofuels, aerospace, artificial intelligence and robotics. This would represent 60% of the labour required.
The other 40% of required personnel would need to emerge as more highly skilled personnel trained to bachelors degree level or postgraduate status. These would be critical in the artificial intelligence and advanced automobile sectors.
Foreigners in Thailand should find out more about Thailand 4.0 and be part of the change that is coming
Denmark and Thailand seek economic partnership and face the same challenge – demographics
Thailand faces an economic threat from a fast paced shift to a digital economy – 3 million jobs in peril
Noble spirit of Thailand's elderly helps country deal with demographic problem