54-year-old Chayaphol Dokmai-ngam and his 39-year-old wife Suthicha Suphan had fled Uthai Thani for Chiang Mai after their well-known business collapsed. They were tracked down by elite Thai police this week from CSD. It follows an arrest earlier in July when elite Crime Suppression Division police in Bangkok caught up with a playboy fraudster responsible for hundreds of millions of baht in losses using car hire purchase and golf club scams to fund his luxurious lifestyle in the city since 2016.
Thai police with the Crime Suppression Division in Chiang Mai last Monday arrested a 54-year Thai man and his 39-year-old wife in relation to over 50 counts of fraud on foot of an arrest warrant issued by Uthai Thani provincial court 5 years ago in July 2014. The pair were taken into custody and then driven back to Uthai Thani where legal proceedings were commenced against them. The charges against the couple stem for an unorthodox business model pursued by the business pair in relation to car financing which for a time was popular and worked very well but ultimately collapsed.
On Monday last, the long arm of the law in Thailand caught up with a husband and wife as they worked at a food shop within the campus of Chiang Mai's Rajabhat University in the Chang Phueak area of the Thai northern city.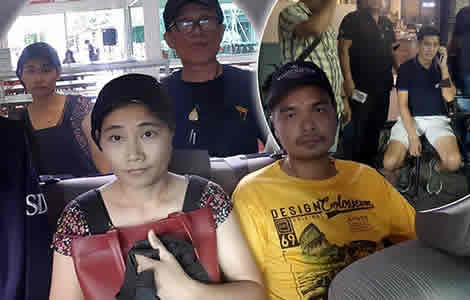 The couple were politely arrested at the scene by two senior officers from the Crime Suppression Division of the Thai police. Officially, the arrests were made on foot of a provincial court arrest warrant dated the 28th of July 2014 issued in Uthai Thani province. The warrant related to over 50 charges of fraud made against the couple, a husband and wife team, who had previously run a second-hand car dealership in Uthai Thani.
Husband and wife arrested in Chiang Mai on fraud charges and a 2014 provincial court warrant
The couple were named as 54-year-old Chayaphol Dokmai-ngam and his 39-year-old wife Suthicha Suphan also known as Tik. Police Lieutenant Colonel Man Menyaem who is the chief of subdivision 4 of the Crime Suppression Police in the area briefed the media in relation to the arrests and the offences involved at a press conference on Tuesday, the day after the couple were taken into custody.
Charges related to a car dealership in Uthai Thani
The two business people, so many years ago, had a novel sales tactic and finance offer for their clientele in Uthai Thani which is a relatively poor and rural Thai province 200 km northwest of Bangkok. They sold cars primarily to farmers whose income was irregular. The couple undertook to make the finance payments for the cars and later the farmers could pay for the vehicle in lump sum payments in addition to a charge. This would occur after local farmers had sold their crops and would for a short spell be flush with cash.
Suspects told investigating police that some of their customers failed to pay but admitted fraud
The couple claimed while being interrogated by Royal Thai Police that some of their customers failed to pay the sums due to the car sales business even after they had paid out their own funds on their behalf to the financial institutions. They did, however, admit to the charges put to them of fraud. They were taken to Nong Khayang Police Station in Uthai Thani by car where police commenced legal proceedings against them.
Unorthodox business practice worked well for a while
This unorthodox business arrangement at first seemed to work well and indeed made the business a popular success until inevitably, the car sales operation hit a cash liquidity problem. Then everything began to fall apart. When it did, many of their customers saw their vehicles repossessed leaving them only with outstanding amounts due to financial institutions and no cars. The unfortunate owners also found themselves with a bad credit rating with Thailand's National Credit Bureau.
Cars repossessed, former owners left with nothing but a financial debt and bad credit rating
In Thailand, it is normal for seized cars to be sold off at a fraction of their value while financial hire purchasing and leasing firms pursue all further debts and obligations on the original contract. The statute of limitations on debt in Thailand is 10 years providing no payment efforts are ongoing within the period. The culture in Thailand regarding such debt is an unforgiving one with many many people pursued to bankruptcy if they fail to pay. Debts are also often sold off to third parties. 
Playboy type fraudster who scammed hundreds of millions of baht since 2016 nabbed by CSD
In Bangkok, on the 6th July, Crime Suppression police officers this time with subdivision 1 one were on the tail of a real fraudster. A 29-year-old charmer who had managed to fleece up to ฿100 million from one scam alone. This crook had a range of fraudulent activities with two very effective methods of obtaining plentiful amounts of cash. One targeted car owners with car hire purchase agreements that were in large arrears.
Another car hire purchase fraud to the tune of ฿100 million financed a lavish and luxurious lifestyle in Bangkok for Mr Nathapol
29-year-old Nathapol Norakan would take cars off the hands of these unfortunate Thai people who could not meet the repayments to the finance companies. The fraudster would then simply sell the vehicles after buying some time. He then failed to pay the outstanding finance costs. There were many variations of the scam but all were highly illegal. The 29-year-old sold on 50 different vehicles using this sort of confidence trick alone.
He used the money to finance a lavish and luxurious lifestyle in Bangkok. He rented out elegant homes and bought expensive cars for himself with cash.
Golf club salesman whose business was fraud
His second scheme was to buy and sell golf clubs. The urbane and handsome young man would pose as a successful businessman at many sports equipment shops and make some purchases with cash. He would then return and negotiate bigger sales for credit except he would not pay. He later sold on the golf equipment at golf courses for knock down prices.
Downfall of the fraudster began on June 21st
His undoing began on the 21st of June last when a number of golf outlets on the Thaniya Road in Bangkok discovered that they had been conned by the same young man. They went to the police and the matter was quickly referred to the Crime Suppression division. They established that Mr Nathapol had taken ฿2 million alone for this scam. Thai police later established that the young man had been engaged in this mode of living since 2016. The fraud on the sale of the 50 financed cars alone was worth ฿100 million.
Arrested fraudster breezily sat with crime suppression division officers as he made a phone call
A team of four police officers from the Crime Suppression Division on Saturday, July 6th last nabbed the sophisticated 29-year-old jauntily dressed wearing short khaki pants at a high-end supermarket outlet in the Watthana area of Bangkok at Thong Lor. The arrest photo shows Mr Nathapol breezily sitting on a stool surrounding by arresting officers making a phone call. Only a careful look can catch the glint in his eye. It is one of fear perhaps contemplation of the less than lavish lifestyle he will soon be living in a Thai prison.
Thai man and wife arrested for fraud in Chiang Mai

+ Senior police officers from the elite Crime Suppression Division (CSD) of the Thai police on Monday arrested a 54 year old Thai man and his 39 year old wife on the campus of a unversity in Chiang Mai. The arrest related to 50 counts of fraud in Uthai Thani province on foot of a warrant issued in July 2014 by a provincial court. The charges stemmed from a crazy car finance offer that went disastrously wrong for the business pair.James Morris reports from Chiang Mai and Uthai Thanihttps://www.thaiexaminer.com/thai-news-foreigners/2019/07/18/thai-police-arrest-couple-fraud-uthai-thani-car-business-finance-old-crime/

Posted by ThaiExaminer.com on Thursday, July 18, 2019