The new minister will be the 22nd since 2000 with an average term of less than a year. A key issue that reflects the stasis in Thailand's education system is the thorny issue of teacher debt. Over 1.5 million Thai teachers have a debt of over ฿1 million with over ฿1 trillion owed. The debt trap that many Thai teachers find themselves in, to some extent, reflects the Thai education system that is so embedded into the social fabric of the country and community that change is difficult and slow.
The incoming Thai Education Minister Nataphol Teepsuwan and his deputies took office yesterday presiding over a huge budget of ฿490 billion at a time when Thailand is seeking major changes in the educational apparatus to meet the digital age. Yet the new ministerial team will find themselves confronted by a range of issues and challenges, chief among them the inertia in Thailand's huge network of schools and colleges where despite having the biggest budget in government, there is little money to effect real change.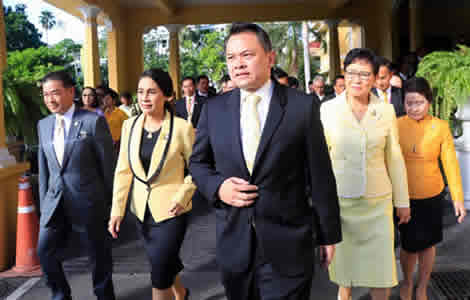 Like all other government departments and ministries in Thailand, the Education Ministry welcomed its new ministers and two deputies as they began their first day's work yesterday. This will be the 22nd Thai Education Minister since 2000 with each holder of the office lasting under a year on average. This, of course, is due to the political instability that has troubled the country in the intervening years. But it has also meant changing policies and confusion in a government department that is arguably among the most important to the future of the country.
Thailand spends well over 20% of its annual budget on education or 4% of GDP
Spending on education in Thailand has been high. It accounts for well over 20% of the national budget and 4% of the country's GDP and yet progress in education in the kingdom has been mixed or even lacklustre when it comes to the ordinary population. There are many reasons for this, not least the instability and changing faces at the top of the education ministry but also Thailand's unique social culture which impinges on both the direction and performance of the educational system in achieving its aims and making progress.
Children learn a love of country and military ideals
For instance, in the of the last government led by General Prayut, a programme was launched aimed at kindergarten students. It was conducted by the Thai army. The 'land defender battalion' aimed to teach young fours and five-year-olds to do push-ups and train for warfare. It thought them military values such as love of country, the nation and the monarchy. This is not to dismiss the programme. Indeed, on the contrary, as we increasingly see in western countries a degeneration of traditional values has become increasingly harmful to society.  But it does indicate the different educational environment in Thailand. It is one, however, that needs to change to foster more critical and original thinking with more individual focus on each student.
More workplace training required at third-level
There may be some merit in Thailand's emphasis on respect for tradition and culture but one of the key challenges facing the education ministry right now is preparing Thailand's young population for a future digital world. The government's own flagship economic policy and plan, Thailand 4.0, has set a goal of a more highly skilled digital workforce. In recent weeks, there are reports that right now the leadership of Thailand's groundbreaking Eastern Economic Corridor project have taken decisive measures to find properly trained and educated students to take up these jobs in the future. This has involved major changes to the activities and organisations of third level campuses in the provinces surrounded the designated area to provide educational courses that are more focused on workplace training.
New education minister joined by two deputies from Democrat and Bhumjaithai parties 
Thailand's new education minister is Nataphol Teepsuwan from the ruling Palang Pracharat Party. He is joined at the ministry by two deputies, Khunying Kalaya Sophonpanich from the Democrat Party and Kanokwan Valawan from the Bhumjaithai Party whose educational policies during the election captured the public's imagination. Indeed, it was one of the main reasons why the party emerged with 51 seats and as a key political player, finding itself among the top five parties in parliament and in government. Bhumjaithai campaigned on an education platform of more open access to education and making it free of cost to ordinary Thai people.
Minister committed to raising the profile of computer coding in the Thai classroom
Ms Kanokwan is on the same page as her boss in the department in that both ministers are committed to the idea of raising the profile of computer coding in the school curriculum at the earliest possible opportunity. The Bhumjaithai minister and her party are also promoting the idea of offering Thai students some relief from student loans and making such loans interest free in the future. This approach is also one that finds resonance with the senior education minister from Palang Pracharat. The lead coalition party has also stated that it would like to address the problem of student loans. Nataphol Teepsuwan, the senior minister is also planning to prioritise teaching English in Thai schools.
Democrat minister wants to focus on traditional teaching such as rote learning
Democrat deputy education minister Khunying Kalaya Sophonpanich is reported to be interested in again prioritising rote learning in the classroom as the most effective way of learning key basics such multiplication in mathematics.
Khunying Kalaya is a former Minister of Science and Technology in the government headed by Abhisit Vejjajiva from 2008 to 2010. She comes from a prominent Thai Chinese family and is a veteran member of the Democrat Party.
Young teacher excited by Eastern Economic Corridor educational moves linked with the workplace 
There has been a cautious welcome for the new team at the education ministry by those working in Thailand schools, universities and educational establishment. One Thai teacher, speaking to the Thai Examiner newspaper on Thursday, however genuinely worried about the frequent change of policies emanating from the top of the education ministry. The young teacher from Samut Prakan was apprehensive and geared up for short term policies. She referred to current educational innovation being conducted in the provinces linked with the Eastern Corridor project to train Thai students for a new digital future. She felt excited at the possibility that this approach may offer even if she was still not sure what it might bring for the rest of Thailand.
Fear of too many top-down initiatives creating confusion and lost time for teachers
Nicha Pittayapongsakorn is a lead researcher at Thailand's Development Research Institute.  Yesterday, speaking with The Nation newspaper, she warns the incoming minister and his team about destabilising projects already running in the educational sector. She pointed out that computer coding was introduced already into Thailand's schools in 2018 on a nationwide basis. She called for a streamlining of the existing projects as they take up teachers time from the time spent actually teaching students. She suggested that projects should be merged with others or axed altogether. 'First check which of the many ongoing projects are doing well, then continue with what is good and scrap what isn't or is redundant,' she said.
Chulalongkorn University lecturer calls for synergy in goals and policies to achieve real progress
There are many voices offering advice to the new ministerial team. One is Sompong Jitradub of Chulalongkorn University. He feels that the policies being put forward by the incoming ministerial team and their relevant parties are not 'outstanding in any way.' Noting the divergence in policies and proposals, the lecturer said that he hoped that the incoming minister and his deputies could somehow work 'in synergy' with the vast educational establishment and produce some real and tangible progress in the education system during the term of this government.
New education minister is a businessman and former protest leader with links to education
The Education Minister himself is a former businessman who at one time sold tiles and carpets both nationally and internationally. As a former Democrat Party member, Mr Natahphol was seen as a key player in the protests against ex-premier Yingluck Shinawatra during the Shutdown protests in Bangkok from 2013 to 2014. The new minister and his wife Ms Taya Teepsuwan were targeted during the upheaval by rogue elements who launched violent attacks using grenades and gunfire on a range of properties associated with the couple and their extended family. This includes a private school owned by Ms Taya's family in Bangkok. Ms Taya later announced her retirement from politics as a result of the violence.
Free education in Thailand up to 3rd year in secondary or high school, only 55% finish
At present, Thailand offers free education up to what is called Mathayom 3 or in western terms, the 3rd year of secondary or high school when students decide to move to vocational college, drop out or go to work or move forward to prepare for university or third level vocational training. Right now, only 55% of students who start primary school or Prathom 1 will make it to the last year of secondary school or Mathayom 6.
Political leaders want to ease the burden for Thai parents and see more finish school
The reason is, of course, the resources available to families of the children and the ancillary costs of education even though no fees are currently payable up to Mathayom 3. Thai political leaders want to ease this burden. They also want to see more English thought and to see computer science and technology being introduced more to prepare Thailand's young people for a new future that awaits.
Thailand's education system, however, has failed the country in many respects
The challenge of adapting Thailand's young people to a new digital age is made even more difficult by the apparent failure of education in Thailand in recent years despite the heavy investment made the government and no doubt sincere and genuine intentions. In 2015, the World Bank in a scathing report suggested that at least one-third of Thai 15-year-olds were illiterate or unable to read and write in Thai!
The locus of the problem is in rural Thailand with many small schools in rural areas lacking in funding, teaching expertise and facilities.
Puzzling as the kingdom spends so much on education while teachers and learning are respected
The problem with education in Thailand is puzzling as the Thai government has put its money where its mouth is and has done so for decades. Teachers in Thailand are highly respected as is the whole concept of education. Thailand has one day a year dedicated as National Teacher's  Day and traditional Thai culture emphasises learning.
Bureaucracy and staid practices 
Part of the problem is bureaucracy within the system and staid practices. There is a lack of emphasis on critical thinking and the system itself has produced teachers who themselves may lack these critical skills. There is also reported to be a shortage of science and mathematics teachers.
World Health Organisation highlighted an IQ issue in 2015 linked with Thai household diets
But there is an even deeper problem than that. The World Health Organisation in 2012 identified that many young Thai school going students had an IQ  deficiency of 10 to 15 points caused by a lack of iodine in their diet. The problem was that they did not consume enough iodised salt. The report suggested that the problem affects 29% of the poorest homes in Thailand. The problem's pattern mirrors the economic disparity between the regions of Thailand with only 18% of households in Bangkok affected but up to 46% of homes in Thailand's northeast.
Strict uniform policy in Thailand at schools and university is very much still in force
Another emerging political issue related to education in Thailand is the universal acceptance of uniforms at all levels of Thai educational establishments from kindergarten where little 4 and 5-year-old boys and girls wear red pants and skirts with white shirts. At primary and secondary schools, Thai students are seen in pristine white shirts and blue skirts and pants even on to third-level universities where except for Thammasat University, all students are expected to keep a strict uniform code this time with white shirts and navy or black skirts and pants.
Code extends to hair length and style 
The uniform code extends to grooming, hair length and styles as well as a prohibition on tattoos and personal accessories. Last year, the Thai Examiner reported on a story from Kanchanaburi where a Thai girl had her long hair cut in public by the school's superiors following a breach of the height requirements of her hair from the shoulder that was required at the school.  The Democrat Party has recently suggested that this policy should be relaxed.
฿490 billion budget but no money for change
The Thai government's allocation for the Ministry of Education this year will be nearly ฿490 billion making it the highest spending department. The thing to note according to many observers is that the budget is already fixed in terms of salaries and the basic overheads of a huge range of schools and facilities throughout the country down to the small village school in a rural area. There is very little real scope for the ministers to implement real, effective change as the schools even at the very lowest level, are deeply embedded in the community and the financial budget for change is minimal.
This is reflected in reports that some school heads or principals do not even have the authority to discipline or dismiss staff. This stasis in the public education system is certainly part of the problem.
Teacher debt is a thorny issue that must be tackled
It is the same problem for many teachers working in public schools and educational institutions. For instance, a significant and pressing issue that is emerging from the schools especially in the rural heartlands of Thailand is teacher debt. It is being brought to the fore in the most painful ways that should be seen as a call for action. Suicides and mental breakdowns.  Last year, it was reported that there were 1.5 million teachers and educators in Thailand in debt for over ฿1 million. Together they owe over ฿1 trillion.
Teachers trapped within their own personal stasis
The problem is this. As respected members of Thai society, teaches are greatly admired.  However, their salaries while good by general standards, are fixed and linked to seniority. This makes them good marks for lending institutions and even though there are many cooperatives, associations and bank programmes, many teachers in the educational system in Thailand have become trapped within a stasis of their own making. Huge personal debts.
฿45,000 salary per month and ฿7,000 to live on
One teacher reported by the Thai Examiner last year was a middle-aged man of senior standing. He had just ฿7,000 per month to live on and care for his family from a ฿45,000 salary. The teacher, in his fifties, had two wives who have now abandoned him leaving him to care for his disabled son. He is now relying on the charity of others and his ability to earn income for lessons outside of school hours. The problem for thousands of teachers like this is that under current Thai law, any state official who declares bankruptcy is automatically terminated for their position of employment thereby bringing an end to their career.
Thailand's incoming educational leadership face a test of their own – the digital one
The teacher debt issue is one of the thorny subjects that have to be dealt with by the incoming minister. It is another symptom of the overall problem with the education system in Thailand. It is a huge challenge indeed and one that soon Thailand's leaders will be tested on as the modern economy goes digital and new, alert young minds will be required to drive it.
Read more about debt in Thailand and the strict uniform code in Thai schools:
The pervasive problem of debt in Thailand and the struggle to survive for those hit by bad fortune
Thai teachers rule as 4th year teenage student has hair cropped in public after defying school code