The motive for the attempted murder was the ฿78 million ($2.5 million) fortune belonging to the 32-year-old woman in China. It has emerged that she married her husband in 2017, only knowing him for a few months. She later discovered he had a criminal record, could not get employment and had a gambling addiction. It is reported that pressure to pay his gambling debts in China drove the man from a poor background to commit the act. The Chinese man has denied the charges and pleaded not guilty.
The pregnant wife of a Chinese man charged with attempting to murder her has called for her husband to be given the death sentence by a Thai court if he is convicted on the charges currently before it. Wang Nan is the 32-year-old woman who was pushed over a cliff on June 9th in Ubon Ratchatani by her 33-year-old Chinese husband. She was speaking after a recent court hearing.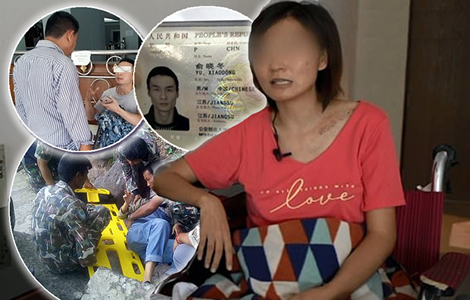 A pregnant Chinese woman who was thrown off a cliff in early June by her husband has called for him to receive the death penalty. She was speaking in Bangkok this week after another criminal court hearing in which her husband is accused of attempted murder following the incident. The hearing took place last Wednesday. The Chinese woman alleged that her husband had planned to kill her.
'He committed intentional murder. And it's not only my life, it's also my child's life too,' Wang Nan told reporters after the hearing. 'For this intentional murder, we hope he would be sentenced to death,' she pronounced.
Chinese woman still in Bangkok recovering from fall and injuries inflicted by her husband
The Chinese woman is still in Bangkok following the June 9th trauma and injuries that she suffered at Taem National Park in Thailand's Ubon Ratchathani province when her Chinese husband, 33-year-old Yu Xiaodong pushed her from the top of a 34-metre cliff. Initially, the 32-year-old Chinese woman who was three months pregnant tried to cover for her husband but she relented soon afterwards after he threatened to kill her while she was being treated in a Thai hospital.
Romantic kiss of death
She has revealed that her husband, on the day of the attack, started by romantically hugging her from behind. He then turned her around, kissed her on the face before striking what he thought would be a fatal blow. He pushed her into the void.
Miraculous outcome as the woman and her unborn baby survived the 34-meter cliff fall
Miraculously, the Chinese woman was not killed and neither was her unborn child. It is reported that her fall was broken by a tree during the descent from the top of the cliff. This was confirmed subsequently by Police Colonel Charnchai Innara who is the commander of the Khong Chiam Police Station who initially investigated the incident.    
It has emerged that, quite miraculously, Wang Nan's baby which she was carrying when she fell, is in a stable condition according to doctors in the Thai hospital who are currently treating her. 
Chinese woman treated in intensive care and was later in a coma. Making a slow recovery 
Wang Nan was however seriously injured by the fall and suffered fractures to her left thigh, arm, knees and collarbone. The woman was immediately taken, on June 9th, to intensive care where doctors operated on her. She was later in a coma as her treatment progressed. On June 15th last, she was joined in Thailand by her mother and father who have stayed with her since. She is making a slow recovery and needs physiotherapy.
Moved from Ubon Ratchathani to Bangkok
In the last few weeks, the Chinese woman was moved from Ubon Ratchathani to a medical facility in Bangkok where she continues to recover from her injuries with the help of her parents. She is still in a wheelchair and cannot walk although she does now have the use of her right arm and can speak.
Family's concern for the unborn baby
The Chinese woman and her parents are however still concerned for the baby she is carrying. They fear that the drugs and anaesthetics that have been used during her medical treatment may have caused damage to the unborn child. 
Chinese husband arrested by Thai police on June 17th and charged with attempted murder
Her husband was arrested for attempted murder on June 17th after his wife finally changed her account of what had happened to her. It has emerged that following the fall, Thai police became suspicious of her Chinese spouse after he was seen initially to stand off as rescue workers came to his wife's assistance. 
Interpreter heard Chinese wife ask her husband why he had tried to kill her after the attack
A more significant development for police occurred when an interpreter assigned to help Ms Wang Nan communicate with Thai medical personnel, overheard her question her husband just after the fall. 'What did you do that to me,' the young wife asked her husband. The Chinese woman initially covered for her husband by insisting to police that she had suffered a blackout at the top of the cliff which led to her fall.
Chinese husband threatened to kill wife after the attempt on her life if she broke cover
Later, when she revealed the true story behind the attempted murder, she also let the police know that her husband had threatened to kill her in the hospital if she told the truth. He had also insisted on staying by her side continuously up until her parents arrived from China.
Gambling debts of ฿5 million behind the attempt on her life in order to get at her fortune
The story she eventually told the Thai police is that her husband had run into gambling debts in the region of $150,000 or ฿5 million. The Chinese woman herself is quite wealthy. Speaking recently to the Beijing Youth Daily, an official Communist Party newspaper in China, she explained the motive behind her husband's extraordinary behaviour in clear terms: 'If he can make everyone believe that I had fallen and died in an accident, then he will be able to inherit a part of my fortune. I indeed have a reasonable amount of savings and real estate properties.' The 32-year-old Yu nan is estimated to have a net worth of $2.5 million or ฿79 million
Chinese woman married her husband in 2017, only knew him for 2 months at the time
The Chinese newspaper China Daily recently reported that Ms Wang Nan had married her husband in July 2017 after she had only known him for 2 months. She knew that he was from a poor background. She was soon to learn that the man she married had a gambling addiction. Her husband also had a prior criminal record for robbery and had served 8 years in a Chinese prison. This made him ineligible for gainful employment in China.
Agreed to pay half his debts
It has been reported that her husband had asked her to help him pay off his gambling debts but that she had only agreed to pay half the amount. Since Yu Xiadong was arrested and charged, sources within his family claim his gambling debts are, in fact, at least twice what he had disclosed to his wife.
Couple arrived in Thailand in early June
The couple had arrived in Thailand on business in early June and decided to take a holiday afterwards. The pair went to visit the Taem National Park as Yu Xiaodong seemed to have a sudden fascination with cliffs. Wang Nan found this puzzling as her husband always had a fear of heights.
Chinese man denies the criminal charges against him and has been refused bail twice
Despite the charges against him and the evidence of his wife, the Chinese man has pleaded not guilty. He has applied for bail twice and been refused on both occasions by a Thai court.
Second such story this year
It is the second story like his in Thailand in the last year. The last one was perhaps more tragic. In October last year, Chinese man Zhang Yifan brought his wife Xiaojie to Thailand for a romantic holiday at a five-star resort in Phuket. 
He later reported her death to Thai police as a swimming accident in the hotel's private swimming pool. The man then returned to China. The Chinese husband later returned with his wife's family who were not satisfied with the explanation surrounding her death and demanded further investigation. 
On October 29th 2018, he admitted that he had murdered his wife to Thai police. Enquiries in China had revealed that he had taken out a string of life insurance policies on his wife's life prior to the holiday.
Read how a Chinese man last year brought his wife on a holiday to Thailand to murder her:
Chinese man who killed his wife in Thailand may face further charges including premeditated murder
Chinese woman calls for death penalty for husband

+ A Chinese woman whose husband is charged with pushing her over a 34 meter cliff last month in Ubon Ratchatani province while 3 months pregnant has called for the death penalty to be imposed on her husband if convicted by a Thai court. She was speaking at a hearing this week in Bangkok. Yu Xiaodong was arrested by the police in Ubon Ratchatani on June 17th.https://www.thaiexaminer.com/thai-news-foreigners/2018/12/16/chinese-man-who-killed-his-wife-in-thailand-may-face-further-charges-including-premeditated-murder/Carla Boonkong reports from Bangkok

Posted by ThaiExaminer.com on Sunday, July 21, 2019