A Chinese wife was killled by her husband at the end of October who reported it as an accident and left the country. This week Thai police applied to have the detention of the man extended after he was arrested on his return to Thailand and admitted killing his wife at a luxury resort in Phuket. It is reported that he was secretly unemployed and had taken out ฿160 million in life policies based on his wife's death
A 31 year old Chinese man has been arrested in Thailand and charged with killing his young wife of only 2 years after bringing her on a dream holiday to Thailand. He has already confessed to killing his wife in a violent argument but it is now strongly suspected that it was premeditated murder. This comes after the woman's family unearthed 12 insurance policies, taken out in China, prior to her death valued at ฿160 million or $5 million. Thai police this week asked for and were granted an extension of his custody, by a Thai court, to complete their investigation. It is believed to be focused on DNA and other matters. It comes nearly three months after another 28 year old Chinese woman was murdered in Hat Yai in Songkhla province at a well known waterfall and tourist park.
Thai police this week asked for a 12 day extension from the Criminal Court to hold 31 year Chinese national Zhang Yifan while they complete their murder investigation into the death of the man's 29 year old wife at a hotel in Phuket on the 29th October this year.
Murder at beautiful 5 star Phuket resort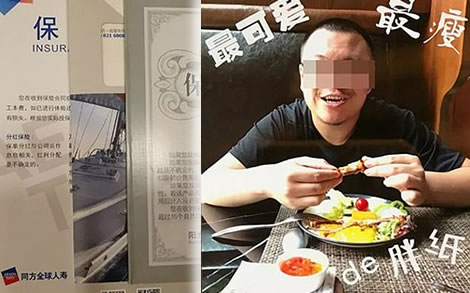 The Chinese man and his 29 year old wife, from the huge city of Tianjin in the north of China, had arrived in Phuket on October 27th for a family holiday with their 20 month old infant daughter. However, according to The police, the Chinese man admitted to killing his young wife on the afternoon of the 29th October. The Chinese man had returned to China on the 31st October, two days after the killing. They were both staying at a plush 5 Star resort in Phuket, named as the Paresa Resort Hotel. The Chinese man admitted to police, under interrogation, that he had drowned his wife in a private pool attached to their luxury accommodation at the resort. The matter was brought to light after the Chinese woman's family insisted on inspecting her body in Thailand. They discovered not only extensive bruising, but also broken nails, indicating a fight or struggle for life.
Thai court grants extension to police investigation
The couple had been married only two years. The Chinese man had initially reported the death of his wife to hotel staff at the hotel as a tragic accident. After his arrest and when confronted by experienced Thai police investigators, he admitted that he had, in fact, killed his wife in an argument that turned violent. However, what is focusing minds is the discovery, by the Chinese woman's family, that the man,  who was secretly unemployed with a porn addiction problem, had taken out no less than 12 policies on his wife's life in the months prior to her death. He has already been charged by Thai police with assault causing death but further charges are likely, if Thai police find evidence to conclude that the death was premeditated murder. The investigation, being completed by Thai police, is focusing on DNA from the body and the suspect. The court agreed to the request by police for an extension of the detention period.
Chinese man who killed his wife returned to Thailand
The Chinese national had returned to Thailand with his dead wife's family after they had insisted on speaking with Thai officials and seeing the body of the woman for themselves. Their suspicions were substantially heightened when they had discovered that the man had purchased no less than 12 life insurance policies in China, all naming himself as beneficiary, on the basis of his wife's untimely death.
The Chinese woman has been named in police and media reports as Xiaojie, which is believed to be a moniker created by authorities in the case. Her family in China received a call from Zhang's parents three days into the the holiday. They were told that their beloved daughter was dead. She had died while swimming at the swimming pool at the hotel.
Parents of Chinese wife murdered in Thailand cry foul after hearing she died swimming
This news was initially greeted with disbelief and then with suspicion by Xiaojie's mother and father. She was a strong swimmer. Zhang Yifan had reported his wife's death to police in Thailand. This is both a legal requirement in order to obtain a death certificate and of course to follow up on paperwork required in China to finalise his wife's affairs. This would include the insurance policies. However, his plans were altered when the family of his dead wife faced him down with searching questions about the death of the young woman. They demanded that the young man return with them to Thailand to get to the bottom of the matter. And they did.
At a local morgue, they viewed the woman's body and discovered it covered in bruises, evidence of a struggle and a fight. After this, they proceeded to file a police complaint with the Thai police in Phuket who subsequently detained the man for questioning. He quickly admitted that he had drowned his wife in the the couple's private infinity pool, near the sea, at their hotel.
Family's search found damning evidence against Chinese man in couple's apartment in China
The family had conducted a search of the couple's home in Tianjin, a huge metropolis in northern China. The results of this were damning. They found that the husband had signed up for 12 insurance policies, on his wife's life, in previous months with a total payout of over ฿160 million or over $5 million. This was the price of the Chinese woman's life in her husband's eyes and seemingly enough to murder her. It should be noted that this has yet to be confirmed by the ongoing police investigation. The parents and family of the woman had also discovered that he was secretly unemployed and had simulated being at work everyday by leaving home and returning at the appropriate time. It has also been reported that the couple were being financially supported by their parents and that the Chinese man had developed a chronic addiction to porn and online spending.
Chinese man's prospects are grim after his brazen crime in Thailand as he faces justice
While Thai police conclude their investigation, it is understood that the parents of the woman wish to see the Chinese man extradited back to China. Although Thailand has the death penalty for murder, it is thought that the harshest justice would be more certain and swift in China, where the judicial process is expedited. China executes more people than the rest of the world combined but the numbers, thought to be in the thousands each year, are not revealed to the public. They are classified as a state secret. Thailand performed its first execution, without notice and out of the blue, this June. While human rights groups have been aghast, there is every possibility that the ultimate legal sanction in Thailand will be used again. In the meantime, police in China have initiated a fraud investigation into the insurance policies taken out by Zhang Yifan. These investigations could also lead to the death penalty as aggravated fraud in China is also capital offence. It would appear the prospects for the Chinese man are grim after his criminally inspired family holiday to Thailand
Chinese criminals in Thailand and murder of a Chinese woman in Hat Yai in September
The case is one of quite a few recently in Thailand involving the wrong sort of Chinese people entering the country. During 2018 the number of crimes being detected by Thai police perpetrated by Chinese nationals in Thailand has surged. Many have attributed this to a sense that criminals on the Chinese mainland feel that their odds are better in the kingdom and hope to evade sanction at home on the motherland. There have been Chinese gangs arrested for burglaries, money lending scams, online scams and fraud. In September this year, Thai police in Hat Yai within the southern province of  Songkhla opened a homicide investigation into the mysterious death of another Chinese woman while visiting Thailand.
Chinese woman's passport found in Hat Yai  bin after suspicious death now treated as murder
The story began on Wednesday September 19th when a Thai taxi driver dropped a Chinese woman, seemingly another one of the huge numbers of high spending Chinese tourists, at the Ton Nga Chang Waterfall in Hat Yai. The taxi driver told police that the woman pointed at a white car, later revealed to be occupied by two Chinese nationals and seemed to know the people in it, whom he assumed she was meeting.
28 year old Ms Lei Tian, who was single, was later found at the bottom of the waterfall, dead, the following day. Her belongings were found in a waste bin within the park of the well known tourist attraction. These items included the young woman's passport and her mobile phone. The data and SIM card from the phone had been removed. The case was brought to the attention of then Deputy Chief of Thailand's Tourist Police but now Head of the Immigration Police, Surachate Hapkarn. He ordered the matter to be looked into with more depth.
Thai taxi driver: woman was meeting someone 
This subsequently led to the detention of one of the men in the car although the other had returned to China. This Chinese national denied knowing Miss Lei Tian although subsequent investigations revealed that both the Chinese men had worked at the same company as the woman in Kuala Lumpur, the Malaysian capital. The Malaysian border is near Hat Yai and both men had driven from that country across into Thailand.
Police later seized the car for examination as part of their investigation. That investigation showed that the Chinese woman had flown to Thailand from Malaysia. The taxi driver, who took her to her fateful meeting, told police that she engaged in mobile phone conversations with individuals prior to coming upon the white sedan car as if she was arranging a rendezvous with it. She had instructed him not to wait and this, to him, was further evidence that she had met up with associates.
Battered and bruised body found at the bottom of Ton Nga Chang waterfall in Thailand
The woman's battered and bruised body was found at the bottom of the waterfall later the next day. Thai rescue workers had to retrieve it and bring it to the surface. An autopsy, however, showed that the cause of death was not associated with the water or her presumed fall. She had been dead before the fall and her body has been thrown in. Thai police located one of the Chinese men later in Krabi, a beautiful coastal tourist area. They detained him for questioning on the matter. The body was found to have bruising on various parts and on the eye sockets that were inflicted prior to death. The Chinese man, named by media reports as 36 year old Hai Long Zhao, denied any involvement with the matter. However, it was later revealed that the man had been charged with entering Thailand illegally. He refused to cooperate further with Thai police, who were anxious to quiz him about the inconsistencies and coincidences that all point to something suspicious or more sinister.
Thai police did not have enough evidence for an arrest warrant despite suspicious circumstances
Thai police however have said they have yet to find direct evidence to link the man to the murder of the Chinese woman although a homicide investigation is underway. Police Lieutenant Colonel Khemarin Pissamai had taken the suspect from an immigration detention centre, where he was being held for immigration offences, to see the dead body of the woman. The man still insisted on his innocence. Thai police have had a similarly uncooperative attitude from the other Chinese man. He had already left Thailand. He promised, a one point, to come to Thailand and meet them . He later postponed the meeting. Police also revealed that all mobile phone data had been wiped clean including that of the Chinese men detained. Hai Long Zhao continued to deny that he knew the Chinese woman.
Thai police say motive was 'jealousy'
Thai police have said that they believe that the motive for the murder is 'jealousy' but they have no concrete evidence against the two Chinese men linking them to the murder that day. Investigations were focusing on the woman's belongings in the hope of obtaining a fingerprint. The focus is on, in particular, the Chinese woman's torn passport where select pages had been torn out. Thai police have told the media that they were not yet in a position to obtain an arrest warrant.
Chinese woman told parents she was facing a crisis without more funds from Malaysia
The young Thai woman had left for Malaysia from her native China some years ago to make her fortune. She was involved in the business world in Malaysia reportedly in software and new technology. She had brought with her ฿10 million (over $310,000) to Malaysia. Thai police detectives have found out that she had called her family some time ago in China attempting to borrow money as her business had been experiencing problems. She had indicated to them that, without the money, she was facing a personal crisis.