The series of fires that preceded the bombs on Friday may pose serious questions for security chiefs in Thailand as it has emerged that they were caused by incendiary devices easily planted by a variety of people on Thursday afternoon, well before the bombs went off on Friday morning.
As top Thai police investigator, General Srivara Ransibrahmanakul, got down to work over the weekend with a squad of 14 policemen assigned to report to government on the Bangkok bombs and fire attacks, it has emerged that the ping pong bomb at 8.50 am on Friday morning that sent three street cleaners to hospital was, in fact, caused by Thai schoolboys engaged in inter-school rivalry. Despite this, the scale and the complexity of the attack have concerned authorities who have tasked General Srivara to find the answers.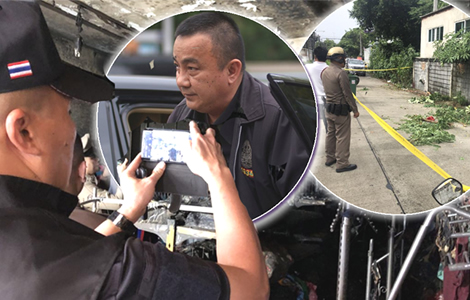 The Thai police chief has appointed a crack squad of Thai police officers to investigate and get to the bottom of the bombings on Friday in relation to which there have been some surprising and disturbing developments. One of these is that there appears to have been quite a few people involved in both the bombings and the planting of small incendiary devices the Pratunam area of Bangkok causing an outbreak of fires prior to the bombs exploding on Friday morning last. This latter development could be a particular cause of concern for Thai security chiefs.
Uncanny: Thai school boy's ping pong bomb put more people in hospital on Friday
It was also revealed on Saturday that the ping pong explosion that injured city street workers was not linked to the bomb and fire blitz but was an uncanny coincidental explosion involving young schoolboys who appear to have been motivated by inter-school rivalry.
Four senior and experienced police officers leading a 14 men investigation squad
The investigation team appointed by the police chief General Chakthip Chaijinda on Saturday is being led by Police General Srivara Ransibrahmanakul and three senior investigative officers together with 10 junior policemen. The other three senior investigators working on the probe will be the Police Inspector General, Police General Suchart Thirasawat, the Deputy Police Commissioner-General, Police General Chaiwat Ketworachai and Police Lieutenant General Kraiboon Suadsong who is the commissioner of the strategy office of the Royal Thai Police.
The Chief of Thai police in his order wants a quick turnaround on the investigation given the disturbance caused by Friday's bombings which have raised security concerns for people working and visiting the city as well as property owners.
Government spokeswoman gives assurance about tourism and business sentiment
Over the weekend also, the new government spokesperson Narumon Pinyosinwat assured the public that the prime minister was closely monitoring the situation and expressed confidence that the Bangkok bombings on Friday would not impact tourism or business sentiment towards Thailand. On Friday night, the new tourism minister Pipat Ratchakitprakan who has made tourist safety his key goal while in office, was in Chinatown welcoming tourists as the government embarked on an all-out effort to restore confidence.
SET Index performed better than many other Asian bourses on Friday in spite of bombings
This should not be so difficult if business sentiment is anything to go by. Although the SET Index of Thai shares was down by 1.6% on Friday in the immediate aftermath of the bombs,  it later recovered to finish down only 0.88%. This decline was not driven primarily by the Bangkok bombs but by the US President's shock announcement on Thursday of further tariffs on Chinese imports into the United States involving a 10% levy on $300 billion of Thai goods. The 0.88% drop in Bangkok compared very favourably, in fact, with the 2% plus figures seen in exchange in Japan, China, Hong Kong, Korea and Taiwan.
Also on Saturday their Majesties King and Queens sent flowers and wishes of support and sympathy to 5 people hurt in Friday's explosions.
Japan issues warning to its nationals in Bangkok and Thailand to exercise care
Foreign countries have issued concerns about the explosions but no country at this point has issued advice to its citizens not to travel to Thailand. On Saturday, the Japanese Embassy did issue a warning to Japanese nationals to be careful in Bangkok and Thailand following the bomb and fire attacks.
Three schoolboys responsible linked to the blast that injured street workers on Friday morning
On Saturday, Thai police in Metropolitan Division 4 revealed that they had arrested three schoolboys in connection with the ping pong bomb that detonated at 8.50am on Friday just twenty minutes after the BTS explosion caused by the attackers. Police Major General Thirapong Wongratpithak said that the boys had hidden the bomb contained in a small black ball near a wall inside a bush.
Street cleaners suffered eardrum ruptures and retina damage when ping pong device went off
On Friday morning, three street cleaners were drawn to the device when they spotted a knife and pen gun near the wall. While examining the ball it exploded causing two of the workers ruptured eardrums and damaging the retina of another. It is nothing short of a bizarre and uncanny coincidence which nevertheless left three people injured and requiring hospitalisation.
Boys  fully admitted their activities to police which are linked to inter-school rivalry in Bangkok
Police have revealed that the boys had fully admitted to their role in the incident. They say that they had hidden the bomb and did not intend for it to explode. The boys as of Saturday were still being interrogated as police liaising with juvenile welfare officers. Authorities are treating the enquiry with care in line with Thailand's juvenile protection provisions.
It is thought that the bomb is linked to school rivalry which is a growing problem in Bangkok with a number of students this year being killed in inter-school attacks. 
Group of people sought in relation to incendiary devices that went off in the early hours of Friday
It is reported that police are looking for a larger group of people in connection with the series of fires now understood to have been caused by incendiary devices that were set off in the Pratunam area of Bangkok in the early hours of Friday morning last before the first bomb went off. First reports suggest that police are tracking three men and two women.
Terrror suspects posed as shop customers on Thursday in Pratunam's garment district
Police Lieutenant Colonel Panom Chuathong who is the deputy inspector of the police station at Phaya Thai in Bangkok has revealed that five people were observed as they made their way into a roadside shop near Phetchaburi road at 11 am on Thursday. All the people concerned were wearing cheap face masks commonly used in the city to protect from bad air or infection. They each left the shop without buying anything. It is understood several small clothing shops were targeted and devices planted in this fashion.
Conflagration on Friday morning destroyed shops and stalls belongs to small traders
A conflagration caused by the devices later engulfed stalls in the area while other fire incidents were also reported near the Indra Regent Hotel. The area where the fires went off is in Ratchathewi district which is near the headquarters of the Royal Thai Police. The location of the shops is in a well-known garment trading area in Bangkok frequented by shoppers and also small traders buying from wholesalers.
Circuit boards and timer found after police examination of the sites were fires went off
Forensic examinations of the scene by Thai police found the remnants of incendiary devices including circuit boards and timers. This has confirmed initial thoughts and suspicions by police authorities that the series of fires was part of the effort on Friday to spread panic and cause terror in Bangkok.
Masked man in Fedora hat planted an incendiary device in cuddly toys during shop opening hours on Thursday at Siam Square
In some respects, these fire incendiary devices may be the cause of deep concern to security authorities since the perpetrators seemed to be able to plant them easily. In one instance, it is reported that a man wearing a face mask and fedora on Thursday afternoon at Siam Square Mall was captured on CCTV footage playing with cuddly toys including bears and seals. After a few minutes, he placed one of the toys back into its display holder.
At 4.45 am on Friday, the incendiary device was recorded in that area of the shop going off but was quickly reduced to swirling smoke as the shop's sprinkler system swung into action. 
Terror attack justifies stringent security measures in place since 2015 in Thailand
This new threat will certainly mean even more heightened security measures in Bangkok in the future and to a great extent, justifies the stringent provisions that authorities have had in place up to now since the Erawan Shrine bombing in 2015.
For further reading:
Two Muslim men questioned as security officials link Friday's bombing to southern insurgency
Bombs and fires set off in Bangkok designed to cause early morning terror in the Thai capital