Dr Ae or Chanut Srisang was transferred to the custody of Khon Kaen police who are investigating a series of complaints against him from several provinces linked with his gold trading business.
A well-known businessman was arrested by Thai police on Saturday after a warrant was issued by a court in Khon Kaen following complaints from people who lost money in a gold-trading company.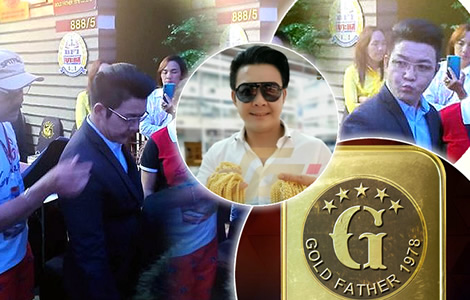 A well known Thai business figure was detained by police in Bangkok on Saturday evening for his involvement in a gold trading concern in which people are thought to have lost upwards of ฿100 million. Chanut Srisang or Dr Ae had been linked to the private Thai company at the centre of what some suspect to be a scam according to police sources aware of the arrest.
Businessman arrested Saturday evening in Bangkok
It is reported that the businessman was arrested by the superintendent of Metropolitan Police Division 2 Police Colonel Chusak Sriwongchai, in front of the office building of the company known as Gold Father 1978 Co Ltd on Soin Nuan Chan in the Bung Kum area of Bangkok at twenty minutes before 7 pm on Saturday.
Dr Ae shocked by the turn of events
A warrant had been issued for the arrest of Dr Ae by the provincial court in Khon Kaen. The businessman accepted that he was the man named in the warrant but said that he had not been arrested before in similar circumstances. He seemed shocked by the turn of events.
Taken to police headquarters in Bangkok then transferred to Khon Kaen police who are investigating
Mr Chanut was taken to the headquarters of the Metropolitan police and the complaints relating to him and his company were explained to him clearly. He was also questioned by officers briefly on the substance of the complaints before being transferred  to Khon Kaen police station which is pursuing the investigation against him
Group of people who parted with money filed a request with Thailand's top policeman on August 8th
It is understood that Dr Ae and his gold company is the subject of a range of complaints across a number of provinces. On August the 8th last, a group of complainants lodged a request with the Head of the Thai National Police at Royal Thai Police Headquarters in Bangkok for the matter to be prioritised.
It appears that the businessman had lured them into providing money to his company to engage in the buying and selling of gold. Despite the amount being so large at ฿100 million, the victims were concerned that no appropriate action was being taken as police investigated the affair.