High profile visit by the first Thai born person to sit in the US Congress comes in the same month as US Secretary of State was in Bangkok and Thailand coordinates with US Naval authorities to stage US ASEAN Naval drills off its coast in September.
Thai born US Senator Tammy Duckworth has urged calm and patience in the aftermath of Thailand's recent election. She told an audience in Bangkok that she saw a democracy trying hard to work and people who were passionate about it. She also pledged to work to strengthen the US Thai relationship.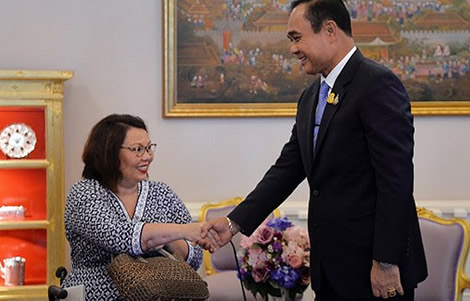 Thai American Senator Tammy Duckworth was in Thailand this week. The Bangkok born woman whose mother hails from Chiang Mai was on an official visit to the city and was invited by the Chulachomklao Royal Military Academy in recognition not just of her role as a US Senator but also as a former officer in the Illinois National Guard. The audience knew when she spoke to them that she was also one of their own, a soldier.
Thai American moved into politics after serving in a senior role at the US Veteran Department
Senator Duckworth was a Lieutenant Colonel and co-pilot on a helicopter in the thick of fighting in 2004 during the Iraq war when her aircraft was shot down. She subsequently lost two legs. She later put in a request with her husband, also an army officer, to continue her military role.
She moved into politics after a time spent working in the US Veterans Department both in Illinois and later nationally rising to a very senior position.
Audience with Princess Maha Chakri Sirindhorn
During her visit this week, the Senator had an audience with Her Royal Highness Princess Maha Chakri Sirindhorn while also meeting Thai Prime Minister Prayut Chan-ocha and the Speaker of the House, Chuan Leekpai.
It is understood that the US Senator also visited the Chiang Mai home of her mother, Lamai Sompornpairin.
First Thai person to sit in the US Congress and Senator highlights a flourishing Thai American community
The visit by the first person born in Thailand to enter the US Congress or become a Senator, highlights the special relationship between Thailand and the United States where there is now a flourishing Thai American community comprising of Thais that have sought work or education in America but more predominantly, Thai women who have married American men in large numbers since the 1960s.
Senator Duckworth acknowledged the special relationship between the countries when she said: 'The US must remain committed to the region, especially to Thailand as we have been friends for over 200 years already.'
Visit follows a significant visit by US Secretary of State Pompeo earlier this month
The visit by the US Senator in an official capacity follows the high profile visit of US Secretary of State Mike Pompeo for the ASEAN Summit at the beginning of this month which heralded closer ties between the United States and the ASEAN community. It is also coming as the US Navy and 10 ASEAN nations prepare to hold maritime drills off Thailand's coast and further afield in September. The operation is being coordinated between US and Thai authorities.
Senator Duckworth highlights vital interests in the Indo Pacific region for the United States
The US Thai Senator is a member of Washington's powerful Armed Services Committee and the Commerce Committee. In her comments on Friday, she highlighted the strategic importance of the Indo Pacific area to the future of America. 
Renewed efforts to forge US Thai links
She promised a renewed effort to forge strong links with the United States on her part. 'I know and understand that the Indo-Pacific is very important for world peace. It is also very important for the prosperity of the US. Therefore I will visit and bring other senators. I will make them understand that yes, the Indo-Pacific is so far from the US but our futures are connected,' she said.
Congratulated Thailand on the election in March
The US Senator who is the mother of two young children also congratulated Thailand on its successful election in March and said she senses a new air of certainty about the matter in Thailand. The US senator acknowledged concerns about the election and the aftermath as well as the clear polarisation in Thai politics. The election seemed to bring to the surface the divisions that exist and since then politics has served only to reinforce them.
Urges the Thai public to be patient: 'jai yen yen'
However, she urged the Thai people to be patient. She highlighted the deep and passionate interest in politics in Thailand which has been demonstrated in the election turnout and the public's persistent appetite for political news. Senator Duckworth saw this as grounds for hope. She used a Thai expression, 'jai yen yen' which essentially means to have a cold heart or keep it cool. 
Future is positive even if difficult as Thai people are so interested in politics and democracy
She warned that the United States faced a terrible war nearly a hundred years after giving birth to democracy but assured her audience that Thailand was nowhere near such an outcome. 'I understand the frustration of those who want things to move faster here in Thailand and I agree with you. But I'll just say that you have to take it a little easier, because what I see is a democracy that is actually trying very hard to work, and more importantly, I see a Thai population that is very passionate about democracy and that, I think, says a lot about the future of this great nation,' she said.
A US Senator speaking fluently in her native Thai, an impressive sight in Bangkok
For many observers on Friday, it was an impressive sight to see a powerful US Senator speak in her native Thai tongue during many of the exchanges with the press. She intimated that the Thai spirit of service had made her a better politician and her international background and cultural heritage gave her a deeper understanding of America's place in the world and how it can lead more effectively working with its partners.
Senator Duckworth's Thai name is Ladda and her father also a US Army veteran
Senator Duckworth whose Thai name is Ladda was born in Bangkok on March 12th 1968. Her father was also an American army veteran who reportedly could trace his ancestral roots back to the American War of Independence. Tammy lived for a time in various Southeast Asian countries and was educated in Singapore and the International School in Bangkok as her father worked for the UN and international firms in the region.
Moved to Hawaii when Tammy was 16
The family moved to Hawaii when she was 16. Tammy graduated from the University of Hawaii in 1989 with a BA in political science. She later received a Masters degree at George Washington University and in 2015 was awarded a doctorate from Capella University.
Elected a Congresswoman in 2012 and a Senator in 2016 at the same time as Trump stunned the world
 She was elected as the first Thai born congresswoman to the House of Representatives in 2012 for Illinois and 4 years later become the junior senator for the state when she defeated Republican Mark Kirk who had previously held the seat. It was one of the few bright spots for the Democratic Party on the night that US President Donald Trump was sensationally elected.
First woman was a disability in the US Congress
Tammy Duckworth has earned huge respect in the United States for becoming not only the first person born in Thailand to become a member of congress but also for being the first woman member with a disability.
A powerful friend for Thailand in Washington
She has since campaigned on a diversity platform seeking a more inclusive US congress. She is famous for having a law passed which mandates breastfeeding facilities at all US airports. She is a mother and a fighter and someone who Thailand should take immense pride in. A powerful friend in Washington in these perilous times who may not go amiss.
Further reading:
US Secretary of State in Bangkok heralds closer ties with ASEAN bloc – good news for Thailand