The news comes as the Director-General of Thailand's Revenue Department confirmed that an online value-added tax will be in place during 2020 with a law ready to be introduced in parliament.
The days of anything goes online are over in Thailand as the government promises a fake news centre will be up and operational within 2 months. This was confirmed during a visit by Deputy Prime Minister Prawit Wongsuwnat to the Digital Economy Ministry on Monday.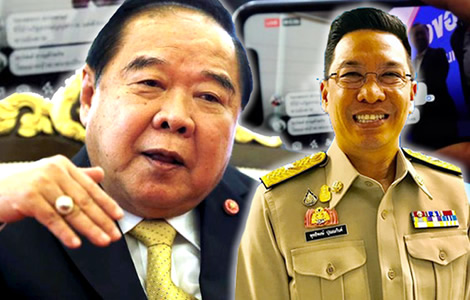 Thailand's Deputy Prime Minister took the opportunity to warn that fake news was having a negative impact on the country in terms of security, society and even the economy in recent years. His comments came on a visit to the Digital Economy Ministry where he heard about plans to have a Thai fake news centre up and running in the next two months.
At the ministry, the deputy PM met Buddhipongse Punnakanta the Minister of the Digital Economy and Society responsible for the undertaking. Mr Buddhipongse revealed that presently the ministry is monitoring up to 10 accounts active on social media platforms which authorities suspect of disseminating false or fake news that is harmful to the public.
Ministry working with the Royal Thai Police before legal action is taken against fake news dissemblers
The minister said that officials were working with the Technology Crime Suppression Division of the Royal Thai Police to investigate the suspicious accounts and that legal action may be pursued using Thailand's wide-ranging Computer Crime Act or the Cyber Security Act.
Deputy PM Prawit Wongsuwan: fake news centre not targeting opponents of the government but false, harmful information
The Deputy Prime Minister went out of his way to assure the public that the establishment of the new centre and efforts to combat fake news are not aimed at opponents of the current government.  Deputy PM Wongsuwan, a well-known figure in the administration and the previous one, referred to his own troubles with fake news. 'If you were me, what would you feel when you have been affected by fake news for four or five years through social media platforms,' he said.  
Digital  Economy and Society ministry sends ฿21 billion budget to the cabinet for approval
The Digital Economy minister whose department has just submitted a ฿21 billion budget to the cabinet for a range of activities for the development of the internet in Thailand in line with Thailand's 4.0 agenda, also took the opportunity to give reporters on Monday some insight into how the new fake news centre would work.
Public reporting of fake news through apps such as LINE will be integral to the fake news centre's operations in fighting the menace
He highlighted that as well as official monitoring of suspicious online actors, the centre would rely very much on reports from the public which will be able to be submitted using platforms like the popular LINE app in Thailand.
The fake news centre and government agencies will take steps to have verified and correct information disseminated through the media and other channels to counter harmful reports most particularly ones relating to security issues. The next part of the plan is to have online information shown to be verified by the government so that people can seek and find more accurate information. This process would include a flag or signal to indicate these reports as verified communications.
Deputy PM says fake news occurs across a broad range of news reports in Thailand
General Prawit also explained that fake news takes the form of a wide range of content from weather and disaster reports to indications of government policy or scandalous information targeted at important personages both in society and government. He said he wanted to see government agencies make full use of technologies such as big data and artificial intelligence to root out the problem.
25 member panel at the Digital Economy Ministry
A 25 member panel has already been set up at the Digital Economy Ministry to monitor, adjudicate and make judgements on news and information being published on social media. It will have access to broader information showing the effects of such news and reports across the platforms and on the wider public.
Last week Thai authorities met large tech firms in Thailand to ask them to set up fake news centres in the kingdom and give authorities access
The spur in activity to set up the fake news centre comes only a week after the secretary-general Thailand's National Broadcasting and Telecommunications Commission, Takorn Tantasith met with social media tech firms such as Facebook, Line, Netflix and other players in Bangkok.
Plan for fake news centres across ASEAN
It is understood that the meeting was called by Thai officials who asked the firms if was possible for them to establish a fake news centre not only in Thailand by in each ASEAN country. The meeting was ahead of a meeting last week of regulators from 10 ASEAN states in Bangkok who were discussing the issue of fake news.
Mr Takorn also pointed out that the government had made it clear that the tech companies would be responsible for the cost of such operations.
Ability to quickly remove harmful information
It is understood that the government wants to have the ability to have harmful reports or information removed by the firms. One example highlighted was child pornography. The idea behind the overture is that authorities and government agencies would have greater access to the firms in order to police and control fake news.
Thai authorities want the ability to work with tech firms on fake news to pull down suspicious content
Takorn Tantasith said this after the meeting with the international tech firms last Monday in Bangkok: 'Thailand has proposed that OTT companies set up a centre to verify the news. We asked if it was possible that the companies authorize each country to oversee such centres and in so doing co-operate directly with them.'
Other ASEAN countries have introduced strong laws on fake news in particular Vietnam
The move from the Thai government to set up a fake news centre and apparatus to deal with online content that is considered harmful follows strong legal provisions brought into force in other ASEAN states in the last year. In May, Singapore introduced a strong law giving the government specific authority to order online firms to remove content it deems to be fake news or untruthful. Vietnam has an even broader law which prohibits the publication online of any content deemed to oppose the government.
New online digital value-added tax
Thailand's Director-General of the Revenue Department, Ekniti Nitithanprapas, this week also confirmed that plans and legislation for digital value-added tax were in the pipeline. The tax will come into force next year it is understood that it will generate ฿3 to ฿4 billion in its first year.
Further reading:
Poll: Public shaken by bombings as army boss says government targeted, warns of fake news threat
Fake news becomes an issue in the Thai election as polling day nears with old battle lines emerging