Foreigners also targeted by new police high tech. Finnish man gets a nasty shock as he flew home through Suvarnabhumi Airport on August 22nd after earlier beating up his girlfriend in Chonburi.
The ruthless efficiency of database and biometric screening technology is having a devastating effect on lawbreakers in Thailand. Last Thursday, August 29th, a police team from Phuket travelled to La-Ngu in southern Satun province to pick up 43-year-old Seree Thong-iab. The unlucky Thai man was arrested 24 hours before on a charge of premeditated murder going back to 1999 just days before the statute of limitations on the crime was to expire. He faces the death penalty.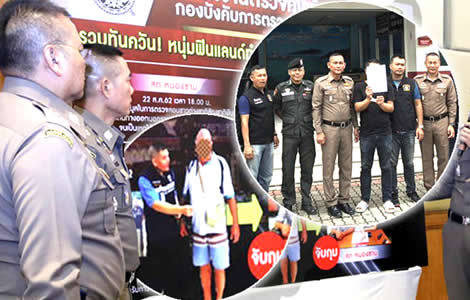 The various forces and divisions of the Royal Thai police are reaping a huge return for the recent investment in technology including a centralised database and biometric scanning at all its entry points into the kingdom. The technology as Thai security officers become more skilled at using it, is confounding wrongdoers and putting quite a few of them behind bars.
Man arrested days before the statute of limitations was to expire on a premeditated murder charge 
Last week on August 28th, a man wanted for murder in Phuket for the last 20 years discovered just how effective the criminal database system can be and how unlucky he was at the same time. 43-year-old Seree Thong-iab was arrested for premeditated murder, possession of an illegal firearm and theft committed in front of a store in the Rassada area of Phuket on the 6th September 1999. A recent warrant had been issued by the Phuket Provincial Police in a last gasp attempt to arrest the culprit some weeks before the statute of limitations was due to expire.
He was handed over to police in Phuket the next day on August 29th where legal proceeding were finally be undertaken against him. The man could conceivably face the death penalty for the crime
Arrested only one week before he would have been scot-free on the most serious of charges
Captain Amnoui Medee is with the La-Ngu police in Satun province who were responsible for the arrest of the man last Wednesday. He explained the story to a reporter this week from the Phuket News, Phuket's local newspaper. 'He had been on the run for 20 years, and this criminal case had only one week left before the statute of limitation for the crime expired,' he said.
Driving a car without licence plates
The accused Thai man had perhaps thought he was safe on August 28th when Thai police on the Pak Bara Road in La-Ngu in the deep southern province of Satun stopped him at 3.40pm for driving a Toyota Camry car without licence plates. Colonel Somsak Meesatjanon who is the police chief in La-Ngu was one of the arresting officers.
Police officers on the road took Mr Seree's details and as a matter of routine ran them through the national crime database. There, they found the warrant issued on the 16th of August in Phuket relating to the decades-old charges.
Police team from Phuket went south to pick up the 43-year-old suspect wanted for premeditated murder
The surprise arrest in Satun prompted Captain Seree Ong-oad of the Phuket City Police to travel south to La-Ngu on Thursday 29th of August to pick up the man wanted for premeditated murder and bring him back to Phuket where legal proceedings were finally commenced to bring him to justice for the crime including murder committed in broad daylight in early September 1999.
Airport biometrics linked with databases rooting out forged passports since it went into operation
The new biometric scanning system being used at airports and linked to the central crime database is also proving invaluable to Thai police since it went into operation this year. Within days, it had been detecting flyers going out and coming into Thailand with false passports.
In early August, it detected an 18-year old Syrian man flying through Suvarnabhumi Airport in Bangkok using a forged Emirati passport. The man was on his way to Germany with a stopover in England. 
The biometric system detected the fake passport in a pocket in the man's pants. He told Thai police that it has been sent to him by his brother in Lebanon by post at a cost of $1,500.
Finnish man beat up his Thai girlfriend
The lightning efficiency of the database system is also giving many foreign criminal types a jolt. On August 22nd, a Finnish man on the day he was heading home from Thailand decided to leave his Thai girlfriend in Chonburi province with something to remember him by. He beat her up before he set off on his way to the airport in Bangkok and a flight home.
Reported to police at Chonburi, on the system at 6 pm – the Finn never had a chance of escaping
The Thai woman later reported the assault to a police station in Chonburi where the case was entered into the system with a timestamp of 6 pm. 3 hours later, the Finn dressed in shorts and bright clothing was making his departure from Thailand.
Special immigration team tasked with tracking wanted foreigners entering and leaving Thailand
Airport officials arrested the man as an alert had gone out to all immigration points in Thailand. The foreign man found himself up against all the policing divisions of the state. 
Thai security sources have revealed that there is a special immigration task force to coordinate and track wanted foreigners across Thailand including those trying to enter or leave the kingdom.
Further reading:
Criminal flyer exposed by new Thai police facial scanner on Friday and arrested with $500,000 in cash
Chinese pickpockets staying in hostels as backpacker visitors targeting tourists in Bangkok