New biometric facial scanning and fingerprint technology rolled out across Thailand at 170 different locations at a cost of ฿2.1 billion. The technology is developed by a German firm, a leader in the industry. It will soon give Thailand's immigration bureau and authorities a real time picture of who is entering and leaving Thailand and at some stage, which foreigners are living here and their immigration status. The new technology will have deep and immediate implications for foreign bad guys whose days of entering and leaving Thailand using criminal exploits and posing as tourists may be numbered.
A suspect individual was nabbed by Thai police on Friday morning as he made his way to board his 10.30 am flight to the Philippines at Suvarnabhumi Airport. The traveler was carrying $500,000 in cash but received a shock when Thailand's new biometric facial recognition technology exposed him as a fraud traveling under cover of a fake passport. The man was arrested and Thai police are now tracing his movements including false immigration stamps on his passports. The message for criminal types is clear. There is new data driven police tool being deployed in Thailand and things just got a lot tougher for foreign and transnational criminals who, for too long, have used Thailand as a playground for their nefarious exploits.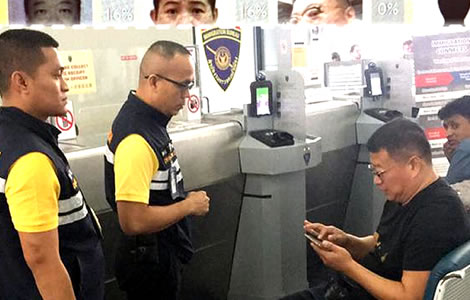 Thailand's new biometric facial recognition and fingerprinting technology to scan arrivals and departures from the country was hailed as a success on Friday when it successfully identified a suspicious individual leaving the country for the Philippines.
Facial data told police that the man's passport was false even though the photograph matched the passenger flying to the Philippines
The 40 year old man, identified by his passport as Malaysian national Oh Chee Boon, presented himself at one of the new facial recognition biometric scanning machines at approximately 10.30 am on Friday. The machine, working off the data in the passport's microchip and linked to a database, highlighted that the individual presented was false even though the photographs on the passport matched to the man at the airport. This was explained to the media by Police Colonel Roengron Rimphadee, a deputy commander with Thailand's Immigration Bureau.
New technology being used to counter criminals using fake passports and documents
The Immigration Bureau, for quite some time, has prioritised the new biometric system to check travelers arriving and departing Thailand after Thai police identified a large numbers of criminals involved a range of nefarious activities entering and leaving Thailand often posing as tourists. They have also identified that such individuals have been using fake passports and other fraudulent practices to evade and abuse Thailand immigration laws. Friday's arrest shows the efficacy of the new system which is still being rolled out and tested across the country.
Man arrested had $500,000 in cash and had crossed into Thailand from Malaysia a number of times at the land border now being probed further
Police revealed that the man, who was planning on boarding Philippines Airways flight PR 731 to the Philippines, was also carrying $500,000 in cash. Police arrested him and took him in for questioning. They have discovered that he entered the Kingdom of Thailand on a number of occasions at checkpoints on the Thai Malaysian border.
Suspect charged with using a fake passport and other immigration offences. Held in custody by immigration police pending legal action
The man has been initially charged with holding and using a fake or counterfeit passport and immigration law abuses. He is also to face charges of using fake passport stamps. It is believed that the discovery of the false passport will now lead to an extended investigation tracing the man's activities and his movements. Immigration police, in recent months, have been successful in exposing abuses of the immigration system in Thailand even to the point of arresting immigration police officers involved in corruption. The arrest on Friday morning at Suvarnabhumi Airport will leave a few people in criminal networks a bit nervous. The man is now being held in custody by the immigration policy pending further legal action. The $500,000 in cash has been seized by authorities.
Roll out of 2,000 biometric facial recognition and fingerprint scanners nationwide by Thai police
Thailand's police service has been involved in a roll out of up to 2,000 biometric facial recognition and fingerprint scanners across the country in the last month. Two weeks ago, Police Lieutenant General Tanaphat Phumarin,  the Commander of the Quartermaster Division of the National Police led a group to Phuket where the new technology was displayed at the airport.
New technology will help police centralise data on all foreigners entering, leaving or living in Thailand in real time introducing a new era
The new technology is the answer to police efforts to combat increasingly sophisticated passport forgers, some of whom have been to known to operate in Thailand. The new technology will be used at all border checkpoints in addition to government immigration offices and checkpoints where foreign travel is concerned. The program is part of a larger ambition by Thai government authorities to centralise all data in Thailand for not only police agencies but also government activities in the future under Thailand's 4.0 programme.
Tightening of immigration enforcement means the only option for some criminals now is to enter without any documentation at all
The new technology will allow Thai police to put an end to many of the criminal exploits that have been deployed in the past taking advantage of Thailand's huge tourist industry and large law abiding expat population to enter the country under different names and aliases while also driving corrupt and inconsistent practices among some government officials in authority or even working within the immigration bureau. The success of Thailand's immigration police force in rooting such practices, even before the new technology is fully enforced, can be seen by arrests of more and more foreign criminals without any immigration documentation at all.
Surveys of foreigners living legally in Thailand and regular foreign visitors have consistently shown strong support for the Thai government's campaign to tighten immigration enforcement to make Thailand safer and more secure for everyone.
฿2.2 billion program being deployed in 170 different points in Thailand to fight the bad guys
In all, the new technology will be deployed in over 170 different locations nationwide. The cost of the biometric facial and finger print recognition project is estimated at nearly ฿2.2 billion baht. Thai authorities are using a German firm called Dermalog, based in Hamburg. The company is a world leader in the new technology and Germany's leading supplier of the such systems. Thailand is the fifth country in the ASEAN region to introduce the technology joining Cambodia, Brunei, Malaysia and Singapore.  Thai police say that the new system will enhance security in the country. It is a wish come true for leading police officers working at the coal face in fighting crime activity often imported into the country.
African man tried hide from immigration police in Thailand by posing as a Buddhist monk in Sa Kaeo
Thailand uses big data to power the government and foster public confidence as well as ownership