At the end of July, the tourist police force in Bangkok began a training programme for volunteers to work with existing officers on the streets of Bangkok to deter crime and assist the public. Many of these are foreigners eager to assist law enforcement in Thailand. It comes as the existing tourist police chief in the area expresses his view that it is inevitable that more officers will be needed with rising tourist numbers.
Bangkok is currently being targeted by a wave of Chinese pickpockets coming to the city disguised as backpacker tourists. Last month, Thailand's tourist police arrested a large number of them staying at a tourist hostel in the Khao San road area. The head of the tourist police in Bangkok, Major General Woraphong Thongphaibun, says the Chinese nationals concerned are able to evade immigration and detection checks as they are all new recruits to the criminal world.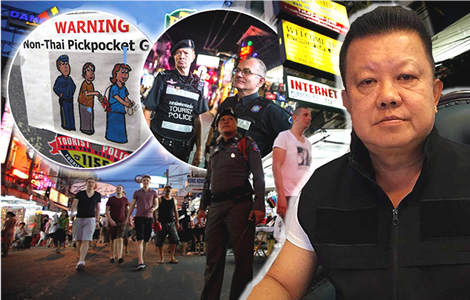 Bangkok is being targeted by gangs of Chinese pickpockets who are arriving in the city in numbers to avail of cheap accommodation and food outlets. They are able to stay in the city posing as backpacker tourists as they pursue their lucrative trade. This is according to Pol Major General Woraphong Thongphaibun who is the head of subdivision 1 of the Thai Tourist Police Bureau.
Backpackers hostel raided by tourist police in which Chinese pickpockets were rounded up
The police boss revealed that in July, the tourist police raided a hostel in Bangkok where they rounded up a horde of Chinese pickpockets staying together but who, on a daily basis, spread out across the city in search of prey. 'They stayed in many rooms, each sleeping eight people,' he told the Bangkok Post newspaper.
Khao San road area a target for pickpockets from China preying on tourists and locals
The tourist police chief also disclosed that the Khaosan Road area has now become a key target of these operators as Thai police and Bangkok city officials are working to clean up the image of famous tourist area this year. Khaosan Road in Phra Nakhon, about 1 km from the Grand Palace in Bangkok, is a mecca for many younger western tourists arriving in Thailand and even though numbers for this tourist group are down this year, Thai authorities hoping to draw them back.
Senior Thai police officer says pickpocketing activity is 'unbelievable' at times in tourist hotspot
The senior police officer said at times pickpocketing activity in the street and the area surrounding the street was 'unbelievable' but that overall the street was a safe place with very little serious crime. Thai police, he said, were working with local business traders and vendors to fight off all kinds of crime including the pickpockets.
Pickpocketing nothing new to Bangkok
Pickpocketing activity is nothing new to Bangkok and authorities warn visitors and locals alike about the threat. The Sukhumvit area and Asoke are also dangerous environs as are all crowded places where tourists are known to gather such as Chatuchak market.
Last year, at the same time, Thai police rounded up a large gang of Vietnamese pickpockets, some of whom had been in Thailand for quite a long time. These thieves become quite practised and skilled. 
Biometric screening at border checkpoints a huge advantage in fighting this criminal activity
The introduction of biometric screening at Thailand's immigration entry points has been revolutionary for fighting crime in Thailand and detecting criminal elements. The benefits of this database technology are only now beginning to be felt. It is now bearing fruit in relation to security and even this specific threat. Pickpockets rounded by the police have their biometric data entered into the system and are then banned from re-entry into Thailand. 
Gang arrested in July were all 'new criminal suspects' and therefore difficult to detect
The problem with the huge Chinese gang arrested in July is that they were all newly recruited to the criminal world. 'Most of the wrongdoers in hiding are new criminal suspects,' Police Major Woraphong confirmed this week saying that existing criminals already recorded in Thailand and elsewhere can now be detected more easily be police.
Chinese criminals targeting Thailand
The incursions by Chinese nationals into Thailand for criminal purposes has been a growing phenomenon and highlights the need for more police manpower and the use of advanced security technology.
Major General Worpahong said that the tourist police resources were stretched. He pointed out that his area had only 2,000 officers to cover Bangkok, parts of central Thailand and the eastern provinces. He said that the force had only 70 vehicles nationwide. The police boss said with tourist numbers going up, it was inevitable that the force would need more recruits.
More tourist police volunteers being recruited
To this end, the tourist police force is again recruiting volunteers to the tourist police in the area. Some of these are foreigners who are happy to play a role in preserving law and order in Thailand. On July 26th last, 108 volunteers began a training programme to become assistants or aides to officers on the force particularly targeting the Khao San road area in Bang Lamphu and other key tourist hot spots in Bangkok.
New volunteer recruits to receive a certificate after training which began at the end of July
At the end of a training period, each recruit will receive a certificate and will be given the power to begin working with supervising Thai police in patrolling the areas and assisting tourist safety. The tourist police are also emphasizing visibility and patrolling the streets of the central Bangkok area, particularly at night.
Tourist police on the lookout for Chinese pickpockets on holiday in Thailand this year
In the meantime, Major General Waraphong says his force is now watching carefully for Chinese criminals or pickpockets as well as other foreign undesirable elements engaged in this activity. There have been similar issues in Chiang Mai and Pattaya this year with Algerian nationals. To this end, the tourist police in Bangkok are working closely with the immigration bureau including briefings on suspects from around the world wanted by Interpol on red notices.
New Khao San road open in early 2020
The long-awaited revamp of the Khao San road will be going ahead at the end of this year and this will see the street also being pedestrianised from 9 am until 9 pm. The work is costing up to ฿50 million and is being undertaken by the Bangkok Metropolitan Authority. The work will see the sidewalks repaved and new areas reserved for street vendors who will now be licenced from one to two years by the city authorities. The new-look Khao San road will open for business sometime in early 2020.
Many foreign traders face the boot
Officials at Bangkok City Hall say this will help make the area safer and will root out foreign street vendors who are not allowed to conduct business under Thai law in any event. Some estimates suggest that up to half the traders in the area are currently not Thai nationals.
New one to year licences from Bangkok city hall
'Foreign sellers won't be able to continue their jobs,' said Bangkok deputy governor Sakonthee Phatthiyakul this week. The number of approved street vendors will be between 240 and 360 selling a range of items including food and products of interest to tourists.
Chinese pickpockets targeting Bangkok tourist hot spots

+ The Head of the Tourist police in Bangkok has spoken about the threat of Chinese pickpockets targeting tourist areas iin the city.https://www.thaiexaminer.com/thai-news-foreigners/2019/08/05/thai-tourist-police-bangkok-chinese-pickpockets-khao-san-road-area-backpackers/Carla Boonkong reports from Khao San road in Bangkok.

Posted by ThaiExaminer.com on Monday, August 5, 2019