Husband and father entered the bank with no disguise and paused for a few seconds before bounding on to the teller counter. Foiled when he discovered the bank doors were locked automatically.
A young Thai wife lost her husband on Thursday and a four-month-old baby boy lost a father when the man committed armed bank robbery with a knife before being arrested at the scene by vigilant Thai police while in possession of ฿4 million.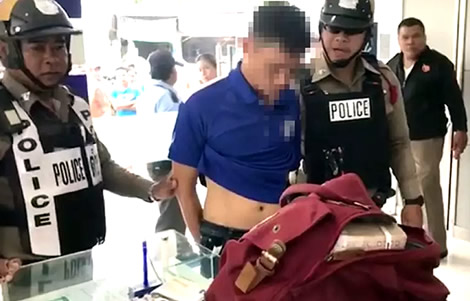 A 40-year-old Thai man daily battling to deal with his pressing debts finally lost his way on Thursday and took drastic measures that amounted to nothing but criminal folly. He robbed a bank and was promptly caught by Thai police plunging his 34-year-old wife with a young child into even deeper depths of despair.
Man's home was facing bank foreclosure
That morning 40-year-old Natdanai Somboon explained to his wife that he was going out to visit the local government land office to make enquiries about the couple's home facing foreclosure. The couple with a four-month-old son had debts of ฿800,000.
Pulled up outside bank on his Honda motorbike
Minutes later, the man pulled up outside the local Bangkok Bank in Sri Racha. He calmly took off his helmet and placed it on the motorbike before quietly walking into the busy bank branch. Mr Natdanai even took a counter ticket and headed towards the seating area. However, as he did so, he gently unfurled a bag that was over his shoulder. As he walked towards the side of the teller counter he approached the point of no return. 
The 40-year-old paused for one or two seconds shifting from one foot to another as he steadied his resolve. Then he bounded up onto the counter. There was no turning back, he was already in the act of committing a bank robbery.
Bank staff fled in front of the man with a knife
With a knife in his hand, the staff in front of him fled and he grabbed his bag from the counter. After a brief interaction with staff on the other side of the divide, he set to work filling it with cash from a safe whose door he opened and from a drawer behind one of the teller stations. His bag soon had ฿4 million in cash. He placed it on the counter and then bounded over it again in the other direction. 
Headed to the glass door to reach his motorbike
Mr Natdanai headed to the bank's glass door where his motorbike was parked outside only to find it had been locked automatically. So near and yet so far. It was only seconds before police officers were outside in front of him. He ran upstairs to a side door but it was also locked. In minutes, the Thai man was in the custody of Thai police officers who had responded to the crime smartly and already had the building surrounded.
Police alerted to the armed robbery at 10 am
Colonel Jakkaphan Kittisiripornkul told the media that at 10 am on Thursday, he was informed that the Bangkok Bank at Sri Racha had been the target of a robbery with a criminal using a knife. The senior officer contacted police officers already in the area and surrounded the bank. As Thai police approached the front of the door, they saw the criminal who appeared to run to another exit. He said that police then gained access to the building and quickly arrested the man.
Honda motorbike held as evidence
Police confirmed that Mr Natdanai lived in Surasak Subdistrict in Sri Racha, Chonburi, the same vicinity as the bank. Police said that they found the man with a knife and a bag with ฿4 million in cash when he was arrested inside the bank premises. The man's red and black Honda motorbike was also seized as evidence.
Security officer said the man did not appear suspicious as he had no disguise and was bareheaded
Bank security officer Somchai Chantheng told police that the man did not attract his suspicion as he entered the bank without disguise and appeared like a normal customer. He did not even have a hat. The same bank had been a target of a robbery before in September 2016 with Thai police arresting the culprit shortly afterwards.
Tearful wife of armed bank robber says her husband was a good hardworking man pressed by debts
Afterwards, the Thai media interviewed the 34-year-old wife of the Thai man named as Poo. She described her husband as a good man who did not drink or smoke. She said her husband was also hardworking. The woman was holding the couple's four-month-old baby son in her arms as she was interviewed. She explained that the couple were facing the loss of their home to a bank and that her husband was severely in debt. The woman was in tears as reporters asked her about her husband's fate.
Thai man in debt gambles all on armed bank robbery

+ On Thursday morning a 40 year old Thai man with a young family and debts commited criminal folly when he thought the only way out was to rob his local Bangkok Bank branch.https://www.thaiexaminer.com/thai-news-foreigners/2019/09/07/thai-wife-husband-bank-robbery-jumped-counter-knife-sri-racha-pattaya-police/James Morris reports from Pattaya

Posted by ThaiExaminer.com on Saturday, September 7, 2019