Police have confirmed that the final tally of the robbery of the Aurora gold shop in Thonburi, Bangkok last Thursday was just over ฿4 million in gold and cash.
A 45-year-old man who raided a gold ship and escaped last Thursday with over ฿4 million in gold and cash was partying with friends on Sunday night when he was raided himself by Thai commandos. It has been revealed that the man was out on bail facing drug trafficking charges in Chumphon province from July.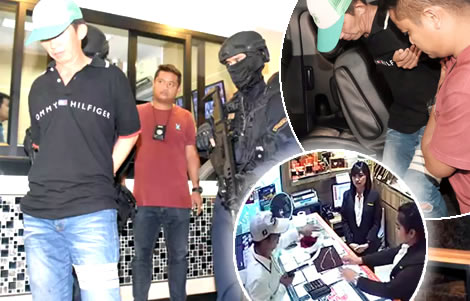 A Thai man who last Thursday calmly raided a gold shop in Thonburi has been captured by Thai police in a counter move that was certainly more dramatic than the composed and clinical robbery which was executed last Thursday in just over 2 minutes.
Police raid Nonthaburi hotel where the robber was holed up with 4 friends on the 4th floor
On Sunday night, 3 days after the ฿4 million robbery, a squad of commandos arrested the 45-year-old man when security forces stormed his room at the Alice Hotel in the Bang Khen area in the heart of Nonthaburi city.
Man named by police as Aswin Boonmuang
The man was named as Aswin Boonmuang from Chumphon province in southern Thailand. In the course of the operation, there was gunfire on the 4th floor of the hotel where the room was located which resulted in police negotiating with the suspect who was armed. He finally relented and gave up his firearm before surrendering to police.
Calm and collected robber partying with friends
It appears that the calm and collected robber from Thursday had been enjoying a party with some friends at his hotel room as police also detained two other men and two women at the scene.
Mr Aswin's friends were taken in for questioning by Thai police and held at the headquarters of the Metropolitan Police Division 7 as police made a judgment on whether they had been accomplices to the daring robbery on Thursday night.
Police discovered the robber had switched to a car at a local railway station and drove to the hotel
The police investigation to track down the armed robber started with a close examination of the CCTV footage that saw him carrying out the raid at approximately 8.20 pm on Thursday when he commanded two young shop assistants at the Aurora gold shop to fill up a plastic bag with gold jewellery, rings and some cash. The final tally for the robbery has been confirmed by police at ฿4.06 million.
Police followed his motorbike as he made his getaway. They discovered that he left the bike at the Hua Lamphong railway station and then switched to a car which he drove on to his hotel.
Arrested by police in Chumphon in July on drug trafficking charges but released on bail
The man appears to be an inveterate criminal type. He was first sentenced in 2013 for stealing from an employer. He was arrested again in July this year on drug trafficking charges and committed last Thursday's robbery while out on bail for that offence.
Further reading:
Gold shop in Thonburi, Bangkok robbed by man at gunpoint – ฿3 million taken as well as ฿40k cash
Thonburi Gold shop robbery by Thai man with silver gun

+ Gold shop in Thonburi robbed by calm Thai man in controlled 2 minute raid that netted him ฿3 million.https://www.thaiexaminer.com/thai-news-foreigners/2019/09/06/3-million-baht-gold-store-robbery-thonburi-bang-phlat-bangkok-thai-police/News Desk Report

Posted by ThaiExaminer.com on Friday, September 6, 2019