Corrupting influence of the drugs has permeated through Thai society and is responsible for 87% of the women incarcerated in Thai prisons. The shocking discovery comes only a day after Thai security forces engaged a drug caravan in Chiang Mai coming from Myanmar and seized over 1 million methamphetamine pills in the Chiang Dao district.
A senior Thai policeman in charge of investigations for Uthai Thani province was arrested on Wednesday on a bus heading for Bangkok with 200,000 methamphetamine pills.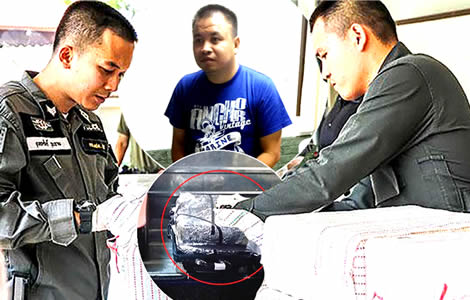 A senior Royal Thai police officer from Uthai Thani province was stopped at a police checkpoint in Chiang Mai on Wednesday while riding a bus to Bangkok and was found to be transporting 200,000 meth bills in the vehicle's luggage compartment.
Drug trafficking arrest of a 35 year old police lieutenant colonel is a shock. development
The 35-year-old senior officer who is the inspector with responsibility for investigations in Uthai Thani province was arrested by police who stopped the bus on suspicion of being engaged in drug trafficking. He was named as Police Lieutenant Colonel Surachit Tawut and arrested at the scene.
He was engaged by police at the Tham Pla roadblock set up a Pong Nagam in the Mae Sai district of Chiang Mai.
Committee set up to pursue disciplinary procedures against the senior Uthai Thani officer
Following the shocking discovery, Police Colonel Kritsana Pattanacharoen who is a deputy spokesman for the Royal Thai Police announced that the Provincials Police Division 6 which comprises of Uthai Thani province has set up a disciplinary panel to review the matter and to initiate disciplinary action against Police Colonel Surachit. The committee has initially made the decision to suspend the officer from duty
Shootout between drug traffickers from Myanmar and Thai security forces on Tuesday
The disconcerting news follows a shootout between security forces and drug traffickers on Tuesday in which police seized over one million meths pills from drug runners trying to haul the narcotics into Thailand in a drug caravan in the Chang Dao district of the province.
Drugs originated in a Myanmar factory
The drugs are believed to have originated from a factory in Myanmar. Major General Bannawat Prommachan said the security patrol was dispatched to intercept the drug couriers after police received information that a consignment was being moved into the kingdom.
After a brief outburst of fire, the drug runners abandoned their backpacks and fled into a forest area. The total haul was 1.1 million methamphetamine pills.
Drugs cartels making the product cheaper and in volume using new formula and generic ingredients
In the last three years, production of methamphetamine in self-governing areas of Myanmar has been ramped up exponentially driving the price of the substance down. Reports from last year suggested that expert scientists employed by the cartels have formulated cheaper ways to manufacture the synthetic drug using cheaper, generic ingredients.
It is believed by security experts that shipments of methamphetamine continue to grow and even with minor successes like on Tuesday and Wednesday, it only represents evidence of increasing volumes pouring into the kingdom.
Methamphetamine has a deeply corrupting and corrosive effect on Thai society at all levels
With Thai jails bursting at the seams from the incarceration of those associated with this particular drug, we also see the corrupting nature of the flow of illicit drugs not only on young people in Thai society but also seeping into the ranks of the police. The officer arrested on Wednesdays is one of a number arrested this year by police agencies.
Internal security police arrested another senior officer in May in Nakhon Sakhon province while a Lampang based officer was arrested in Bangkok in July.
There have also been quite a few reported incidences of users high on methamphetamine burning down their homes while the numbers of methamphetamine users involved in fatal or injurious road traffic accidents are at an all-time high.
A recent seminar on Thailand's prisons held in Bangkok heard that 87% of the 50,000 women in Thai prisons are there because of charges or convictions linked with crystal meths or methamphetamine.
Further reading:
Loud noises spark the demise of a senior police officer from Lampang who came to Bangkok for a loan
Elite Thai police internal security unit arrests Thai police captain for drug dealing in Nakhon Phanom