The French man named in reports as Mr Christian Philip Song has left Thailand according to the family and even prior to that, had proved difficult to contact. It appears that the man has no desire to accept responsibility for his former partner, girlfriend or wife with whom he was living for one year and who claims she was the subject of a violent attack before falling from the couple's shared condo on Pratumnak Hill in Pattaya this June.
29-year Thai woman, Sunisa Chertsakun, who miraculously survived a 5th-floor fall from a condo building in June is now living with the bleak aftermath of the split-second event as she has been left paralysed. She is seeking justice and claims that her French boyfriend who has abandoned her, should be held responsible for the violence he inflicted on her before the fateful fall that put her in a wheelchair for life.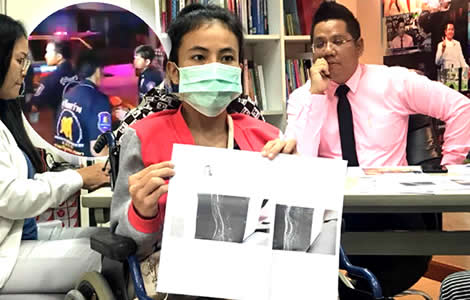 This week, the woman, her 32 year sister Nattaya and the two women's 54 year old mother Patcharaporn visited a social justice activist and lawyer seeking redress both criminally and in a civil court as she claims her French partner caused her to fall and has now left Thailand leaving her disabled and having to rely on her family to take care of her.
Ms Sunisa suffered no less than four spinal fractures and a broken gut in her fall which has left her paralysed and unable to take care of herself. The Thai women and her family are from Surin in Thailand's northeastern Isan region.
Fall occurred in the early hours of Sunday, June 16th
Following the fall which occurred at 2am on June 16th last, the Thai woman's boyfriend with whom she had lived for one year, told investigating Thai police that 29-year-old Ms Sunisa fell inadvertently from the balcony of Room 506 of the condo building which the couple shared due to an inflamed argument between the pair in which the young woman had threatened to jump. He explained to police at the time that the woman had been on the balcony threatening to jump when he went out to intervene but while opening the door, his girlfriend lost balance and fell.
Visiting Pakkred in Nonthaburi to speak with an activist lawyer and human rights campaigner
This week, the 29-year-old who is now paralysed and in a wheelchair was in Pakkred in Nonthaburi province to meet well known Thai human rights and justice campaigner as well as lawyer, Ronnarong Kaewpetch to ask him to look into her case.
Mother now finds two daughters unable to work
The 29-year-old tells a very different story to that of her boyfriend. She now has to be cared for by her 32-year-old sister Nattaya who has had to give up work and the Thai woman's mother, 54-year-old Mrs Patcharaporn now finds her two daughters both unable to earn any income.
The family is seeking to have criminal and civil proceedings issued against the former French boyfriend of the Thai woman who has been named as Mr Christian Philip Song.
French man was taken in for questioning that night but as a matter of routine – later cleared
On Sunday the 16th June, after the Thai woman was removed to Pattaya Memorial Hospital by rescue workers who found her alive and moaning at the scene (see story below), police questioned her French boyfriend. He was taken in for questioning but the police that morning emphasised that this was a matter of routine.
It has subsequently transpired according to Ms Sunisa and her family, that the French man's account of the tragedy has been accepted on the basis of the police investigation and doctors evidence.
Family challenge head-on the French man's version of what happened in the 5th-floor condo
However, the family is now taking issue with this. Ms Sunisa claims as did her French partner, that there was a heated argument on the night in question but that her flight to the balcony of the apartment were prompted by the violence and intimidation she was subject to at the hands of Mr Christian who had become jealous because she had gone missing to retrieve some clothes and he, therefore, suspected she had another lover. 
Thai woman says she was violently assaulted
The Thai woman claims that at one point, the French man held a knife in his hand and had locked the door of the condominium to prevent her from leaving. She told the lawyer that the French man had violently assaulted her including kicking her and choking her by the throat.
Fled to the balcony and called out for help
She had fled outside to the balcony and was shouting for help to passersby. Her account is that while trying to get at her on the balcony, the French man caused her to lose her grip which resulted in her falling from the 5th floor of the building to the ground below. She denies categorically any suggestion that she had jumped herself or that she had threatened to jump as the French man had suggested to police.
Ms Sunisa worked as a successful PR woman for nightclubs on Pattaya's Walking Street
The family told the human rights and justice campaigner that Ms Sunisa had worked as a successful PR woman at nightclubs on Walking Street and that Mr Christian was an influential and powerful figure in some parts of society in Pattaya as he ran certain night clubs both in the resort city and Bangkok. Ms Sunisa says that the French man and herself had a tempestuous relationship and that in the three months leading up to her fall, he had assaulted her on frequent occasions.
French man Mr Christian has now left Thailand and Ms Sunisa behind to her life in a wheelchair
The French man has now left Thailand and even prior to this, the family has had difficulty in making contact with him. He appears to have abandoned any responsibility for his wife and partner as well as the role he played in leaving her disabled.
Lawyer says it is a very serious case if it is found that the French man violently attacked the Thai woman leading to her fall
The Nonthaburi attorney after listening to the three women explain the case said he felt that the situation was serious and will be following up to find out more about the police investigation into the matter as it is now nearly three months since the Ms Sunisa's fateful fall which has changed her life completely.
He emphasised that if it turns out to be the case that the French man did attack the Thai woman and caused her to fall then he should be pursued both on a civil and criminal basis for his actions.
Further reading:
Thai girlfriend survives fall from 5th-floor condo after heated argument with her French partner