Incident at condo in Banglamung area of Pattaya on Sunday last is strikingly similar to a 2017 incident in which the mute 24 year old wife of a Swedish man lost her life. The Swedish man had claimed a struggle to prevent his Thai wife from jumping had resulted in her slipping and falling from an 8th floor balcony on that occasion. He was later arrested and charged with negligence in her death after an investigation by Thai police.
A Thai woman who dropped from a 5th floor condo balcony in Pattaya, appears to have survived the fall on Sunday morning after rescue crews were called to the scene. The incident is reported to have happened after an upset 29 year old Sunisa Chertsakun, arguing with her French boyfriend, had threatened to jump from the 5th floor balcony of a condo building on Pratumnak Hill in Banglamung. She accidentally lost her balance and fell. Thai police took the French man in for formal questioning as a matter of routine. The incident was eerily similar to a 2017 incident in which a mute Thai woman fell from an 8th floor balcony in an other part of Pattaya to her death.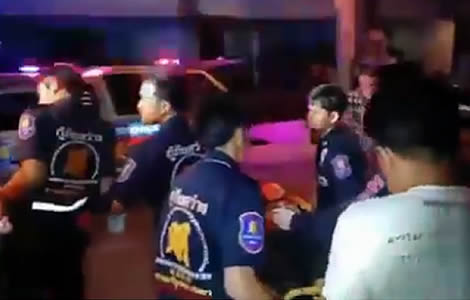 A French man in Pattaya was taken in by police for routine questioning early on Sunday morning in Pattaya after his Thai girlfriend fell from the 5th floor balcony of an 8 story building on Soi 5 at Pratumnak Hill in Banglamung. It is reported that the couple had been involved in a heated argument when the incident occurred. 
Thai woman survives five floor fall from condo
Amazingly, the 29 year old Thai woman, named as a 29 year old Sunisa Chertsakun, appears to have survived the fall. She is from Surin province on North eastern Thailand's Isan region. Video footage has emerged online of the woman moaning and crying out as an emergency response team tend to her, a short time after the fall from the condo building.
French boyfriend reports that she tripped and fell after heated argument and threats to jump
The French man immediately called the rescue services when the Thai woman fell. He said it was an accident. The woman had earlier been an inflamed state while involved in an argument. She had threatened to jump from the balcony but then, her French boyfriend explained, she inadvertently tripped and really did fall to the ground.
At the scene, the woman was given first aid and medics carefully moved her into an ambulance which was used to quickly transport her to Pattaya Memorial Hospital.
Thai police in Pattaya have stressed that the French man has been called in for routine questioning so that they can put together his account of what happened formally.
Relationship discord between foreigners and Thai women in Pattaya is not uncommon
Relationship discord is not unusual between foreigners and Thai women living in Pattaya. Often, such relationships can be tempestuous particularly where they involve younger foreigners who now increasingly are moving to Thailand to be with Thai women or girlfriends they have met in the country.
Famous for being poised and patient, a riled Thai woman can be volatile and self destructive
Thai women are known for their patience and poise. However, this effort to stay calm and relaxed on the outside can take a toll. A Thai woman who loses control when it all gets too much, consequently can be particularly volatile. The problem or trigger often involves criticism whether direct or indirect. The trauma of losing face for a Thai woman can make them destructive oftentimes self destructive. The cultural differences between foreigners and Thai women contributes to this state or misunderstanding.
UK man attacked by his Thai wife in April, also in Pattaya, when he insulted her parents
In April, in the early hours of April 16th, rescue teams and police had to be called to the South Pattaya apartment that Benjamin Laister Crowson, a 28 year old UK man, was sharing with his 23 year old Thai wife Monthita Buatong. The couple had quarreled after the UK man had made derogatory remarks about the Thai woman's parents after they returned home from a night out.
Ms Monthita had attacked the UK man with a knife. The Thai woman inflicted puncture wounds to the man's legs and left arm
Very similar case in 2017 in which Thai wife of Swede died from Pattaya condo fall
A very similar case to this week's near fatal tragedy occurred in April 2017. This time it involved a 34 year old Swedish man and his 24 year old, mute Thai wife. Unfortunately, on that occasion the Thai woman died shortly after the fall. That incident happened on Tuesday the 18th April 2017 at 6pm. Thanawat Jittiwut had also been arguing with her husband when she fell from the balcony on the 8th floor of the couple's Pattaya condominium on the Phra Tamnak Road.
60 year old condo worker first saw bed clothes, then a Thai woman flying through the air
A 60 year old worker at the well appointed condominium complex, Jamriang Klamngern, told police that he first saw bedding falling from the condo's balcony and this was followed by the Thai woman. She ended up alive but seriously injured lying on the ground below. Emergency services removed her to hospital but she died from her injuries shortly afterwards.
Distraught Swede found next to his dying wife
The 34 year old Swede, named as Marcus Sten Tapio Karhapa, was found in a distraught state, kneeling next to his seriously injured Thai wife while crying. Two days later, Thai Police Colonel Chatchapol Pattarasiriporn explained the tragic nature of what happened.
Thai police in Pattaya investigated the tragic death
'They were fighting about him having another woman,' the Thai police officer told the press. 'They used to love each other very much, since they had been together four years.'  The police officer confirmed that Thai police, at that time, had no evidence or reason to suggest that the Swedish man had pushed or caused his wife's death. The police sometime later, clarified that the man was indeed married to Ms Pattarasiriporn as confirmed by their enquiries.
Couple had been fighting and Thai woman threatened to jump from the condo balcony
The young Thai woman was mute. According to her Swedish partner, the couple had been engaged in a disagreement and she walked onto the balcony covered in bed clothes. The Swede explained that he had been wrestling with the unpredictable Thai woman in order to pull her back from the balcony area. He was afraid of what might happen. He said that his wife had tripped on some water in the balcony and flew over the edge in the struggle between the pair.
Swedish man arrested and charged with negligence in wife's death following enquiry
The Swedish man was, however, later arrested by Thai police and charged with recklessness in the death of the Thai woman. The charge carried a potential prison sentence of 10 years but Thai courts take into consideration a range of factors.
Notorious UK drug dealer and rapist Reece Vella faced a similar criminal charge in 2018
It is the same charge and crime that the notorious UK drug dealer and convicted rapist, 27 year old Reece Vella, was convicted of  in 2018 when a bar girl, 26 year old Wannipa Chanhuaton, fell to her death. This tragedy again, happened in Pattaya and from another condo balcony. The UK man, with a long criminal record in his own country, ran from the scene. The same charge was brought against him following an autopsy on the body. It is understood that the Thai woman was a bar girl or prostitute who worked on Soi 6 in the city's red light area. Reports suggest that she was in an inebriated state when she went with Mr Vella to his luxury condo. Her body was later recovered in the middle of a busy road after lying there for some time in an eerie and sad spectacle.
UK rapist and crack cocaine drug dealer to be sentenced on July 8th after his release from a Thai prison
Two Thai women with foreign husbands involved in violent incidents that saw men hospitalised
Thai girlfriend survives 5th floor fall from condo balconyCaral Boonkong reports from Pattaya where a Thai woman appears to have survived a fall from a 5th floor balcony of a condo building following a contretemps with her French boyfriend. He claims his Thai girlfriend threatened to jump but then suddenly slipped and fell. It is qute a similar story to one from 2017 when a Swedish man's wife died following a struggle in which he claimed he was attempting to prevent her from jumping from the couple's luxury 8th floor condominium building, also in Pattaya. He was subsequently arrested and charged by Thai police with negligence.

Posted by ThaiExaminer.com on Tuesday, June 18, 2019