Man had lived in the house for 10 years and was well-liked by locals who never had any issues with him. Police found one of his three pit bulls dogs lying dead near him in a bedroom of the house.
The body of a 51-year-old Russian man living in Koh Samui man was found by police on Friday night and sent on Saturday for an autopsy in Bangkok. He was found in a bedroom of the house with one of his three pit bull dogs nearby who was also dead.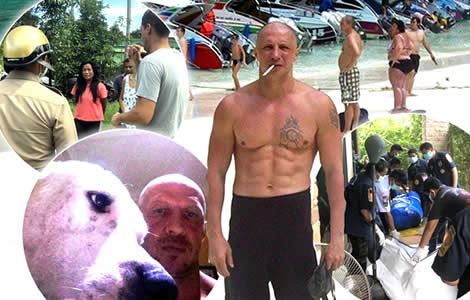 The 51-year-old Russian man was found dead inside his home on Friday evening by Thai police in Koh Samui after local people reported a foul smell emanating from the house. His body was found lying on a bed with a cover while one of his three pit bull terrier dogs was also found dead in the bedroom of the house near a cage.
Named as 51-year-old Viacheslav Kolbunov, body sent for an autopsy on Saturday to Bangkok
Police have named the man as Viacheslav Kolbunov and on Saturday, his body was sent for an autopsy at the Police General Hospital in Bangkok. Police have also collected DNA and fingerprint samples from within the house but have found no evidence of a struggle or any criminal aspect to the case.
They were planning to contact a local gardener who worked for Mr Kolbunov to see if he can shed any light on what might have happened. Investigators are led to believe that the man and his dog might have been dead for up to six days.
Lived in the MaeNam, Koh Samui for 10 years
Locals report that the Russian had lived in the house in the MaeNam district of Koh Samui for about ten years. They knew that he liked animals and had three pit bulldogs and a cat. On Friday, police learned that the two other pit bulls had been barking and making a racket throughout the week. The man was well-liked and never seemed to draw attention to himself or manifest any psychological issues.
Brown liquid in a glass to be analysed by police
It is reported that police found drug paraphernalia in the room where the man died as well as a coffee cup and a glass containing a mysterious brown substance. This has been sent to the police labs for analysis. They have also discovered that the pit bull dog who died had some time ago been taken to a veterinary clinic for a kidney complaint and a ฿1,000 bill was still outstanding.
Son working in China who visited him
The dog appeared to be close to the Russian man and was given to him by his son who is reported to be working in China and had visited the Russian man in Koh Samui on occasions.