The conviction and death sentence imposed on a 52-year old Pheu Thai MP has not only shocked the Thai political establishment and his own party but it has also raised a legal conundrum as to his status while he pursues the appeal process against his conviction. Under Thailand's constitution, an MP convicted of a serious crime automatically forfeits his or her seat. However, the question for some legal observers is one of natural justice as the convicted MP pursues his legal rights while others see it in stricter terms. This week, the Thai Constitutional Court did not remove Mr Nawat from his role but rather suspended him for his role while ordering him to renounce it.
A former Thai MP convicted of murder and sentenced to death has been moved by authorities to the notorious Bang Kwang Prison in Bangkok. It comes days after the Constitutional Court ordered him to resign from his role with immediate effect under the terms of the constitution.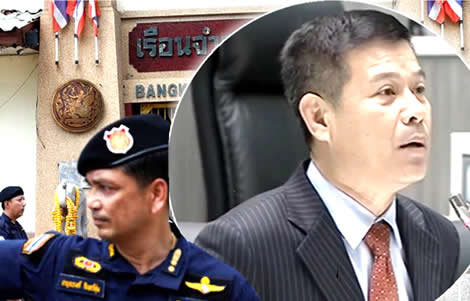 An MP with the opposition Pheu Thai party who was sentenced to death for murder by a Thai court in Khon Kaen on September 24th has been transferred to the notorious Bang Kwang Prison in Bangkok, the home to Thailand death row and execution chambers.
Transfer revealed on Friday by prisons chief
The transfer of Nawat Tohcharoensuk was confirmed on Friday by the Director-General of Thailand's Department of Corrections, Police Colonel Naras Savestanan who clarified that the move was routine for convicted inmates sentenced to death who had been denied bail by the courts.
Top court's ruling falls just short of removing the MP
It follows a ruling by Thailand's Constitutional Court on Wednesday which stopped short of removing the convicted MP's status but did order him to resign from his position with immediate effect. The court also suspended him from his duties as an MP while his appeal against his conviction and death sentence is pending.
Election Commission referred the case to the court
The ruling by the Constitutional Court came after the Election Commission had referred the matter to it. There had been some confusion about the legal status of Mr Nawat. 
A recent conclave of legal experts convened by a senior official at Thailand's House of Representatives resulted in 11 legal experts giving an opinion that he was no longer an MP while four insisted that he remained an elected representative until all avenues of appeal have been exhausted according to natural justice.
Thailand's Deputy Prime Minister claims the Khon Kaen MP automatically forfeited his position when convicted by the court
Thailand's Deputy Prime Minister and legal expert, Wissanu Krea-ngam has held that Mr Nawat immediately became a former MP when his conviction and sentence were handed down by the court despite what may or may not happen later with the appeal process.
The Thai constitution states that any MP convicted of a criminal offence except for some select offences such as defamation automatically loses their seat in the House of Representatives.
Charged in April last year with 2013 murder
Mr Nawat surrendered to Thai police in April last year when charges were first pressed against him. He was released on bail of ฿2 million.
His conviction and death sentence on Tuesday the 24th September came as a huge shock heightened by the court's refusal to grant him bail and his immediate removal to Khon Kaen Provincial Prison. A spectacular fall from grace.
Mover in the murder of a local official in Khon Kaen
He was convicted of being the man behind the murder of a local provincial official, Suchart Khotethum, in front of the victim's house on May 3rd, 2013 by a team sent there by Mr Nawat. 
Mr Suchart, a senior official within the Khon Kaen provincial administration was gunned down as he prepared to go to work. Police believe the motive for the killing was an affair which the murdered man had with Mr Nawat's wife.
Murder conviction a blow for Pheu Thai
The conviction and death sentence has tarnished the image of Pheu Thai, the largest opposition party in the 7 member alliance and meant the loss of one more vote critical vote in the House of Representatives at a time when the government and the opposition are facing off over the political way forward for the country with a strained relationship in parliament. Mr Nawat was the MP for the 7th Khon Kaen constituency.
Further reading:
Pheu Thai MP sentenced to death for the murder of a man he believed had an affair with his wife in Khon Kaen