A 36-year-old UK man was arrested on Sunday for supplying drugs to tourists on the island of Ko Pha Ngan. He was stopped by police at twenty minutes after midnight on a Harley Davidson motorbike.
A 31-year-old UK man tried on Friday to explain to Thai police who came to arrest him on a court warrant for drug dealing that the whole affair was linked to the malicious and false allegations of his ex Thai wife who sought to harass and torment him.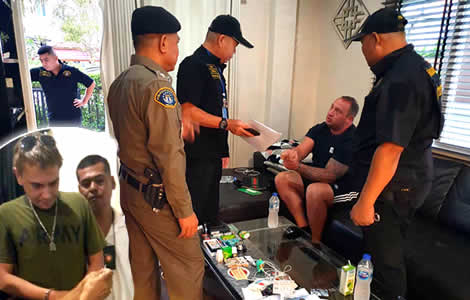 A UK national arrested by Thai police in the Nong Prue area of Pattaya on Friday claimed that his ex Thai wife was behind his arrest by officers of the Crime Suppression Division when they raided a house where he was living at the Phattra housing village in the Bang Lamung area of the resort city.
Named by police as 31-year-old Mark John Rumble
The Brit has been named as 31-year old Mark John Rumble. The Superintendent of the Crime Suppression Division subdivision 2, Police Colonel Arun Wachirasrisukanya, however, had a different story. The senior police officer told the media that the assistance of Thai police had been requested by the British Embassy in Bangkok.
UK police sought his arrest on drug charges
Police in Thailand were informed by UK authorities that Mr Rumble was linked to the illegal narcotics industry in the United Kingdom and was wanted for questioning by UK police agencies. It is also understood from Thai sources that drug charges have been filed against the man in the United Kingdom.
It is reported that he fled the United Kingdom arriving in Thailand on October 11th on a tourist visa which expires on November the 9th.
Entered Thailand as a tourist on October 11th
Police had tracked him down to the location on Friday through the country's immigration system. However, when police confronted the man in Pattaya, he was adamant that his ex-wife had filed vexatious claims against him to authorities leading to extreme complications. He explained to officers that he broke up with her after her quarrelling became incessant.
Taken into custody
In spite of his protestations, Mr Rumble was taken into custody based on the court arrest warrant against him until he appears before the criminal court which will decide on how the matter will be processed.
36-year-old UK man arrested for being a drug dealer
Meanwhile, on Ko Pha Ngan on Sunday, police nabbed another British man this time 36-year-old Matthew Beresford. This followed a tip-off that the British man was engaged in drug dealing activity. Police sources suggested that the man was arrested while riding his Harley Davidson motorbike after midnight on Sunday outside an island resort.
Police found a cache of drugs in his room
Following his arrest, police searched his room and found an array of drugs including quantities of heroin, MDMA, morphine and marijuana. Police sources had suggested that the man was selling drugs to tourists visiting the holiday island.
Motorbikes and cash seized
As a result of the raid, police officers seized two motorbikes, a car and ฿15,000. His arrest follows that of an Italian man Naomi Cometto on the island in October also accused of being a drug dealer.
Further reading:
UK drug dealers living it up in Thailand to be deported back to the UK after arrests in Pattaya