Plymouth man, Luke Michael Timmins, appeared to own substantial properties and has been linked to money laundering. He told Thai police that he was in business with his father back in the United Kingdom. He leaves behind his 26-year-old Thai girlfriend Patchraporn Mesri.
There were emotionally charged scenes in Pattaya last Thursday when two UK drugs dealers and criminals were taken into custody by Thai police teams in coordinated raids. Both men are to be deported from Thailand and will leave loved ones and family behind.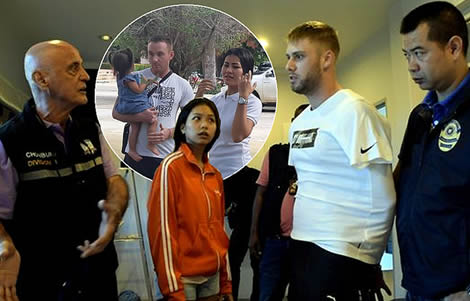 Two British men were arrested in simultaneous police operations in Pattaya last Thursday which included immigration officers.
Both men have had been identified to Thai authorities by the UK's National Crime Agency after breaking the licence terms of their early release from prison in Britain. It is understood that Thai authorities were alerted to the pair at the end of July by Interpol and briefed by the UK police.
UK criminal due were dealing drugs in Pattaya
Consequently, a surveillance operation mounted on the pair revealed that they were operating as small-time drug dealers in Pattaya supplying cocaine and methamphetamine to punters in bars in the resort city and on its Walking Street famous for its sex bars and prostitution.
One of the UK men is Luke Michael Timmins from Plymouth in Devon. When police officers rolled up to his home on Thursday, he was in bed with 26-year Thai girlfriend Patchraporn Mesri.
Initial tussle with Thai police officers saw UK man floored and handcuffed at his home
When police entered the house, there was an initial tussle with officers and the 28-year-old Brit was knocked to the ground and restrained while Thai police handcuffed him. Officers leading the raid read the search warrant to search the home of a visibly upset Ms Patchraporn who was in her nightclothes.
She later put on an orange hooters jacket. The young Thai woman engaged with her boyfriend and police as they carried out a search of the home and questioned the UK man on his activities in Thailand.
28-year-old Brit told Thai police he was in business with his father after they questioned him
The young 28-year old had a range of bank account details and credit cards at his home. At one stage, he told the arresting officers that his father was hiring a lawyer who could deal with them in English. He also explained, on another occasion, that he was in business with his father in the United Kingdom.
5 grams of cocaine found and verified at the home, couple tested positive for the drug
Thai police found a number of small packages of cocaine within the home. The drugs were tested by police in front of the UK man and confirmed to be cocaine. Neary 5 grams of the drug were found. It is also reported that both Mr Timmins and his Thai girlfriend tested positive for cocaine use. Police also unearthed steroids and other drugs which the UK man explained he had used personally in the past.
Police allowed the UK man to have a T-shirt placed over his naked torso as they went through their inquiries. He had been handcuffed from behind in that state of undress when he initially had his altercation with police after they entered the home.
Handcuffs switched to let man us his hands as he was taken away by police into custody
At some point, they asked Ms Patchraporn questions and she only replied 'No, I don't know' in English. She did not speak Thai to the officers. She stayed close to her boyfriend before the time came for him to be taken away. Police allowed the man's handcuffs to be changed to allow him to wear the T-shirt and have his hands forward. He was then led out of the house by arresting officers.
Linked with the laundering of drug money
Police sources believe that Timmins has been involved in the laundering of drugs as well as drug dealing in Pattaya. The man showed obvious signs of wealth with a substantial home and title deeds to an investment property in the area.
Served half a 40-month sentence in the UK, breached his licence after being released
It is understood that Timmins was being tracked by UK police since 2017. He served half of a 40-month prison sentence for drug offences but was released early under licence by authorities. The young man failed to keep the terms of the licence and is now wanted in the United Kingdom to face court action on that basis. Police identified his whereabouts as Pattaya in January this year.
Another 28-year-old Brit found by police with his wife and daughter at a Thai temple
At the same time, another arrest was taking place at a Buddhist temple in Chonburi. This was another emotionally charged arrest as it involved a second 28-year-old British man, this time named as Daniel Hilton Woods. He was accompanied by a woman who appeared to be his wife and a young girl who appeared to be his Thai daughter.
UK man's little Thai daughter wanted to stay with her dad as police explained that he was arrested
Thai police including immigration officers, intercepted them as they were touring the precincts in front of the Buddhist temple and took them to a seating area outside to explain what was happening. As an officer placed the man under arrest, the young daughter who had been initially holding when confronted by the police, attempted to reach across the table to her father.
Both men wanted in the UK for breaching prison release licence some years ago
It is understood that Woods is another UK criminal who breached his license for early release and is wanted on the same basis as Timmins by UK authorities. It is reported that Thai authorities are considering revoking the visas for both of them and having them deported back to the United Kingdom for legal action to be taken against them.
Two men to have visas revoked and deported back to the United Kingdom as soon as possible
It would appear that the two men, apart from the collapse of their Thai dream and the heartbreak caused to their loved ones, have copped at least one fortunate break. With any luck for those foreigners living in Thailand and who regularly visit, they will not return to the kingdom again.
Further reading:
UK drug trafficker arrested in swoop by heavily armed police after being on the run for 5 years
On the run German drug cartel chiefs arrested in Immigration Bureau dual swoops on Phuket and Ko Phangan
Drug violence and death now a daily part of life in Thailand, drug dealer dies in firefight with police
Golden Triangle drugs threat aired in parliament, claims of senior police officers being involved in trafficking
UK man on a tourist visa arrested for offshore gun terror and serious drug charges on Ko Samui after day out
Danish man arrested, facing charges after Pattaya drug dealing sting at local hospital coffee shop
Nigerian drug dealer betrayed in Phuket as local police receive tip-off that led them to his arrest
Criminal probe launched in Bangkok after six drug users were found dead after suffering acute cardiac issues
Gamblers and hosts at illegal gambling dens are being jailed as massive crackdown proceeds apace
Sadistic murderer 'Ice Metal Casket' sentenced for rape of a woman at gunpoint in latest conviction
Ministry asks Covid-19 unit to halt travel from the UK over new 'Kent' strain found among a family
Top Thai and US drug suppression officials warn of the use of cryptocurrencies in the drug trade
2-year-old shot dead by gold robber Thursday night as 3 die, 4 injured in mass shooting with silencer gun
Bizarre and macabre tragedy in Udon Thani as deranged man murders his wife and daughters over college debt
Death sentence for a serial murderer who killed 5 including his pregnant wife and her father in a family row
Parents call for the execution of man who murdered two young teachers at their Rayong home for a motorbike
Drug police put retraction behind them to smash billion baht Myanmar drug operation in Bangkok raid
Use of cocaine and cannabis is still highly illegal in Thailand with very serious legal consequences
Sex, drugs and alcohol as Chiang Rai party-goers arrested in the midst of the growing virus emergency
One of the biggest drug dealers in the South flees home as Thai police and army move against him
Evil drugs trade in Songkhla sees Thai woman burned alive by her family for 300 grams of ice missing in village
Thai man burns down his family home: Thailand's drugs problem is still a very real threat to society
54-year-old woman battered to death by drug-addicted son as neighbours feared to intervene