As policemen in Udon Thani worked overtime on Saturday to interview victims of the 'Mae Manee' fraud in which 4,000 people are estimated to have lost ฿1.4 billion while lawyers for up to 20,000 international forex fraud victims claim that nearly ฿40 billion has been lost by Thai online investors.
Thailand is reeling from a series of internet scams and pyramid schemes which has seen thousands of online users lose billions in get-rich-quick schemes that continue to find takers. The highest-profile one right now is the 'Mae Manee' scheme which the Department of Special Investigations (DSI) will take over next Thursday,  November 14th. 7 people have already been arrested including the 47-year-old mother of the Mae Manee also known as 28-year-old Wantanee Tippaveth, the principal actor in the fraud and a 25-year-old woman running the scheme's Facebook page. Both were denied bail on Saturday.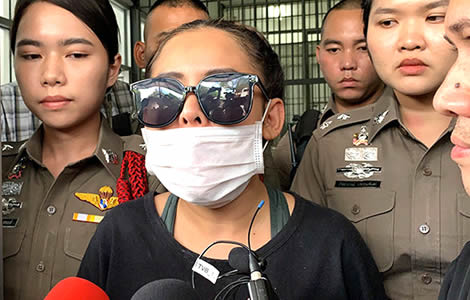 The 'Mae Manee' pyramid scheme erupted at the end of October after an online get rich scheme failed on October 13th when payments were halted.
The person at the centre of the scheme was quickly identified as 28-year-old Wantanee Tippaveth, an internet celebrity and icon who resides alternately in Bangkok and Udon Thani in Thailand's northeastern Isan region.
Flamboyant and defiant 28-year-old Mae Manee
Flamboyant and always definite, 'Mae Manee' or Wantanee Tippaveth was finally arrested on Saturday the 2nd of October last with her 20-year-old husband Metee Chinpa.
Both were flown back to Udon Thani by Royal Thai Police aircraft where a huge investigation has been ongoing as the number of complaints in the northeastern city and throughout Thailand mushroomed.
The Ponzi scheme attracted huge interest because it offered a whopping 93% monthly return and for a brief while, actually paid out.
Minor online celebrity and social media icon
Ms Watanee or 'Mae Manee' sold the scheme based on her celebrity endeavours linked with TV shows and cosmetic sales. She was regularly featured on social media attending glamorous events and pursuing a wealthy lifestyle.
The social media star even installed a fake gold shop in her office to create the impression she had unlimited access to wealth and the financial access to back her get rich scheme.
Bitter, hard reality for women's mother on Thursday
On Thursday morning, the bitter reality of the situation that Mae Manee and her family now find themselves in was shown when police officers led by Police Major General Nantachart Suppamongkol stopped Ms Wantanee's mother, 47-year-old Thawalrat Tippaveth, near a car park in Udon Thani and informed her that she was being arrested under a warrant from the provincial court for allegedly assisting her daughter in the giant-sized fraud.
As the police officer read the warrant to Ms Thawalrat, she initially denied any involvement with the scheme.
Denied any knowledge of guilt
She told police that she was aware her daughter had access to unusually large amounts of money but she did not question her about it.
It was a day of unruly weather in Udon Thani with strong gusts. As the police officer continued to read the warrant to the middle-aged woman, she fell back into the wind and began to faint.
Taken to hospital but back in court on Saturday and jailed without bail by the provincial court
She was taken to the local hospital where she was initially treated for high blood pressure and kept by doctors for observation. She did not escape her fate for long however.
She was brought by police before the Udon Thani Provincial Court on Saturday alongside an associate of her daughter, 25-year-old Wilaiwan Hongprachasap, named as a business partner of Ms Watanee and the administrator of the Facebook page named Fak Yod Tor Anakhot or Savings for the Future where the tempting financial offer was advertised.
The court on Saturday refused bail to both suspects.
7 arrested so far in connection with the fraud
This brings to 7 the number of people arrested with the expanding investigation so far.
These include three individuals arrested as 'downline' recruiters for the Ponzi scheme named as Piya Khirisuwannakul, Pornsawan Phuin-oy and Suphanee Nikornkul.
30 detectives on Saturday interviewed hundreds of victims in Udon Thani to prepare he case
On Saturday, up to 30 detectives called in from stations all over Udon Thani interrogated hundreds of victims in connection with the case which the DSI will assume control of next week.
Police Lieutenant Colonel Bamrung Naebchidchai said that in Udon Thani alone, the fraud involved 305 victims who lost ฿144 million between them.
It is being reported that many people have lost their life savings in the scheme with one victim investing ฿6 million while at least one suicide is known to have occurred.
Ms Wantanee to be transferred to Bangkok for questioning by the DSI investigators 
The DSI in Bangkok who will have Ms Wantanee or 'Mae Manee' transferred for interrogation to the capital, estimate that the losses relating to the scheme will be over ฿1.4 billion with 4,000 victims.
So far, police have seized assets including cash, cars and property valued at ฿133 million from those arrested.
Director has promised a methodical and robust investigation but warns it will take time
The Director of the Illegal Financial and Business Crime Bureau at the DSI, Piyasiri Wattanavarangkul, has promised a methodical and robust investigation in which those involved will be exposed and charged if found to have broken the law.
Following this, their assets will be confiscated and the proceeds used to compensate the victims. However, he foresaw that this will be a lengthy process.
It is not unlikely that Ms Wantanee will also defend the charges against her.
Torrent of protestations and denial of guilt online days before her arrest by police on November 2nd
Before her arrest on Saturday 2nd November, Ms Wantanee or 'Mae Manee' issued torrents of protestations that she was innocent of any wrongdoing while at the same time, she closed down her Facebook page.
She warned that she was not a person that belonged in prison because she was a fighter and that her lawyers would be working hard to right the injustice perpetrated on her by those whose 'greed' had prevented them from not passing on payments to her to pay investors.
 'Jail is for people who aren't fighters, and I'm a fighter' – she told her critics online
 'Jail is for people who aren't fighters, and I'm a fighter, I never abandoned everyone, and I'm not how the news says I am. I'm the victim of slander, attacks, and silencing threats here,' she wrote.
In one message on Thursday before her arrest, she said: 'You thought would you bring me down and take everything? Do it, I can always find more money.'
Not the first to be accused of online fraud and not the last but faces a grim reality if convicted
She is not the first accused of being an online fraudster in Thailand and she will not be the last. 
The Thai criminal justice system is particularly harsh on such crimes and if convicted, the 28-year-old is looking at a very long spell in prison after all.
Her husband 20-year-old Metee 'Boss' Chinpa claims that he is, like Mae Manee's mother, also just an innocent party.
That will be for a Thai court to decipher from the huge amounts of evidence which the investigation is already gathering and later from a hearing.
At one point before her arrest, ฿60 million was withdrawn from Wantanee's account leaving a balance of over ฿11,400.
Other Ponzi schemes throughout the kingdom
The huge controversy surrounding the Mae Manee Ponzi scheme has thrown up other such schemes throughout Thailand with one in Suphan Buri where a woman is on the run. 
25-year-old Wichitra Khlai-ubon is alleged to have conned victims out of ฿300 million with her scheme entitled Nong Prim Pha Ruay or Little Prim will make you rich. She left ฿4 in her bank account before she disappeared.
Police forensic accountants are analysing her bank details and believe that she quickly converted the cash proceeds into assets which he placed in the name of family members.
Another scheme in Nong Bua Thong in Nonthaburi targeted students throughout the country with small sums invested and raked in ฿20 million before folding.
Forex scam could be the daddy of them all with reports of ฿40 billion lost by Thai investors
However, the biggest online fraud of all may be an international Forex scam.
On the day before Ms Wantanee or Mae Manee was arrested in Chonburi province, a protest was staged outside the Department of Special Investigation (DSI) in Bangkok.
A lawyer for the victims of the fraud explained the situation: 'DSI needs to give this case special status quickly since it was filed way before Mae Manee, and is a very complicated case that involves crimes and banking overseas, which cannot be investigated with normal means.'
He told reporters that the scam involved up to 20,000 victims who had lost up to ฿40 billion.

Further reading:
Billionaire groom in Bangkok prison on cheque fraud charge after his arrest on Thursday night