The man's lawyers today told reporters outside the court that his client was suffering from diabetes and was very anxious about his business affairs which have been disrupted. His arrest is not connected with the man's controversial marriage and wedding celebration in May to a beautiful Thai 'pretty' whom he proposed to the day after meeting her in March. 
The self-described billionaire and groom who left a Buriram family in debt and who conned a beautiful Thai woman into believing that he was an extremely wealthy man was lodged on Friday in a Bangkok prison to serve a six months sentence. He was arrested on a flight from Hong Kong on Thursday evening by Immigration police at Don Muang Airport.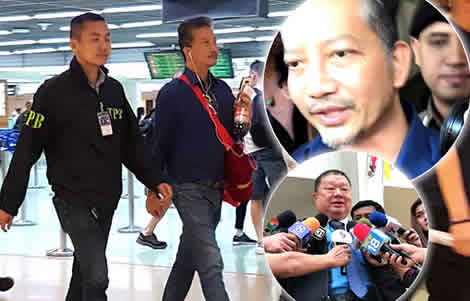 The tale of a Thai wedding fiasco that grabbed the front pages in Thailand in recent times has taken another dramatic turn after the billionaire groom at the centre of the controversy was arrested by Thai Immigration police after he landed at Bangkok's Don Muang Airport on Thursday night on a flight from Hong Kong.
Bride and her family disengaged from the affair in recent weeks due to intense media coverage
Publicity in relation to the case had died down after the bride at the centre of the controversy was reported recently to be disengaging from the affair due to the intense publicity the story has generated.
The couple had met in March this year and quickly got married at a civil ceremony later in the month. The groom had proposed to the bride the day after they met at a restaurant and the bride told her family that he was a billionaire.
Dowry cheque disappeared and the hotel bill was not paid despite repeated agreements
Things went wrong after the wedding when a dowry cheque was seen and then disappeared and no payment was forthcoming from the groom despite entering into several payment arrangements with the hotel who it is reported, has only received payments from the bride's family.
The great big Thai wedding that went all wrong for the bride now talking divorce and facing debt
Arrested by immigration police on Thursday night
However, on Thursday night the groom named as 49-year-old Thananat Siripiyaporn was taken into police custody after he made his way through the landing hall at Don Muang as a passenger of flight FD505 at 9.30 pm. 
Police were alerted to his arrival through the intelligent Biometric system on which his details and a warrant for his arrest appeared. The arrest was announced by Police Colonel Cherngron Rimphadee he Deputy Commander of Immigration Division 2.
Court warrant  linked with  cheque fraud
The middle-aged man's arrest was ordered earlier by the Bangkok North Municipal Court on the basis of a criminal conviction relating to a fraudulent cheque. 
Brought before the court on Friday and sent to prison for 6 months, concerned about business deals
The man known in Thailand also as 'Sia Top' appeared before a Bangkok court on Friday from where he was subsequently taken to a Bangkok prison to serve a 6 months sentence imposed on him in connection with a false cheque charge and conviction. 
This related to a business transaction that the man had entered into with other parties which resulted in him being sentenced in November 2016 to 6 months imprisonment. He had written a cheque for ฿ 1 million which the other parties to the deal could not get satisfaction for. It persistently bounced when presented to the bank it had been drawn on.
Further reading:
The great big Thai wedding that went all wrong for the bride now talking divorce and facing debt