Thai man tells how his father came to gamble on Wednesday night at the Grand Diamond Casino in Poipet but in the early hours of Thursday morning, he lost his life as he threw himself wholeheartedly into his enthusiasm for rescuing others from the fire which broke out at 11.30 pm that night but which by the early hours of Thursday morning had become a raging inferno.
Harrowing tales and heartbreaking scenes have followed the horrific fire on Thursday morning at a Cambodian casino in Poipet in which it is feared that as many as 50 Thai nationals may have died with a confirmed death toll of 27 and many more still to be located in the ruins and rubble of the burned out Grand Diamond Casino complex in Poipet across the Thai border from Sa Kaeo Province.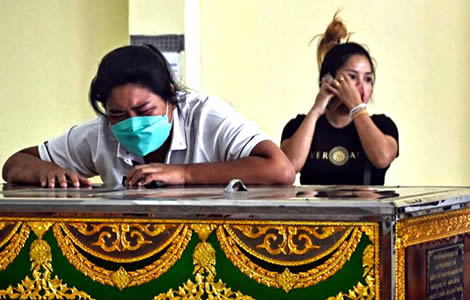 Thai authorities reported on Friday that the busy border checkpoint between Aranyaprathet in Sa Kaeo Province and the Cambodian city of Poipet will remain closed until further notice as officials deal with the fallout from Wednesday night's devastating fire which saw at least 27 people die, most of them Thai nationals when an inferno broke out and destroyed the Grand Diamond Casino and Hotel in the Cambodian gambling city.
Many of the deceased were reportedly either employees of the Grand Diamond Casino and Hotel owned by former Thai politician and fugitive Vatana Asavahame, or regular gamblers at the venue which attracted visitors from all over Thailand and was a firm favourite with cross-border travellers.
Grim task of repatriating the remains of Thais who perished in the disaster began on Friday with 10 bodies sent to Aranyaprathet in Sa Kaeo Province
The disaster has left Thai officials busy trying to keep cross-border trade open and moving through another checkpoint as they arrange the grim task of repatriating the bodies of Thai nationals who perished in the early hours of Thursday morning when the fire, thought to have begun as a gas explosion, became an uncontrollable and deadly conflagration.
On Friday evening, it was reported that 10 bodies had already been brought across from Cambodia to Thailand after they were identified by Thai family relatives in Poipet.
It is understood the bodies of those deceased are being transported temporarily from the Trat temple in Poipet to Wat Pratuchai Arankhet in Aranyaprathet and other premises hosted by the Sawant Thiang Thammasathan Foundation in the border town on the border with Cambodia in Sa Kaeo Province. 
Death toll in Poipet stands at 27, mostly Thais, with at least 20 more bodies feared to be concealed in the blackened wreckage of the burned-out casino
The death toll in Poipet is currently established at 27 people with fears among officials that there may be at least another 20 more fallen within the ruins of the Grand Diamond Casino.
There are unconfirmed reports that the death toll relating to Thai nationals in the fire could rise to 50 when the full extent of this disaster is known.
The personal devastation and loss suffered by scores of Thai families just days before New Year's Eve was summed up by 23-year-old Keerati Keawwat speaking with the AFP News agency on Friday as the 55-year-old woman described the circumstances under which her 23-year-old son died in the fire.
'He got stuck inside and could not get out,' she told reporters with the international news service. 'I can't eat, and I only slept for one hour,' she said. 'I'm too overwhelmed.'
A 42-year-old casino worker at the Grand Diamond identified as 'Neung' said he managed to make his way out of the building after it caught fire.
Son tells how his father was a hero as he gave his life for others, gambling it to save guests in the early hours of Thursday morning at the Grand Diamond
His father, who had come to gamble at the venue on Wednesday night, helped two women escape the fire's clutches when the alarm was raised but later died as a hero.
'But in helping them, he used a lot of energy and was choked by the smoke,' the son recalled. 
He said that in his father's rush to help others he ended up trapped in a room within the hotel with other guests.
The fire broke out at 11.30 pm on Wednesday night believed to be linked to an explosion but by the early hours of Thursday morning, it was a raging inferno fed by the plush and opulent furnishings of the luxury hotel and casino complex.
His son revealed being able to briefly make mobile phone contact with his father before the connection was lost. He did not hear from him again and now is only waiting to see if his remains can be found.
'I then lost connection with my dad, and lost hope,' he revealed. 'Now, I only want to have his body.'
Thai and Cambodian officials working closely trying to keep cross-border traffic moving and trade at another checkpoint 9 km from the disaster site
It is understood that the closure of the border point at Poipet is due to the cleanup and search still underway there as Cambodian officials fear that the constant and heavy traffic, seen on normal days, may cause vibrations and destabilise the shell of the burned-out casino which is thought to be in danger of imminent collapse.
The Grand Diamond Casino was located just 200 metres from the border crossing point with Thailand.
Traffic and trade are now being routed through the Stung Bot-Nong Ian border checkpoint approximately 9 km to the southeast of the casino, which is the busiest crossing point between the two kingdoms.
Authorities in Thailand led by Sa Kaeo Province Governor Prinya Photisat who played a decisive role in Thursday's rescue and response to the emergency, are working with Cambodian officials to speed up immigration processes to avoid undue delays.
Further reading:
PM orders 'full force' help for Thai nationals and families linked to the Poipet casino disaster
Paranoid Swiss man died in Pattaya home fire on Thursday from prolonged smoke inhalation
Appalling New Year's start in Pattaya as a just engaged UK man's life ends in a split second fireworks explosion
Norwegian dies from smoke inhalation after fire erupts at 16th story Pattaya condo building
Two Polish fiends sought by Pattaya police for a callous, cruel and sadistic attack on a Cambodian woman
Thai and Cambodian police reveal that young woman's 'organ harvesting' claims were a lie