Firefighters initially had difficulty accessing the building with ladders to fight the fire but later deployed hoses and chemical extinguishers to bring the conflagration control. Forensic examinations to find the cause of the fire underway.
A 66-year-old Norwegian man was found dead after an early morning broke out at a popular condo building in the Bang Lamung area of Pattaya early on Friday morning. Police are still investigating the cause of the fire that erupted at approximately 5 am and caused the building to be evacuated.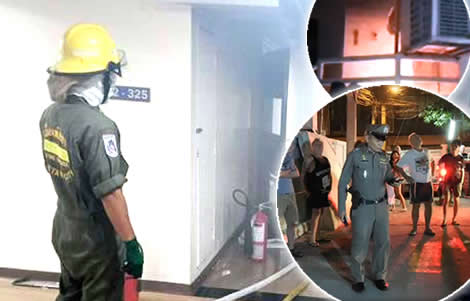 The elderly Norwegian national lost his life inside his ninth-floor room of the building located in Nong Prue which suffered the brunt of the damage.
Fire incident began at 5 am, difficulties accessing the building and deploying ladders
The fire erupted at about 5 am and fire services and police were immediately called to the building. The deceased man was 66 years old and named as Stein Arne Jensen.
It is reported that because of the position of the 16th-floor condominium building known as Center Condotel on a narrow street, fire engines had difficulty gaining full access to allow them to deploy ladders. 
However, the quick-thinking firemen deployed hoses and chemical retardant inside the building to quickly bring the fire under control.
Firefighters spent one-hour bringing the blaze under control as police commence investigation
The operation still took over an hour to bring the fire under control. The incident caused panic in the hotel as residents awoke to find the corridors filled with smoke which at times swelled to overpowering levels. The police also attended the scene to investigate the incident.
Norwegian man found dead in his bed
When the fire was brought under control, emergency services found the dead Norwegian lying in his bed. The room he was staying in had been completely gutted by the fire. It is estimated that the damage caused by the blaze will come to over ฿500,000.
A preliminary examination of the victim by the medical examiner determined that Mr Aerne Jensen had died from smoke inhalation
Over 100 people successfully evacuated
The building was fully evacuated and there were no other injuries from the incident. In all, over 100 people fled the building after the fire started.
Police and forensic experts have begun a full investigation into the incidents to determine the cause of the fire.
Further reading:
Thai woman paralysed after surviving 5th-floor fall and now deserted by violent French boyfriend