Police in Thung Khru have confirmed that the detained man, arrested for theft of the hospital ambulance, will have access to treatment for his marijuana addiction problem while his mother and relatives have agreed to pay compensation for the damage caused to third parties.
A 21-year-old man admitted to hospital due to a marijuana overdose was arrested by police on Wednesday night after being involved in a road traffic accident. Jirasak Kongma was being transported to a psychiatric hospital but was later involved in an accident in the Thung Khru district of Bangkok, in the southwest of the city, after he stole the ambulance he was being ferried in and crashed into a white MG car on the Pracha Uthit Road.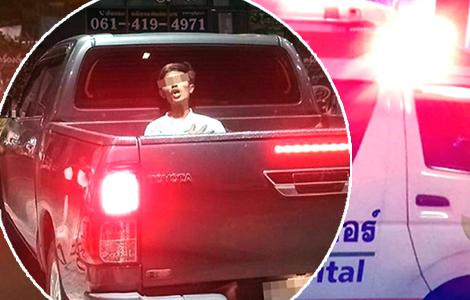 Thai police in the Thung Khru District of Bangkok on Wednesday night announced the arrest of a 21-year-old man who appeared to go berserk after earlier being admitted by his family to a hospital for treatment linked to a marijuana or cannabis overdose.
21-year-old Jirasak Kongma was reportedly later involved in a car accident on Pracha Uthit Road when he collided with a white MG car after stealing a hospital ambulance and causing a commotion at a local PTT petrol station in the Thong Kru district of the city.
21-year-old was admitted to Suksawat Inter Hospital on March 28th after a reported marijuana overdose
On Tuesday the 28th, it is understood that Mr Jirasak's family admitted him to the Suksawat Inter Hospital in the Rat Burana District suffering from the effects of a cannabis overdose.
It is understood that the family were awaiting his transfer to the Somdet Chaopraya Institute of Psychiatry in Khlong San.
A hospital ambulance in which Mr Jirasak was a passenger made a stop at the local police station.
When the driver got out of the emergency vehicle Mr Jirasak took control of it and drove to the PTT station on the Pracha Uthit Road.
There, on the forecourt, he is reported to have caused a disturbance as he implored staff and customers filling cars with petrol to help him find and reach his father.
Drove the ambulance off again from the PTT service station and collided with a white MG car on the Pracha Uthit Road in Thong Khru where he was arrested
When this proved to no avail, he drove the ambulance off again just before colliding with a white MG sedan on the road.
Police in Thung Khru then arrested the 21-year-old for the theft of the ambulance but are understood to be liaising with the man's family closely to ensure that he receives treatment for addiction to marijuana or cannabis.
Police also confirmed that the man's mother and other relatives have agreed to pay compensation for the damage caused.
The incident is the latest in a wave of reports particularly involving young and even middle-aged adults in Thailand who have developed mental instability problems as a result of marijuana overuse.
Study in November 2022, only 5 months after marijuana was legalised nationwide, showed a 566% spike in pot emergency room admissions in the period
Following the controversial widespread legalisation of marijuana last year, in June, a report produced in November by Dr Muhammad Fahmee Talib of Prince of Songkla University's Faculty of Medicine found a 566% rise in emergency room admissions to hospitals in less than a six-month period in incidents related to cannabis.
Before that, in 2021, 3% of hospital emergency room admissions were linked to negative side effects of the drug.
Last year, a medical study published in The Lancet and which was conducted by UK universities coordinated by the University of Bath using correlated data from 25 countries, found conclusive evidence linking the regular use of highly potent cannabis, particularly on a daily basis, with mental instability issues.
'To our knowledge, this is the first systematic review on the association of cannabis potency and mental health and addiction,' the Lancet stated. 'Overall, the evidence suggests that the use of higher potency cannabis, compared with lower potency cannabis, is associated with an increased risk of psychosis, and this risk is higher in people who use cannabis daily.'
Irish doctor, last July, welcomed findings of a Lancet published UK universities study showing clear links between mental health issues and marijuana
At the time of the report, in July last year, Dr Bobby Smith, an Irish consultant psychiatrist who works with addicted young adults, welcomed its findings regarding what he termed the 'destructive impact' of cannabis.
 'This paper finds that higher potency cannabis is more strongly associated with psychotic outcomes than lower potency cannabis. It also finds that the use of higher-potency products is associated with a greater risk of addiction. These findings are not a surprise to me,' he said in a statement.
Similar findings and claims have also been made by leading Thai doctors and even top officials with the Ministry of Public Health. 
Earlier this month, a large US study with 175,000 cases analysed also found evidence to suggest the drug additionally poses a physical health threat with users found to be 34% more likely to develop heart disease.
Political parties promise to reverse the complete legalisation of the drug which has now spawned a huge industry in the kingdom, after the election 
In Thailand, the legalisation of cannabis has become a key General Election issue with the leading Pheu Thai Party and even a coalition partner, the Democrat Party, promising to roll back the legalisation of cannabis brought about last June when Minister of Public Health and Bhumjaithai Party leader Anutin Charnvirakul issued several ministerial orders removing cannabis as a prohibited narcotic subject to police enforcement.
Despite this, there is apprehension as to whether the change that has taken place since June 2022 can ever, in fact, be rolled back with thousands of cannabis retail outlets and dispensaries having been opened throughout the kingdom in addition to a multi-billion baht industry manufacturing and retailing products including foodstuffs containing regulated levels of the drug.
Further reading:
Cannabis revolution targeted as MPs and public confront the Bhumjaithai Party's populist gambit on pot
Emergency Room admissions for cannabis up 566% as parties call for it to again be criminalised
Drugs to be an election issue as Anutin digs in insisting that attitudes must change on cannabis
Recreational cannabis use can be legalised under the current law being passed through parliament
Recreational use of pot to be recriminalised as Minister warns abuses are undermining his plan
Warnings as fears grow over recreational cannabis use as Thai man is left impotent by self-harm act
Marijuana revolution and overdoses raise concern with calls for action to outlaw recreational use
Legal pot does not appear to be working for Anutin's Bhumjaithai Party in latest opinion poll