It wasn't all fun and frolics on Friday as the PM held talks just before the walkabout on the Khao San Road which has led the Metropolitan Police Bureau to close off the busy streets at times due to overcrowding and to call for an end to the Songkran outdoor festivities at 10 pm each night in the area to protect the safety of the public and tourists.
On Friday, Thailand's 29th Prime Minister General Prayut let his hair down as he toured the Khao San Road in Bangkok and took part in Songkran festivities in advance of a nationwide tour with his United Thai Nation (Ruam Thai Sang Chart) Party as the General Election picks up steam and he battles it out to retain the top job. However,  it was to become a battle of another sort as the PM urged an aide to procure for him a big water gun and enjoyed the fun of the occasion, something he told the press posse he hadn't done since he was 15 years of age.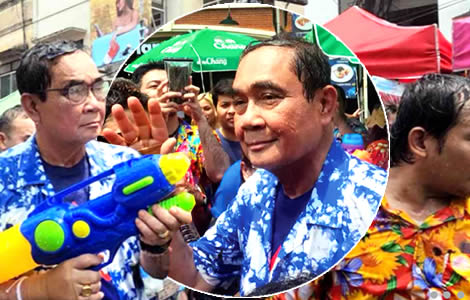 'Is this really the Prime Minister of Thailand?' a stunned foreign tourist asked on Friday as General Prayut Chan ocha made an unannounced visit to the Khao San Road area of Bangkok where the Songkran spirit was in the air with people everywhere, including tourists, enjoying the atmosphere and splashing water.
Initially, General Prayut met with security officials and asked about safety protocols in the area following reports from Thursday night when a deputy chief of the Metropolitan Police Bureau had to take emergency measures to seal off the Khao San Road in the capital.
Officers directed revellers to other parts of the city including nearby Ratchadamnoen Avenue.
Khao San Road area dangerously overcrowded last Thursday night causing city police to intervene and direct newly arriving revellers to other locations
Senior police reported that the 400-metre-long Khao San Road in the central Phra Nakhon district had become dangerously overcrowded. 
The prompt action by officers was undertaken after 7 pm with visitors being denied access to the area until the crowd ebbed later in the evening.
'Further concerns were worked out based on New Year celebrations here. Exits have been prepared for Khao San Road in case of emergency,' the senior officer at the scene told reporters as he also ordered that the outdoor celebrations be brought to an end after 10 pm each evening. 
After consulting with security officials on Friday, General Prayut left a clear directive with officers to treat the safety of the public and tourists as their priority.
Foreign tourist couldn't believe that Prayut, with his colourful T Shirt, was the Thai Prime Minister but received a photo opportunity to remember it
The foreign tourist who had asked if General Prayut, in his blue flowered T-shirt and wearing glasses was really the prime minister, was given a photo opportunity with him before the PM turned to face the crowds telling reporters that the celebrations being witnessed across Bangkok and on the Khao San Road was evidence that Thailand's foreign tourism industry was roaring back to life.
It didn't take too long for some among the crowd to start splashing water directly at Prime Minister Prayut who quickly took the cue and ordered an aide to buy him one of the largest water pistols on sale.
His minders and aides urgently pleaded with the crowd to be careful and not to overwhelm the government leader or spray him in the face but they should have known better.
General Prayut gave as good as he got but soon found himself sodden wet with water pouring down his face from the top of his head.
Questions about Myanmar's strongman General Min Aung Hlaing easily deflected in the exuberance of the moment as the PM led his press group on the street 
He took the opportunity to tell reporters that he was feeling well and fit and challenged the press posse to run after him to test their own fitness.
At one point, some of the reporters asked some questions regarding the day's latest news and unconfirmed reports claiming that Myanmar's dictator General Min Aung Hlaing has made representations to Bangkok about press reports linking his daughter to the accused drug runner and Burmese tycoon Tun Min Latt who is currently being held in prison following his arrest last September in Bangkok when police swooped on a high-level drug trafficking and money laundering operation with cross border connections.
However, the PM quickly dismissed the reports and asked the press corps members if they had evidence of such representations or had seen a written report.
PM told reporters he hadn't been able to do anything like this since he was 15 years of age and began his career in the Royal Thai Army which he would lead
He then told his relatively younger press contingent that it was the first time since he was 15 years of age and before he went off to study for the army, that he had been able to let his hair down like this and visit the Khao San Road.
General Prayut was formerly the Royal Thai Army Chief in 2014 when he led the coup d'état that year in response to growing street protests and factionalism which threatened to paralyse the country.
'Today, playing Songkran on Khao San Road was fun. Since I was 15 years old, I have studied military preparation. I didn't play Songkran water again,' he explained to them.
The Prime Minister, also on Friday, visited three key temples in Bangkok as part of sacred rituals linked to Songkran which is Thailand's New Year including Wat Pichaiyat, Wat Rakhangkhositaram and Wat Hong where he took the opportunity to canvas local residents for votes.
Credible polls suggest the odds are currently stacked against the Prime Minister but he is up for the fight as he continues to campaign to retain his job
General Prayut is the first prime ministerial nominee for the newly formed United Thai Nation (Ruam Thai Sang Chart) Party in this year's General Election which has come from nowhere to consistently be rated third in national and local opinion polls behind the leading Pheu Thai Party and Move Forward Party as the former junta leader maintains his own loyal following of people who see him as having restored order to Thailand after the 2014 coup d'état.
He is aiming to be in a position to recreate something akin to the current governing coalition after the election although credible opinion polls show the opposition parties, led by Pheu Thai, on course to achieve more than 70% of the vote.
The United Thai Nation (Ruam Thai Sang Chart) Party is understood to be embarking this week on a national caravan tour with General Prayut as it desperately campaigns to raise the profile of the government leader who is eligible to retain his post for another two years until 2025 if he can manage to be reelected in the summer by parliament after the May 14th General Election.
Further reading:
Songkran in full swing as Thailand prepares to welcome back long-haul visitors in large numbers
Songkran parties and celebrations are cancelled everywhere for 2020 because of the coronavirus outbreak
14 days quarantine confirmed for all passengers from high risk listed countries and now in place